Construction of Prahran High School underway
Construction is underway on Prahran High School designed by Gray Puksand, the latest in a series of vertical schools appearing across Melbourne.
Designs for the four-storey school, which will accommodate 650 students, were revealed by the Victorian School Building Authority in March 2017.
The school will feature an open atrium, a rooftop play area and a facade of glass and perforated screens.
A series of stairs and bleachers will connect the levels with the bleachers acting as informal learning and gathering spaces.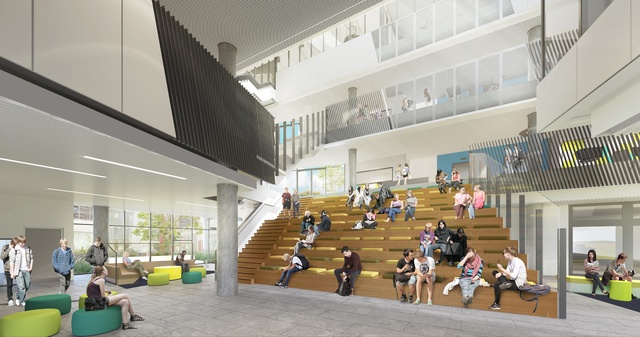 Gray Puksand described the design as "two slipped and shifted planes around a central light-filled void."
"That simple cutting, shifting and slipping of the planes provided different arrangements of spaces that we could layer throughout the building," explained Stephen Turner, partner at Gray Puksand.
Prahran High School is one of a number of new inner-city schools in development, or completed recently, by the Victorian government. Victoria's first vertical schools, Richmond High School and South Melbourne Primary School, both designed by Hayball, opened for the start of the academic year in January. Gray Puksand was also appointed to design South Melbourne Park Primary School on the site of the former Parks Victoria offices, which is also under construction. Initial designs for a three-storey primary school in Docklands by Cox Architecture and McGregor Coxall were released in October.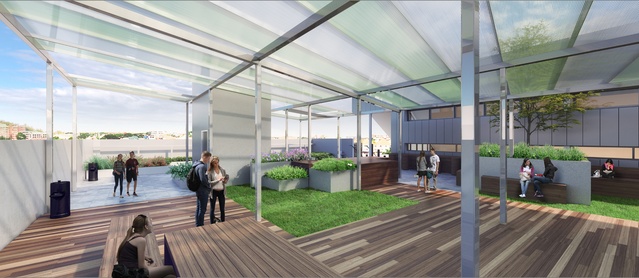 According to Gray Puksand, Prahran High School's location is "perhaps the most constricted site with which any of the design teams has had to deal."
"This project contends with limited space, heritage overlays, demolition of an existing unadaptable building, and a diverse set of neighbouring buildings and public interfaces," a statement from the practice reads.
The school's multi-level configuration is designed to make the most of the limited space. The ground floor of the building will house the library, music and drama facilities. Science, art and technology spaces will be spread across the next three levels. A gymnasium and a large outdoor recreation zone with a rebound court and a running track will be on the third floor. A play area with trees and a garden will occupy the rooftop level. Each floor will also have outdoor terraces.
The school will be open at the start of 2019.