Contentious twin-tower proposal for Perth could be a 'paradigm shift'
A decision is imminent on the fate of a giant twin tower development proposed for Perth's Scarborough Beach.
Labelled "paradigm shifting" by its proponents but criticized by some for its scale, the Hillam Architects-designed 43- and 35-storey towers, would more than double the site's maximum building height limit of 18 storeys and dwarf other buildings along Perth's coastlines.
A development application for the ambitious $400 million project was submitted in March 2017 to the state government's Metropolitan Redevelopment Authority (MRA) – the planning authority overseeing the redevelopment of 100-hectares of beachfront land in Scarborough.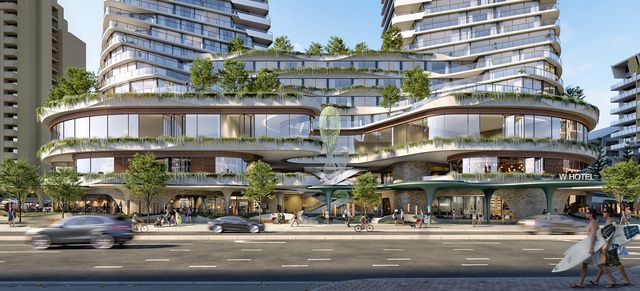 Though the developer, 3 Oceans Property, previously indicated that an approval could be achieved by October, the MRA is due to hand down its decision by the end of the year.
Mooted to house 346 apartments, 158 hotel rooms, a convention centre and public viewing deck, the towers would be erected at the site of former bar Contacio, at the intersection of West Coast Highway and Scarborough Beach Road.
Hillam Architects say the project would set new standards for design excellence and public amenity.
"Given its prominent location, the pedestrian experience and public amenity offered at ground level has been greatly considered," reads their design statement.
"The building envelop is considerably set back and this space is given back to the public realm, allowing for a multitude of public and commercial facilities that build upon the soon to be completed transformation of Scarborough beachfront – bringing vibrancy and urban activation east of Scarborough Beach Road."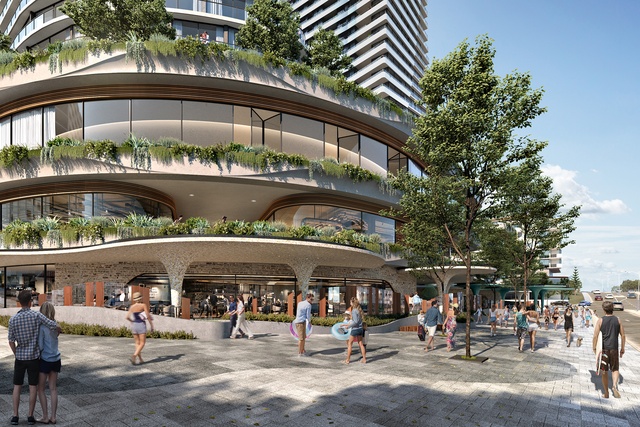 Developer 3 Oceans Property's managing director Dyno Zhang said in a statement, "The Contacio site […] is an important part of Scarborough's identity and evolution, and has the potential to become a landmark for both the local community and its many visitors – blurring the edges between Scarborough's beachfront and urban life."
While the developer has reported receiving largely positive feedback at two "community workshops," the buildings height has been contentious, with some being vocal in their opposition.
A spokesperson for the MRA told ArchitectureAU the proposal received 400 submissions during its period of public exhibition.
One local resident told the ABC he feared the towers could lead to Gold Coast-style development. "You're deciding that Scarborough should become – and Perth for that matter –fundamentally different to what it's been before and what it is now," he said.
The shadow minister for planning, Liza Harvey, has expressed her support for the project.
The developer has previously indicated that construction of the twin towers could begin in late 2017, subject to planning approvals.
Scarborough Beach is currently undergoing a $57 million redevelopment of its public spaces to designs by Taylor Cullity Lethlean along with UDLA and Arup. The project is backed by $30 million dollars from the state government and $27.4 million fro the City of Stirling and is expected to be largely complete by April 2018.