Controversial Perth tower proposal rejected
A contentious proposal for two towers at Perth's Scarborough Beach, which would have risen four times higher than the area's maximum permissible height, has been rejected.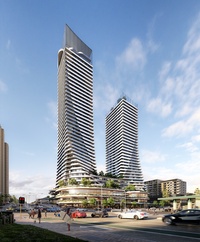 Mooted for the site of former Contacio bar, the mixed-use development would have comprised two towers of 43 and 35 storeys, housing 346 apartments, 158 hotel rooms, a convention centre and a public viewing deck.
The Metropolitan Redevelopment Authority (MRA) board refused the application on the basis that it would have been a "significant overdevelopment" for the site and that the benefits it promised "did not warrant the extent of discretion sought from the MRA."
Designed by Hillam Architects for developer Three Oceans Property, the tower complex was sold as a "paradigm shifting" project and received high-profile support, including from shadow planning minister Liza Harvey.
It was, however, a highly controversial project, attracting some 400 submissions during its period of public exhibition. It was widely criticised for its scale, with local residents expressing fear of Gold Coast-style development and concern about overshadowing, traffic and noise.
In a statement, the MRA board acknowledged the efforts of the developer to address issues raised through the assessment proposal, but said the proposal was inappropriate in its current form.
"Given the site's location on the corner of West Coast Highway and Scarborough Beach Road, the Board determined that the critical mass of residents, workers and visitors on one site would also have serious impacts on the local traffic network," said the board.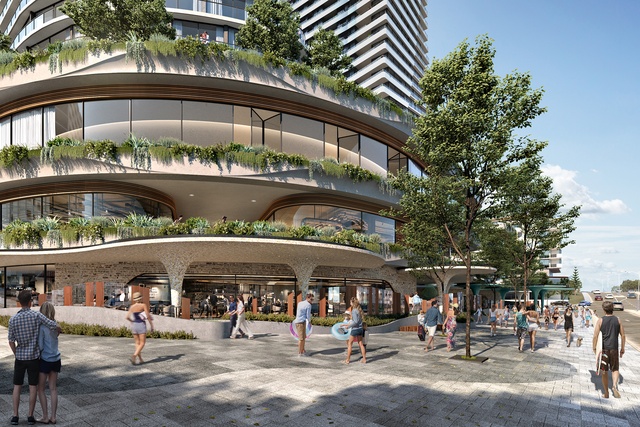 The developer received in-principle approval from Mains Roads Western Australia for a $5 million pedestrian footbridge on 6 December – a last-minute approval for a measure aimed at improving traffic pedestrian safety and traffic – but the MRA noted that the bridge did not form part of the application and was not considered in the assessment.
The MRA stated that it would "welcome the opportunity to work with the developer on a modified proposal for the site that is more consistent with the vision of the Scarborough Master Plan."
Scarborough Beach is currently undergoing a $57 million redevelopment of its public spaces to designs by Taylor Cullity Lethlean with UDLA and Arup, which is slated for completion in April 2018.