Something's afoot in the backstreets of Collingwood, just north of Melbourne's CBD. The former industrial area has been rapidly gentrified, earning a reputation for hip warehouse conversions, boutique galleries and offices, hipster cafes and artisan retail outlets. The neighbourhood has a bohemian, eclectic feel: effortlessly cool with a sense of spontaneity.
As development has surged and the population grown, so too has the need for public open space, but how can you provide new green areas where no spare space exists? And how do you plan for safe, durable places that don't kill the vibe?
Since 2009, the City of Yarra's Converting Roads to Parks program has generated open space projects by using existing traffic infrastructure, such as council-owned car parks and sections of roads. It builds on opportunities identified in the Yarra Open Space Strategy (released 2006, prepared by Thompson Berrill Landscape Design in association with Environment and Land Management) and responds to the 2009–2013 Council Plan's strategic target of generating five new parks in five years.
"Converting roads was one of our few ways to meet that target," says Joanna Bush, Open Space Planning and Design coordinator at the City of Yarra. The program also connects with the council's broader objectives of reducing car use, improving environmental sustainability and revitalizing the neighbourhoods in which the parks are situated. The program began in 2009 with the conversion of Barkly Avenue at Barkly Gardens in Richmond – a central road between two existing parks was converted into parkland to create one large space. This has been followed by three other projects: Peel Street Park (2011) and Oxford Street Park (2013) in Collingwood, and Richmond Terrace Park in Richmond (2014), all funded by developer contributions. The Collingwood parks feature rain gardens and are designed for flexible use, such as to accommodate mini events and gatherings.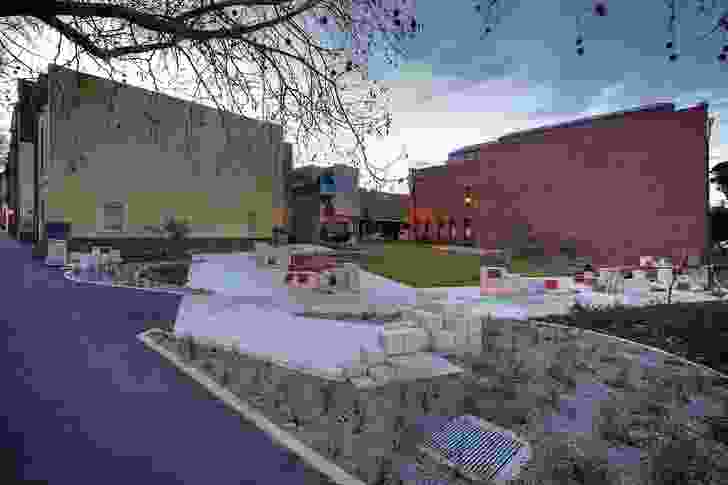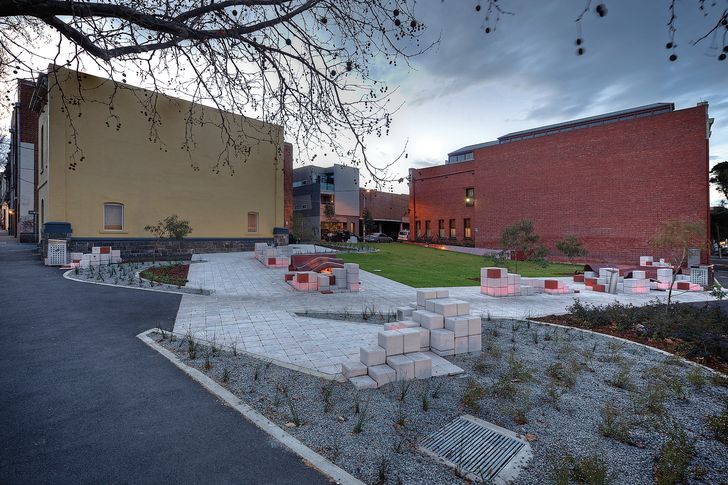 Peel Street Park makes use of a council-owned car park located close to buzzing Smith Street. Construction noise from a neighbouring development, Smith & Co Apartments, fills the space. It's a reminder of how vital this patch of green will become over time. The designers aimed to create an open, accessible space, which required that particular attention be given to tricky site levels. "We wanted it to be accessible from as many different angles as possible," says Carrie Lindsay, open space planner at the City of Yarra.
The design, a collaboration between the council's Open Space Planning and Design team and Convic, features a large sloping lawn. Wave-like, rust-coloured seats and blocks of concrete sit at the Oxford Street edge, while on Peel Street, grid-like paving hopscotches into the park and stacks of concrete blocks create informal seating and play opportunities.
While the community was generally supportive of the project, the design team negotiated common issues, including concerns about loss of parking spots and worries that the creation of a park would encourage perceived antisocial behaviour in the space. "[There were] syringes and condom wrappers; people would sit and drink before going out to Smith Street," says Lindsay.
Support for the project from the owners of the neighbouring Foy and Gibson heritage building was invaluable. "They … were willing to defend their position against [those] who said 'you'll exacerbate the negative activity that happens in this car park,'" says Bush.
The park has settled into the fabric of its surroundings. Locals walk their dogs there, workers stretch out on the lawn while they eat their lunch, kids play on the concrete blocks. Signs of wear and tear, such as graffiti and patchy lawn, highlight how essential maintenance is to a project's long-term success and offer valuable lessons for the council's design and maintenance teams. Getting maintenance regimes right is fundamental to the ongoing success of the program and ensuring continued community support.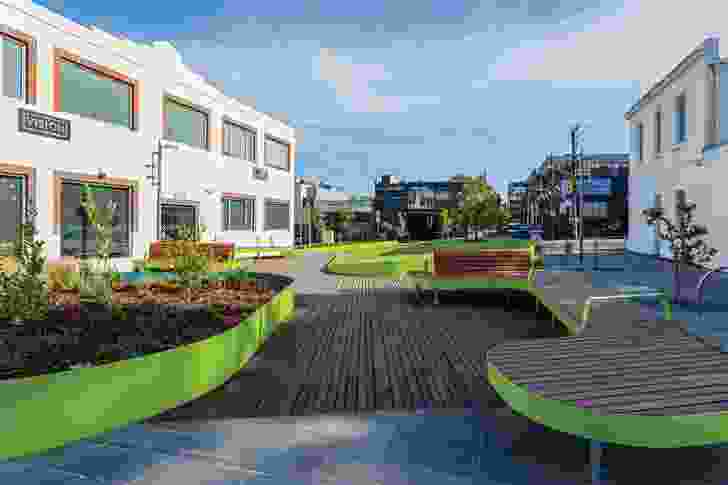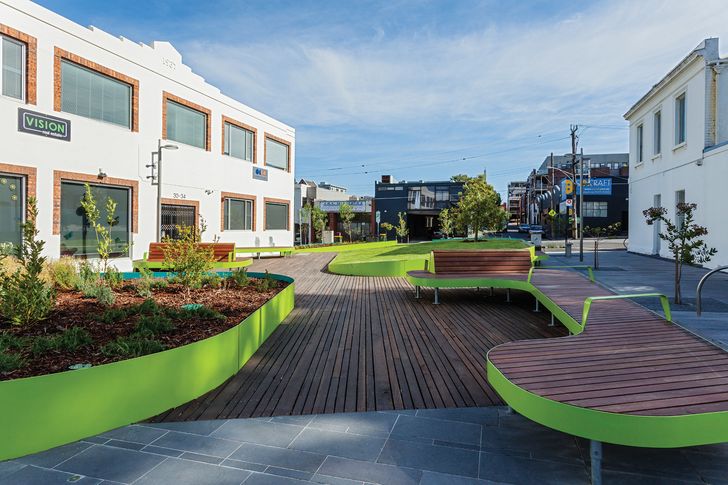 At five hundred square metres, Oxford Street Park is a deceptively simple space in which to intervene. A collaboration with Urban Initiatives (with concept design by the City of Yarra and Leanne O'Shea Landscape Architecture and Urban Design), the park was created by closing a block between Langridge and Derby Streets, and sits between a small office building and a single private residence. Acid green steel planters and furniture playfully wrap around a central deck. It is a finely detailed, human-scaled space: timber decking neatly intersects with honed bluestone pavement, subtle lighting preserves a sense of safety and adds night-time interest, and a gently sloping lawn planted with a single kurrajong provides relief from the surrounding hardscape.
To foster imagination, the designers closed the existing road for the consultation open day. "We stood in the middle of the road so that people could actually see what it would be like," says Lindsay. Given that planning for Oxford Street Park began so soon after Peel Street Park had been completed, there was a buzz around the program as a whole.
"A lot of people turned out for the opening; they got to meet their neighbours and there was a lot of discussion about what had been achieved."
Support from the community at large provided fuel for the project and there were lengthy negotiations with adjacent property owners, which in turn has informed the team's project planning. "A major thing that came out of both [parks] was to plan for more time … we've learnt to go more slowly, to take people along on the process," says Bush.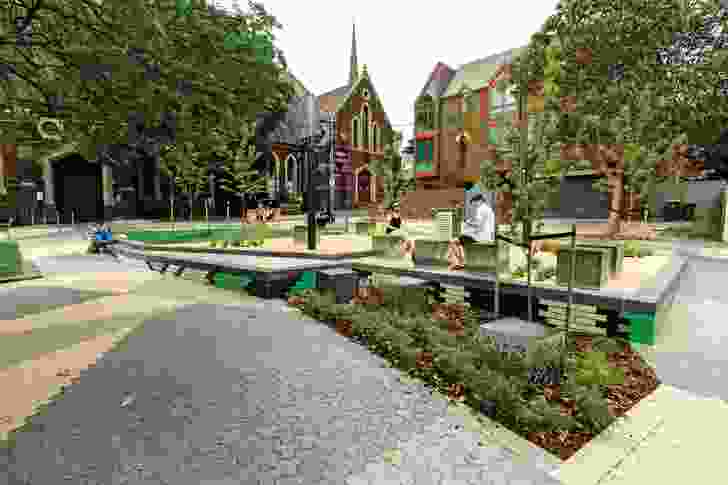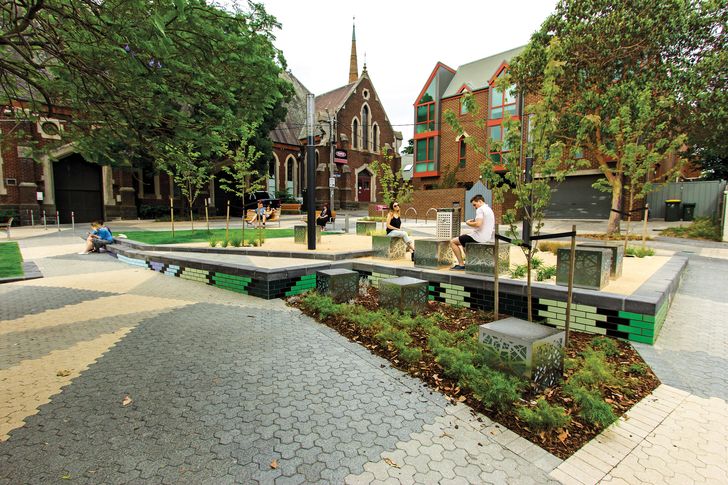 Richmond Terrace Park, designed by Hansen Partnership with input from City of Yarra, was formed by closing a section of road at the intersection of Docker Street and Richmond Terrace. The park has a local feel and is well integrated with the existing residential character of its surrounds. A series of grassed terraces orient towards the city and take advantage of views of the MCG and CBD skyline. Existing mature trees have been retained while new trees, planted in avenues, visually connect into Richmond Terrace and Docker Street. Feature pavement extends to the edge of adjoining properties, enabling owners to directly access the park. The pavement itself is tasked with multiple roles. Its pattern, inspired by the stained-glass windows found in nearby historic buildings, connects to the spatial history of the site. On a functional level, it denotes the areas of shared access: vehicles driving to and from adjoining properties, and circulation routes for bicycles and pedestrians.
The council has adopted a pragmatic, strategic approach to open space provision in its highly urbanized areas. While the Collingwood spaces don't explicitly engage with their site's cultural histories, nor do they actively exclude anyone.
"Particularly in Collingwood, their role is to provide respite from the built-up environment … it's important to design flexible space, but also to provide that bit of green. It's nice to turn a corner of some old warehouse and see open space," says Lindsay. That the council has approached these parks as individual, bespoke projects demonstrates a commitment to fostering vibrant communities in its densely populated areas.
Source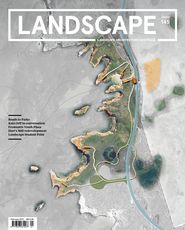 Issue
Landscape Architecture Australia, February 2015
Related topics