Last Friday, I had lunch at Cookie with Camillo and Monika Ippoliti in a space that for me is imbued with many fond memories and meaning. Afterwards, I walked out and past a scene of chaos on nearby Bourke Street.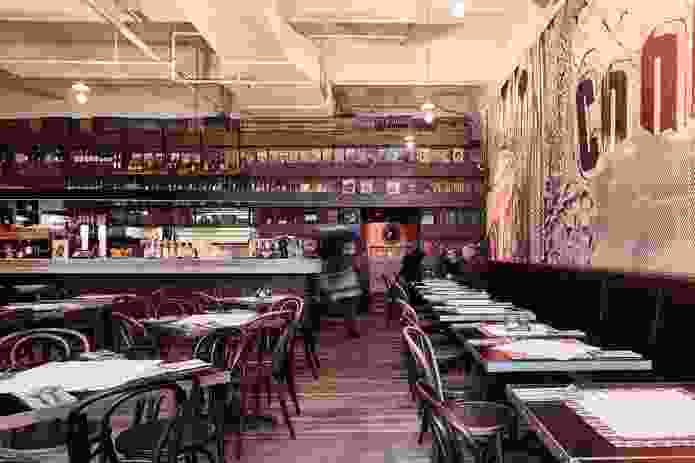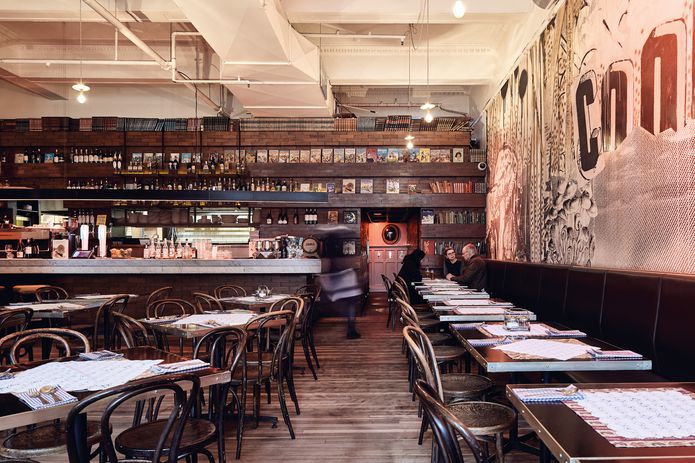 It was only the next morning that I read that one of the victims of the sinister attack was Sisto Malaspina, the co-owner of Pellegrini's. I didn't know Sisto well, but one morning a few years ago, when I was on-site, working on a project at the top end of Little Collins Street, he stopped to admire a set of steel doors that were being fitted to the old warehouse building that was soon to become Magic Mountain and we had a long chat. Later, I went across to order one of the numerous coffees I had enjoyed over the past forty years or so while perched at the bar at Pellegrini's.
Sisto once told me about his plans to renovate the little diner/café. He only got as far as replacing the worn black and white vinyl floor tiles with granite. His patrons urged him to go no further. He didn't need to.
The recent outpouring of love for this wonderful Melburnian and the fact that he will be given a state funeral acknowledges the connection that people form with places, and the people behind them, like Sisto and Pellegrini's.
Back in 2001, the planets aligned in a special way. This is a Melbourne story: two people I'd known at primary and secondary school respectively and a third who was a former client, got together and bought a shabby old building in the heart of the city: Curtin House. Camillo, for whom I had designed Revolver a few years earlier, became a potential tenant. His people spoke to my people and we arranged to visit the first floor. The new owners had a vision and wanted something special to act as an anchor and draw-card for the building. I fell in love with the faded grandeur of the space the minute I set eyes on it.
It is difficult to gauge the extent to which any design might age or date. There are so many variables at play and as we all know, trend cycles in the hospitably sector are notoriously short, apart from some rare exceptions.There was and continues to be something noble about that vast room, with its high ceilings and six sets of French doors, opening out onto Juliet balconies overlooking Swanston Street, which was then far different from what it is now- a thriving street, bustling with energy, with plane trees as tall as the second floor of the building. The challenge for me was to find a way of breathing life back into the room without losing or diminishing the intrinsic aspects that I found so attractive. I wanted to maintain its grandness while at the same time introducing warmth and intimacy. I also wanted to connect the interior with the exterior of the building and with the city beyond. I hoped to produce something robust and enduring like Pellegrini's.
I didn't set out to make a design statement, but paid close attention to the palette of materials and endeavored to find a way of inserting the service elements into the room without compromising it.
As I do with all of my projects, I spent a lot of time on site talking with my client, developing the brief and then moving back and forth between my studio and the site. I worked quietly alone, producing all of the drawings by hand, seeking to create a hierarchy of space and detail in which each part contributed to the whole and seeking ways to address each small problem that presented itself, until we were ready to start construction.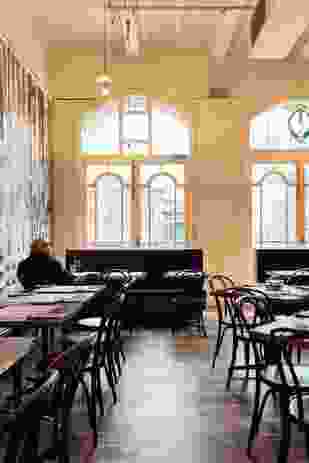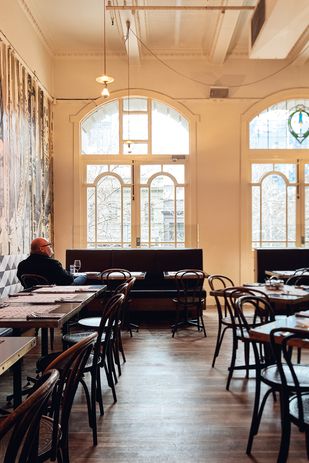 Successive layers were added, resulting in a kind of palimpsest in which old and new elements coexisted comfortably.
The end result is part invisible mending and part contemporary intervention, in which the old and the new are stitched carefully together to produce something new. I felt at the time and still do, that I found a way to honour the building and Camillo's brief while at the same time being true to myself.
I have some theories about why Cookie has endured that are partly to do with design strategies but also to do with Camillo's stewardship. Cookie was ahead of its time, sited in an area that was in transition, but was also part of a Melbourne tradition of the hidden or covert venue, that extends as far back to the Waiter's Club. It is a sort of Speakeasy tradition that we Melbournians seem to love. It gives us a degree of ownership of our favourite haunts. Like its predecessors, it had to function as a destination rather than relying on passing traffic.
The energy evident in places like Cookie and Pellegrini's extends far beyond the physical. It relies so much on the synergy between place and the people who inhabit it. Camillo has a keen understanding of this. It is his special "thing."
I must have done something right, because Camillo engaged me to design The Toff in Town on the floor above Cookie and later Magic Mountain in Little Collins Street. When a project or a city is greater than the sum of its parts, there is a kind of alchemy or magic at work. That is what I am most interested in achieving.
I thank the judges for choosing to bestow this award on a project that has always been very dear to me and is now being acknowledged in this special way.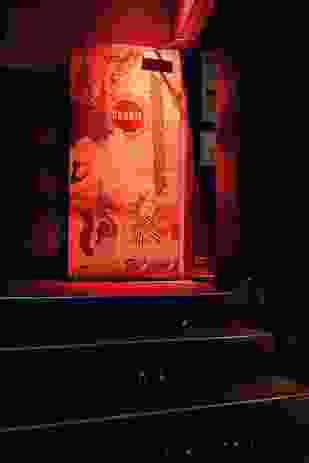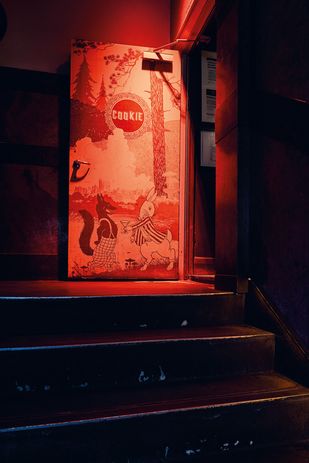 I thank my client, collaborator and friend, Camillo for his patronage and for the wonderful opportunities he has given me, both in this field and with the residential projects we have worked on together with his wife, Monika. They have given me the chance to develop my ideas and sensibility across a range of seven projects, one of which is still in the pipeline.
I don't think that it's possible to produce good work without enlightened and receptive clients who are willing to spend the time required for a synergy to develop between themselves and the architect/designer.
Karen Batson, who is much more than her title of Executive Chef suggests, has not only overseen the production of delicious food in all of the venues, but also selected the crockery and designed the napery and aprons. She, too has been an absolutely wonderful collaborator and friend.
Gus Braidotti, a man with a deep understanding and love of good wine, the sommelier at Cookie. He was a professional photographer and has proven that his palette is as good as his eye.
Lastly, I'd like to thank my beautiful and clever partner Livia and our two boys, Julian and Andy for their love and support. The conception of the boys aligned with the inception of this project. You might say that it was a period of great fecundity for all involved!
Source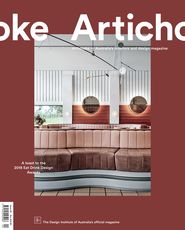 Issue
Artichoke, December 2018
Related topics