Construction of the Art Gallery of New South Wales's expansion project, Sydney Modern, is in doubt following a prospective contractor's withdrawal from tender process.
The Sydney Morning Herald and the Daily Telegraph report that the Lendlease has withdrawn its initial bid to build the expansion project due to a cost dispute.
It is understood Lendlease was the only remaining bidder in the original tender and it has submit a fresh bid in a reopened tender process.
The project received planning approval in November 2018. Construction was due to start in early 2019, completion in time for the gallery's 150th anniversary in 2021.
Japanese practice SANAA won an invited competition to design the project in 2015 with a scheme consisting of a series of pavilions cascading towards the harbour. The original brief called for the expansion to be physically attached to the existing 1897 Vernon building of the AGNSW, designed by government architect Walter Liberty Vernon.
The project originally had an estimated budget of $450 million when it was fist announced in 2013.
However, in June 2017, the NSW government announced it would provide $244 million in funding towards the project. The AGNSW will seek an additional $100 million in private donations, taking the total project cost to $344 million.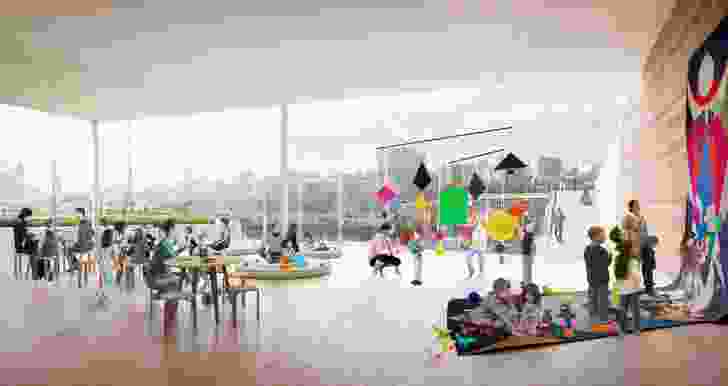 The project's proponents said in its development application, "Based on this funding envelope and feedback the AGNSW received during stakeholder consultation the architectural scheme was revised.
"A revised design brief, closely aligned to the competition brief, was developed to reflect the reduced scope."
The design of the expansion was subsequently revised to a stand-alone structure separate from the existing building and the overall proposed footprint was also reduced.
Lendlease's withdrawal of its initial bid comes after the company's stage two bid to construct a new stadium at Moore Park, designed by Cox Architecture, was knocked back by the government because it "was not able to meet the government's targets," the ABC reports.
"The budget is $729 million … they're our projected costs and we have to meet those," Sports minister John Sidoti told the ABC.
A spokesperson for Infrastructure NSW told media that a competitive tender process has been underway for months and the contract is expected to be awarded "in the near future."
Related topics