A proposal by a former senior public servant in South Australia could see a driverless, battery-operated elevated rail system introduced at Flinders University in Adelaide.
The unique elevated mass-transit system, known as Sky Way, has autonomous vehicles and operates on rechargeable batteries. The technology has been developed by an engineer with experience in the Russian space program and is being brought to Australia by businessman Rod Hook, who is the ex-CEO of the Department of Planning Transport and Infrastructure in South Australia.
Hook said the Sky Way system is capable of urban transit, high-speed inter-city rail and freight transit.
The system is also purportedly more efficient, more environmentally friendly and "significantly cheaper" than traditional on-ground tram and train systems.
"Trains and trams normally go at grade through cities, across farmland or in outback Australia. You're building the tracks on the ground, you're building corridors, alienating land, or trying to find space in cities, probably on roads where these things might sit," Hook explained.
"Sky Way goes over the top, so we don't have issues with alienating land. We don't have issues with congestion. We don't have safety issues on the ground where trams and trains have level crossings.
"I think we offer a solution that isn't available with a train line or a tram line."
Hook also said the system differs from a monorail because the system operates on two rails rather than one and it's also capable of faster speeds than the former Sydney monorail that closed in 2013.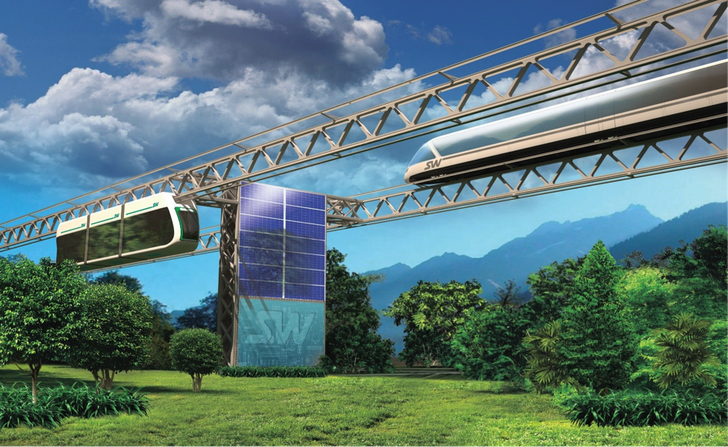 Rod Hook and Associates is collaborating with Flinders University to possibly build a 500-metre pilot project at the Bedford Park campus, which will connect the university's central hub to the proposed Flinders Station – part of the state government's Tonsley rail line extension project.
The pilot is expected to cost $13 million. By way of comparison, the South Australian government's one-kilometre extension of Adelaide's tram line along North Terrace is expected to cost $50 million.
"If [the Sky Way] is feasible, it has the potential to be a drawcard for South Australia and a fantastic community amenity," said professor Colin Stirling, vice-chancellor of Flinders University. "Not only would it address a practical need, but it would be an attraction in itself as there's nothing like it anywhere else in the world."
In addition, Rod Hook and Associates also plan to build a one-kilometre test track to demonstrate its potential.
Related topics