Waverley Council in Sydney's inner-east has revealed a reworked design by architect Tonkin Zulaikha Greer (TZG) to restore and redevelop the heritage-listed Bondi Pavilion, originally designed by Robertson and Marks and built in 1929.
The design, which is part of a development application submitted by the council, follows an ill-fated proposal, also designed by TZG. The most recent plan, which was criticized for its commercial focus and the loss of several music recording studios, was axed in 2017 following a local election that saw opponents of the proposal appointed to key council posts.
Waverley mayor John Wakefield said, "The community told us they wanted council to retain, restore and conserve the heritage of the building and improve its functionality – and we listened."
"Architects TZG have worked hard to weave the pavilion's history into any new aspects of the design, including the colonnades on the internal courtyards, the ground treatment in the courtyards and by making the atrium space a focal point for users."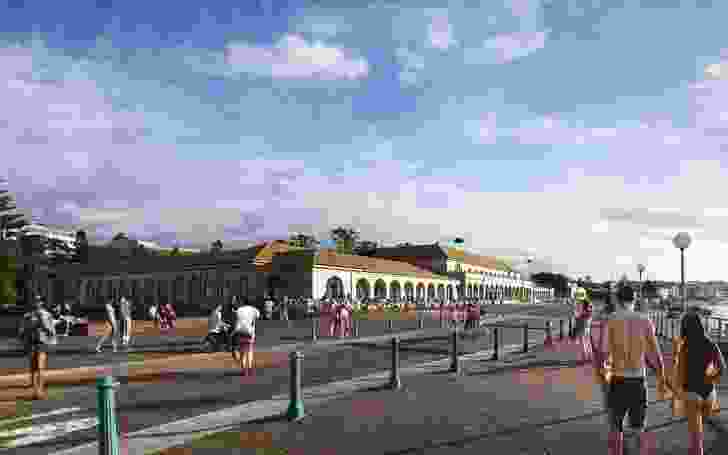 In an acceptance speech following his election win, he said a new plan would be drafted and a community advisory group established. That group, the Bondi Pavilion Stakeholder Committee, produced a report that said that priority should be "given to community and cultural use consistent with the surfing heritage of Bondi." It called for the arts facilities to be refurbished and retained, and for commercial activity to be restricted to the pavilion's beach frontage.
When concept designs were revealed in September 2018, Wakefield said the proposal was "not a major re-construction," but rather the restoration of "a functional and beautiful heritage building."
The new proposal contains a detailed plan for the building's remediation and conservation. Concrete roof tiles will be removed and replaced with terracotta tiles closer to what was present in the 1920s.
The curved skylight on the pavilion's roof will be removed and the built form flattened, restoring the symmetry of the original design.
New additions include a tourism office and a "Bondi Story Room" which will be used as a flexible cultural space. Larger commercial tenancies will be focused on the beachside frontage.
The pavilion as it stands now is a two-storey building with single storey wings surrounding a large central courtyard. It features colonnaded facades on all elevations. According to the heritage statement of significance, it is "well sited in the beach park landscape."
Related topics