The City of Glen Eira has moved to save a mid-century modernist house designed by the late, Russian-born architect Anatol Kagan in the Melbourne suburb of Caulfield North from demolition.
A planning permit application for the property at 450 Dandenong Road proposes to construct eight dwellings, between two to three storeys, above a basement car park on the property in Melbourne's inner-south-east, which has no heritage overlay. The application was received on 5 May.
At a council meeting on 4 July, the council voted to request that the Victorian planning minister, Richard Wynne, "prepare, adopt and approve a Planning Scheme Amendment in accordance with Section 20(4) of the Planning and Environment Act 1987 for an interim heritage control over the property."
Glen Eira mayor Mary Delahunty told ArchitectureAU, "the intent of the interim heritage control would be to prevent any demolition occurring until a full assessment of whether protection is warranted can be undertaken."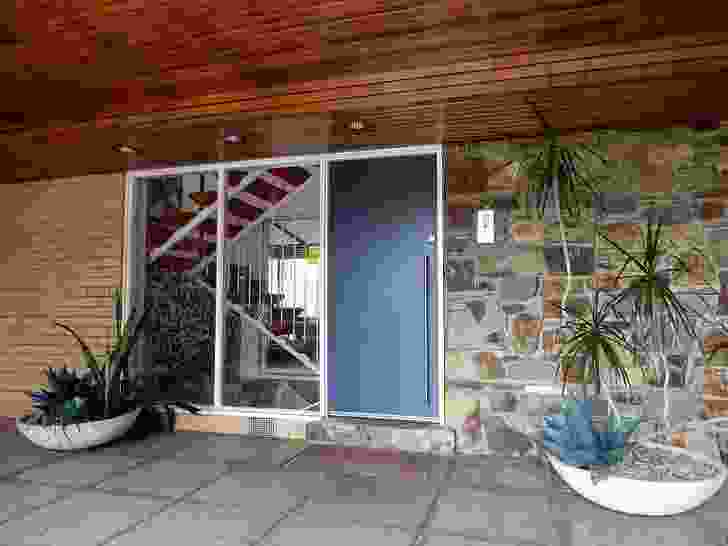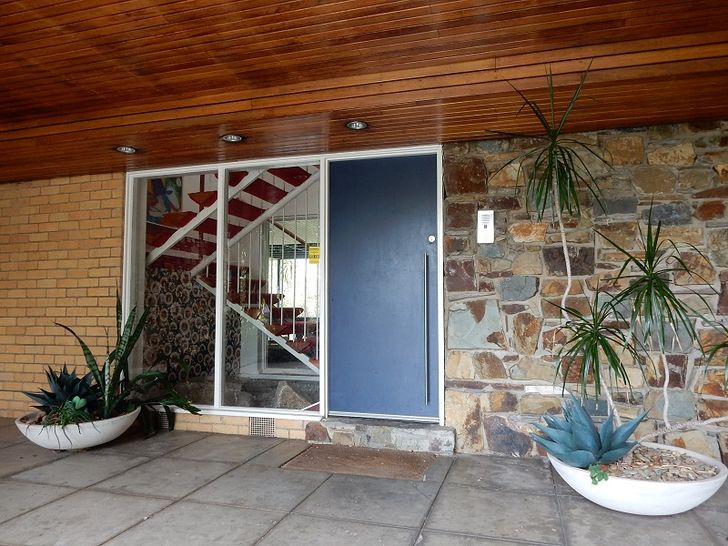 In his biography of Kagan, Gentle Modernist: The Nine Lives of Anatol Kagan, architectural historian and heritage advisor Simon Reeves described the house, also known as Lind Residence, as one of Kagan's best known works by virtue of its "eye-catching" position along the eight-lane Dandenong Road and Princes Highway.
Built in 1956, the four-bedroom house is a good example of Kagan's concept of an "upside-down house," where the upper level containing the principal living areas is "expressed prominently as a projecting and dominant element above and understated and plinth-like ground floor," Reeves wrote in his book.
"The upper facade incorporated a full-height window wall in a bold geometric configuration of rectangular fixed and operable sashes, with spandrels of opaque coloured glass. Orange brickwork and the ubiquitous stone feature walls were combined to striking effect."
The Lind Residence also marked the first time Kagan employed the then-newly fashionable butterfly roof in a form with "unusually deep eaves enlivened by exposed rafters of slightly tapered form."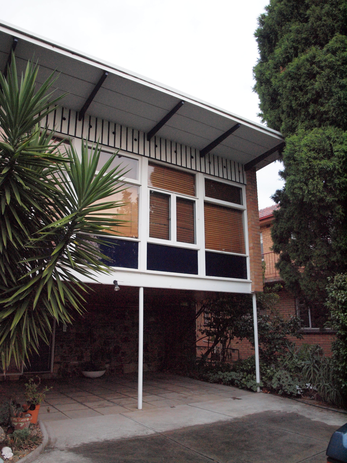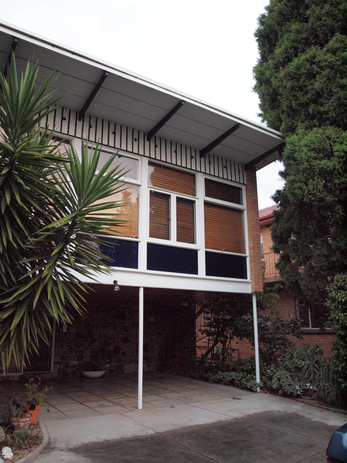 Visiting the property for the Melbourne Weekly in 2006, when the house was up for sale, architect Neil Clerehan found that the original interior of the house had been well cared for: "The house, more than half a century old, is perfectly fit to continue to serve another generation of elevated occupants. They will never see another collection of lighting fixtures or joinery like this one. This was the golden age of built-in cupboards."
Patricia Callan, who edits the Modernist Australia blog and played a part in attracting the council's attention to the significance of the building, said that the preservation of the house plays a large part in its continuing value. "So many mid-century homes, if not demolished, have been remodeled into something else entirely. This home retains its original integrity, surfaces, spaces and, we dare say, [the same] feel as it did 60 years ago when it was first built."
"This is 11th hour stuff and it still very much hangs in the balance. Though it is very heartening that this has now led onto conversations about overall heritage assessments within [Glen Eira]."
Born in St Petersburg in 1913, Kagan, along with his mother and his father, who ran a publishing house and lectured in economics, was exiled from Russia to Germany as a consequence of the anti-intellectual sentiments brought about by the Soviet revolution in 1923.
After studying architecture in Berlin, Kagan, a Jewish Soviet citizen, was barred from practising architecture because of restrictions by the Nazi government on permitting "foreigners" to work. The Kagans were expelled from Germany in 1938. Only two countries would accept migrants working as architects at the time: Argentina and Australia. Kagan arrived in Melbourne, via a short stint in London, in 1939.
In Melbourne, Kagan eventually established his own practice, Anatol Kagan and Associates; his bread and butter as an architect was in designing homes for wealthy Jewish businessmen. Tired of these projects, Kagan later abandoned his Melbourne practice and moved to Sydney in 1960 to take up a role with the Public Works Department as an architect of high schools and psychiatric hospitals. He continued to work on a number of projects in his 30-year retirement, which included an unrealized masterplan that would have seen central St Petersburg entirely rebuilt.
Related topics