Picture a street in Rome, Mexico City or Kyoto – a place where houses look nothing like they do here. Instead of hipped roofs and wide verges, suburban fences and setback lawns, there is the elemental offering of a strong, defensive wall. In each of these cities, these walls may look and feel different – they may be coloured or rendered or assembled with fine timber screens – but their purpose is the same. They are there to protect the life of the home, to create a place of retreat and to keep the constant bustle of city life at bay. At their core, they often hold gardens, which provide light, air, outlook and a sense of tranquillity.
There are certain building types that are universal and one of these is the walled courtyard house: a home encircled by walls, with a garden at its heart. Courted House by Breakspear Architects is a fresh take on this long and meaningful architectural tradition.
The deceptively simple arrangement of the house is based around a nine-square plan. Each corner is anchored by a quiet space – a bedroom or study – while the central cruciform contains the entry, living, cooking and dining spaces. This diagram is highly efficient, eliminating the need for corridors and excess space. More importantly, it is remarkably calm, as living takes place within, around and across the central courtyard.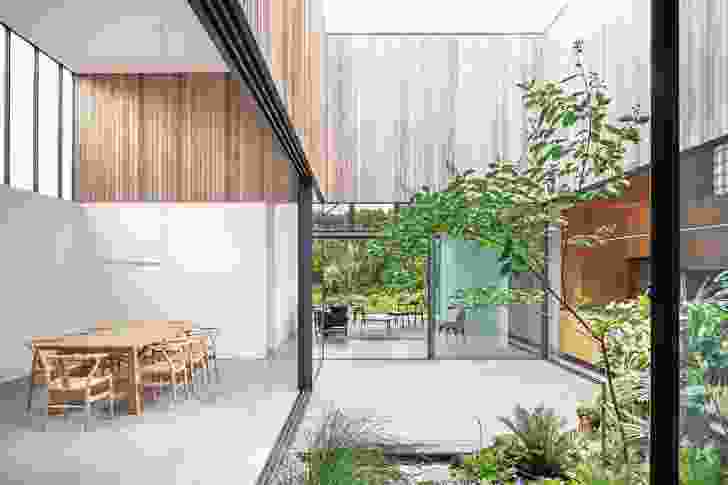 The centre of the house – both literally and figuratively – is this private oasis. The courtyard is carved out of the building, forming a sheltered, hidden room. The space contains a sun-drenched deck, a cluster of subtropical plants and a small run of stepping stones reaching towards the entry, inviting visitors in. And yet, this courtyard can be lively too. When friends gather and parties are held, the crisp aluminium-framed glass doors are thrown open, allowing people to wander in and out, pausing to refresh a drink or to stare up at the framed sky. As a space, it can be both contemplative and joyful.
The spaces surrounding the courtyard – the four public rooms – adopt a similarly quiet, restrained quality that is at once poised and powerful. Paired spaces converse across either side of the courtyard: one axis joins the kitchen and dining room, while the other unifies the living areas. Life runs in parallel – while parents relax in one room, kids can be glimpsed playing in another.
Within the meticulous, rational geometry there is great freedom. Each of the rooms is generously proportioned, with soaring white ceilings that are reminiscent of gallery spaces. The quadrants are demarcated by cedar-clad bands, which slice through the ceiling and extend out to meet the courtyard's cladding. The minimal use of built-in furniture allows for a certain flexibility – it would be easy to switch the living and dining rooms and, in doing so, transform the patterns of daily life.
The four corners containing private spaces are compact and cleverly designed. No single room is exactly alike as each hosts a combination of bedroom, bathroom, storage and study spaces. These differences are elegantly resolved by clustering the joinery and bathrooms within sleek, oak-veneered volumes. Tucked away, they become both minimal and unobtrusive. The lowered ceiling heights are also exploited as additional space, with fine ladders linking up to a series of small mezzanines. These spaces, which feature balconies overlooking the rooms below, can be appropriated as home offices or play nooks.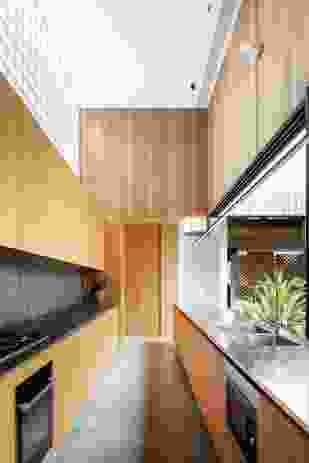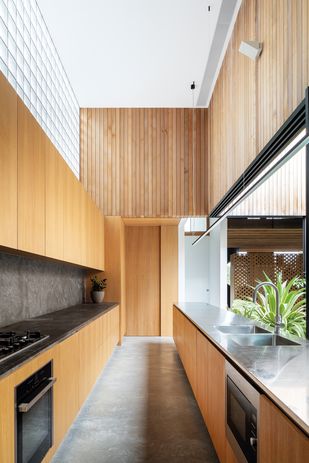 The final layer of this home is its outer border, which is defined by the perimeter wall. These edges are essential to the interior's feeling of privacy and peace as they provide protection against tall neighbours, traffic and regular suburban clutter. Towards the backyard and street, these walls are screened by hand-folded perforated steel sheets that filter dappled light. Along the side boundaries, utilitarian fibre cement sheets are held in delicate aluminium channels. Their elegant proportions offset their industrial feel.
These outer walls are rarely punctured but when they are it is purposeful. There are essential entry and exit points, such as the solid sliding front door, as well as high glass blocks to the north-east and frosted windows to the south-west that bring soft light to the interior without distracting with superfluous views.
In the backstreets of Sydney's inner-west, Breakspear Architects has done something unique. The practice has taken a diagram that we all know – universally and intuitively – and have made it its own. Within a house like this, there is room to pause, to reset, to breathe and to escape. Courted House feels both timeless and specific to its context, an Australian version of the great walled courtyard homes that have been built throughout history, culture and time. It is a serene slice of suburbia that is refreshing, relaxed and restrained.
Products and materials
Roofing

Lysaght Klip-lok in Colorbond 'Ironstone'
External walls

Cedar cladding in Cutek oil; Equitone Tectiva fibre cement facade panels
Internal walls

Cedar wall lining in Cutek oil; plasterboard in Porter's Paints 'White'
Windows

Obeco La Rochére Glass Blocks
Doors

Schüco sliding doors
Flooring

Honed concrete flooring
Lighting

Luceplan Compendium suspension lamp; Modular Lighting Instruments Lotis tubed light; Trizo21 Austere-F reading lamp
Kitchen

Custom oak joinery; brushed stainless steel benchtop with integrated sink; granite benchtop and splashback; Bosch cooktop; Neff oven; Smeg integrated dishwasher
Bathroom

Ceramic wall tiles from Academy Tiles; custom Carrara marble vanities
Heating and cooling

Custom perforated screen by Locker Group
Other

Custom plate-steel spiral staircase
Credits
Architect

Breakspear Architects

Project Team

Toby Breakspear, Tiffany Liew
Consultants

Builder A.M. Custom Builders
Engineer Cantilever Consulting Engineers
Landscaping Sprout Landscape Architecture

Site Details

Location Sydney, NSW, Australia
Site type Suburban
Site area 557 m2
Building area 195 m2

Project Details

Status Built
Design, documentation 15 months
Construction 10 months
Category Residential
Type New houses

Source