Playing to type: Courtyard House
This delightful reinterpretation of a traditional terrace house has built-in flexibility, allowing it to adapt and change to the evolving needs of the family.
Dipping and sliding downhill off Sydney's flamboyant and well-trafficked Oxford Street is a significantly less travelled but in some ways no less colourful suburban thoroughfare. Boasting none of the main drag's eclectic flash and trash, gay bars and high-end designers, its vivacity lies instead in a charmingly heterogeneous range of typologies. Diverse housing styles somehow complement one another in a rich melange. Old, single-storey worker's cottages, three-storey warehouse-cum-galleries, traditional two-up two-down brick terraces, and freestanding weatherboard homes are all cosily compressed in the tightest of inner-city spaces. While the mix has the potential to suggest a distracting randomness and lack of cohesion, it feels pleasingly, communally eccentric.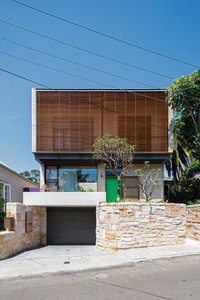 Perched in the middle of this mix and recently added is the only new home to join the assembly in the past hundred years – the Courtyard House by Amelia Holliday and Isabelle Toland of Aileen Sage Architects. Built by Amelia's husband David Lakes (Lochbuild), its significance is twofold: it is both Amelia and David's first permanent family home together, and Aileen Sage Architect's first completed residential work. Its intent is singularly apparent: to thoughtfully create a contemporary infill, responding to the context in which it sits by referencing and reinterpreting the inner-city terrace and materiality of the location without trying to replicate it.
As is common with architects' own homes, the project enjoyed a lengthy gestation. After years of searching and negotiation, Amelia and David purchased the double-width, derelict deceased estate two minutes off Oxford Street: a great site and location, hosting a sad wreck of a house. The existing home featured two two-storey structures (one addressing the street, the other pressed hard against the rear fence) and a single-storey bridging building (hugging the southern boundary). While pre-sale discussions with structural engineers confirmed the home was unsalvageable, the site offered a large building envelope with plenty of opportunities and potential.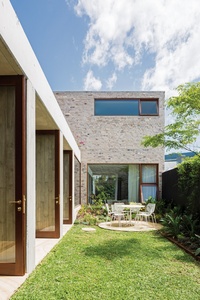 Using the old footprint, Aileen Sage Architects ran the new building across three simple interconnected structures. Two two-storey pavilions were stretched across the site from the north to the south boundary, and united by a single-storey, open-plan living pavilion lining the southern boundary. Playing on the traditional terrace idea of street-facing "public rooms" shielding "private" spaces behind, they positioned a community-friendly public pavilion at the front, offering high visibility to the street, and a private pavilion at the rear.
First, and lasting, impressions are of a positively cheerful, feel-good reinterpretation of the typical two-storey Paddington terrace: a wide, upper-level overhanging balcony immediately evocative of the inner-city terrace, of relaxed Australian verandahs, and surprisingly of beach houses of the 1960s. It feels teasingly familiar, yet uniquely contemporary.
Central to the plan is the opening and wrapping of all spaces around gardens or courtyards, hence the residence's moniker. Working with landscape architect Sue Barnsley, Amelia and Isabelle carefully threaded five external spaces over the site, with a sixth green space across the road also taken into consideration at design stage. The first of these spaces acts as a green buffer between street and home, the second as a sun-drenched north-facing "secret garden," a further two as softening features and retreats off the rear pavilion, and the final as a glorious rooftop garden of succulents, jacketing the single-storey bridge.
All internal spaces have been opened visually and/or physically to at least one of these outdoor zones. The kitchen opens to three outdoor zones, the front living room to five and the main bedroom to two, including the rooftop space. Critical to the design is the largest of these, the centrally positioned north-facing courtyard, allowing sun penetration and ventilation deep into all three encircling structures, which can be opened or closed to it depending on climatic conditions and need. The overall effect is of a meditatively calm, inner-city sanctuary.
The creation of a "future proofed" house that can stand the test of time, with the flexibility to adapt and meet changing needs as families evolve and grow, was a further core consideration. Where possible, spaces (and the house as a whole) have been designed for metamorphosis if and when needed. Unlike the relatively common and more rigid approach – living spaces in one area, sleeping in another – the pair has created flexible spaces in both front and rear living/sleeping pavilions that are capable of being re-birthed as required. The current "public" living area is designed to function just as effectively as a bedroom or home office suite; the current main bedroom suite works just as easily as a granny flat or separate guest accommodation.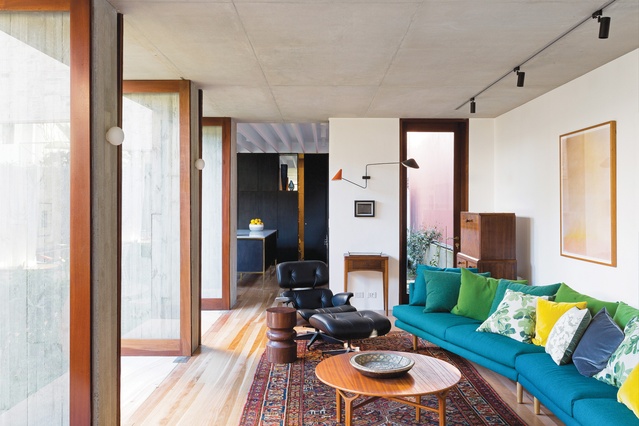 Colour and texture have been embraced joyously. A striking materials palette of bagged recycled brick, sandstone, rendered and painted masonry, off-form concrete and clear and patterned crazy glass is used to reference both the original and surrounding built fabric. Spirited splashes of colour pop in unexpected places, from the strikingly warm green front door to sunshine yellow and pinks in children's bedrooms, and sky blue on stairs.
All up, this house greets you with a twinkle in its eye. Equally as delightful is its use as a canvas on which to test ideas – from future proofing to the effective use of colour and texture. While this practice is in its infancy, both partners boast university medals, a raft of architectural honours, and years working for leading firms overseas and locally. While it appears spiritedly good-natured, this is a house built on a wealth of intellectual rigour.