It is so refreshing to be reminded that design innovation can be achieved without the use of exotic materials, complex feats of engineering and a vast budget. With a great client, a brave vision and significant attention to detail, standard building materials and a relatively simple structure can result in a dramatic, yet affordable, outcome. The Cowshed House by Carterwilliamson Architects, in Sydney's Glebe, is one project that reminds us of this.
Located on a corner site, the original L-shaped structure – which was built in the late nineteenth century as a cowshed – had been previously adapted to accommodate two bedrooms, a bathroom (which could only be accessed through the main bedroom) and a living and kitchen area, which all looked onto a large rear courtyard in the north-west corner of the site. Although the property came with council-approved plans for a substantial renovation, the owners, Nikki Slack and Guillermo Ruggeri, had fallen in love with the original building footprint. They felt it was more or less "spot on" in terms of site usage and orientation, and wanted to preserve the integrity of the unusual existing dwelling while making it more habitable and better suited to their growing family. "We also loved the sense of protection and privacy from the walled boundary and the suntraps in certain rooms, so it was really important to us to keep the L-shape and just reconfigure some of the spaces," says Nikki.
Architect Shaun Carter says the opportunity to remake a house on a corner site is rare in older urban areas. "It seemed like the perfect site, and along with that came clients with a wonderful spirit and desire to push conventional boundaries," he says.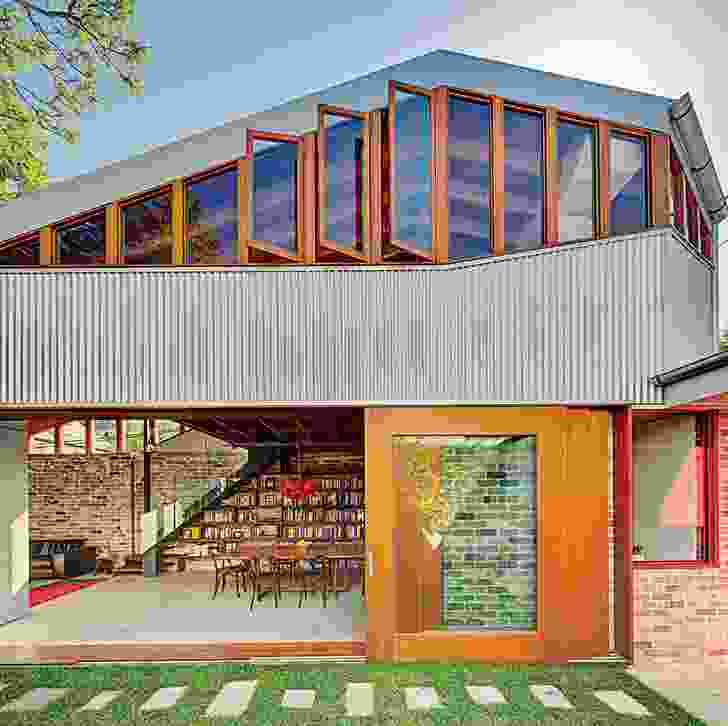 From the street, the new undulating metal-deck roof line climbs up over the protective brick perimeter walls in a serpentine-like gesture that encapsulates the adventurous vision of the project. The roof design draws on traditional references from the surrounding areas, but the architect has manipulated the typology to create a more sculptural solution. By folding the roof back down on the street corner, he has also cleverly reduced the impact of the second storey.
A larger entry has been introduced at street level, featuring a pivoting red-painted timber door that opens onto the main courtyard. To the right, the southern wing has been widened from three to four metres to better accommodate the open-plan living, dining and kitchen space on the ground level, with the main bedroom and concealed ensuite (tucked away behind a wall of joinery) located overhead on the new mezzanine level. To the rear of the main courtyard is the more private eastern wing, housing two bedrooms/study, the main bathroom and second courtyard to the rear.
Generously scaled Western red cedar-framed sliding and pivoting door systems have been introduced to better connect interior and exterior spaces. This connection is enhanced by the use of polished concrete floors, weathered face brickwork, and even the integration of stainless steel hammock rings dotted throughout the living and bedroom spaces.
It is the honesty of the materials used throughout that provides much of the inherent "decoration." "Build it once, and once only," says Shaun, meaning that the structure that forms the building envelope should, ideally, not need to be clad or dressed in any way. The soaring new double-height living space has a combination of exposed original and recycled brick walls, and plywood ceiling and bracing structures, punctuated by black steel portal frames. In the main bedroom, and in some of the ground-level internal walls, fibre cement panels have been left exposed to great effect, with a black-painted shadow line from studwork supports creating a subtle rhythm throughout.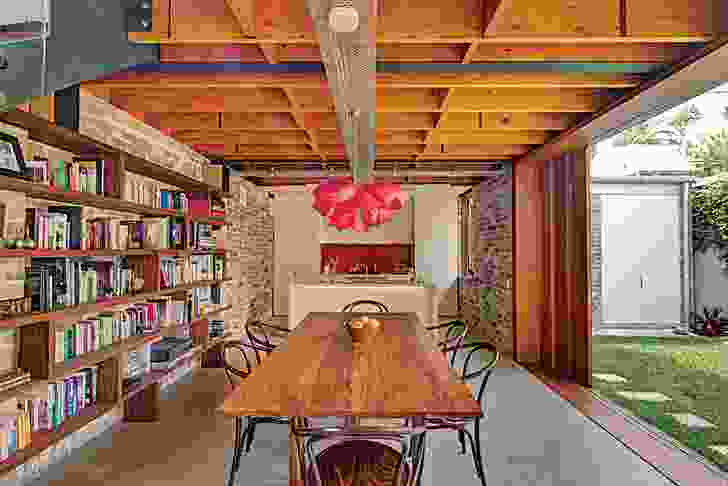 The black steel stair structure that rises up over the main living and dining area to the mezzanine is extruded at every second step and supported with ironbark timber blocks to become a highly sculptural shelving system along the rear wall. There is no suspended ceiling, and the playful pendant lights used throughout are simply hung from an exposed aluminium cable tray that echoes the spine of the roof line.
The kitchen is in a minimalist palette of white and red, and has white polyurethane-finished cabinets either side of the cooking area. The cabinets, together with a bold red glass-mosaic-tiled splashback, visually anchor the kitchen within the expansive living space.
The main bathroom continues the crisp white tone of the kitchen, with contrasting full-height walls of vibrant orange glass mosaic tiles. An angled pop-out window offers a delightful vantage point for viewing the garden, while maintaining privacy within. Both the pop-out window and the soaring gabled interior walls of the bathroom are lined with mirrors that create a fun, kaleidoscopic effect. The uplifting mood continues in the light-filled main ensuite, with its floor-to-ceiling green glass mosaic tiles and panoramic district views from its high-level windows.
Sustainability was a key consideration in the design of the house, and is evident in the high thermal mass of the brick masonry walls, the dark concrete-slab flooring with underfloor heating for the cooler months, extensive cross-ventilation and north-facing glazed areas (with plans for sun-shading systems to be installed), as well as in the use of recycled and eco-friendly materials.
The design integrity of this sensitive yet bold insertion to a historic property reinforces the north-south orientation of the house and provides a poetic comparison between old and new.
Cowshed House received three awards at the 2013 NSW Architecture Awards: Sustainable Architecture Award, Residential Architecture Award (Alterations & Additions) and Colorbond Award for Steel Architecture Commendation.
Products and materials
Roofing

Bluescope Steel Custom-Orb Zincalume roof sheeting, with Zincalume cappings, flashings and plumbing; Lysaght 100-mm half-round gutters with Zincalume finish.
External and internal walls

Existing bricks, retained; The Brick Pit recycled bricks; CSR Ceminseal Barestone; Artedomus glass mosaic tiles to internal walls.
Windows

Windoor Western-red-cedar-framed awning windows and Aneeta shugg windows, both oiled and with clear glass.
Doors

Lockwood door handles and satin steel hook locks; CS Group solid-core door with timber frame; Windoor Western-red-cedar-framed stacking doors with heavy-duty carriage rollers; Olivari flush-pull handles.
Flooring

Polished concrete slab with light grind resin disc polish; Weatherfast Norglass teak oil; Designer Rugs Rising Sun and Vortex rugs.
Lighting

LED strip lighting and joinery lighting; NUD Collection cord pendants; Nelson bubble pendant.
Kitchen

Caesarstone bench in 'Snow'; Isodrive Schweigen undermount rangehood; Fisher and Paykel fridge and double-drawer dishwasher; Smeg cooker; Olivari undermount sink; Reece Scala sink mixer.
Bathroom

CSR Ceminseal Barestone; mirrored glass; glass mosaics in red and green, with grout to match; Sonia wall basin, Grohe basin mixer and showerhead, Scala shower mixer, Ideal Standard Tonic toilet, Hydrotherm heated towel rail, and Caroma towel ring and toilet roll holder all to ensuite; Caroma Shark bath, Grohe basin mixer and shower set, Reece Scala bath/shower mixer and Mizu bath spout, Ideal Standard Tonic toilet, Caroma hand towel ring and toilet roll holder, all to level-one bathroom.
External elements

Bill's Turf Supplies Matilda Grass; Mailmaster stainless steel letterbox.
Credits
Architect

Carter Williamson Architects
Sydney, NSW, Australia
Project Team

Shaun Carter, Patrick Fitzgerald
Consultants

Builder David Tancred
Engineer Cardno Brisbane
Landscaping Client

Site Details

Location Glebe, Sydney, NSW, Australia
Site type Suburban
Site area 151 m2
Building area 116 m2

Project Details

Status Built
Design, documentation 6 months
Construction 11 months
Category Residential
Type Adaptive re-use, Alts and adds, Heritage, New houses

Source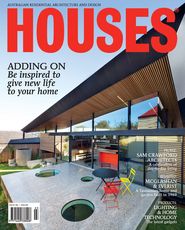 Related topics