Tropical planting and curvaceous shade canopies will take centre stage in a major project underway at James Cook University's Douglas campus, in Townsville.
Designed by Cox Architecture, with landscape architecture by RPS, the campus's Central Plaza project will create an academic, social and entertainment hub at the heart of the university and play a key role in a wider urban development program to transform the campus, known as Discovery Rise.
The plaza will straddle Goondalloo Creek and connect the southern half of the campus to the northern half. Eventually it will be surrounded by or connect to a number of major new buildings, including the three-level, $90-million Technology Innovation Complex, designed by Richard Kirk Architects together with Charles Wright Architects and I4 Architecture.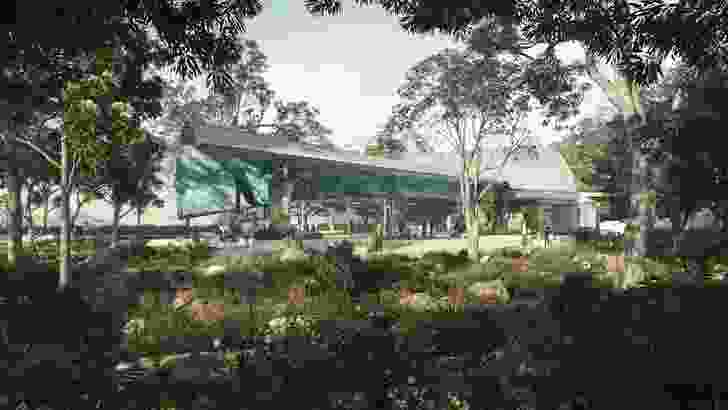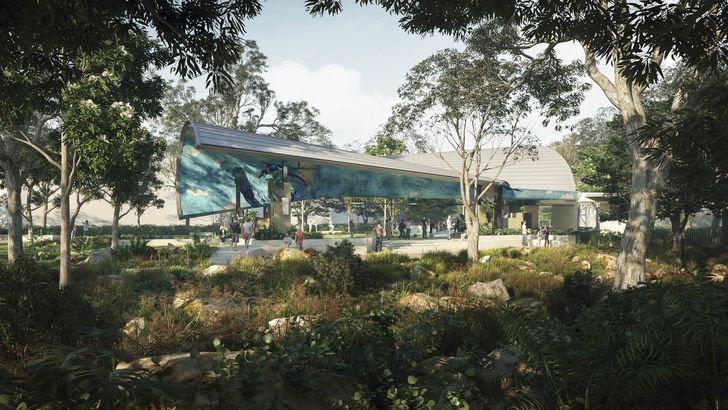 Queensland planning minister Cameron Dick attended a sod-turning ceremony for the plaza on 16 January. "Central Plaza is also part of a much bigger picture, which will see JCU Douglas transitioning from a conventional institutional setting into a university town within the city of Townsville," he said.
"Through Discovery Rise, JCU is creating an urban community with a series of residential villages and non-academic facilities built around the Douglas campus and Townsville Hospital."
Cox Architecture, along with RPS and local architecture firm 9Point9 Architects (now Counterpoint Architecture), completed a masterplan for Douglas campus in 2017, which set out a vision for the campus up until 2065.
Key to that plan was to incorporate earlier plans for a "living and learning" precinct at the north of the campus into the masterplan, and integrate that precinct with the academic centre of the university.
Building on the 2013 Architectus masterplan, which called for the establishment of a "university town with distinctively Australian tropical ambiance," the design team envisioned Discovery Rise as a dense, urban living environment with active community streets. It would include student accommodation, young care, aged care, retirement living and short-stay accommodation in a "vibrant and active" village-type setting.
The document also set out plans for a central Health Plaza at the junction between the Townsville Hospital and the university.
James Cook University acting vice chancellor Chris Cocklin said the Central Plaza was the focal point for the growth of the university.
"Although Discovery Rise is a long-term project, spanning 10 to 20 years, Central Plaza provides an essential connection between its different elements," he said. "It's the catalyst that enables the next stage of development, which will support jobs and bring new and sustained economic activity to the university."
Cox's masterplan points to University of Queensland's Union Square and Griffith University Nathan campus's Campus Heart as references for the plaza's design. "Shade canopies, tropical planting, and urban water features will keep thespace shaded and cool, whilst a rich and diverse ground-scape will provide spaces for seating, socializing, performances, public address, games, markets, gatherings, and other pop-up activities," the document states.
Once the wider Discovery Rise precinct is completed it is expected to be home to 8,000 residents and support a university population of 13,800 students and over 3,100 full-time university employees.