Cox Architecture-designed grandstand to transform famous racecourse
Designs for the $2 billion transformation of The Valley Racecourse – home of the famous Cox Plate Carnival – have been unveiled by the Moonee Valley Racing Club (MVRC).
Dubbed "The Valley of Tomorrow" the upgraded racecourse will feature a new grandstand designed by Cox Architecture, along with new community, business, recreation and leisure facilities and residential precincts.
A design statement from Cox Architecture outlines how the new grandstand "embraces the purity of the racing experience," by focusing on trackside engagement.
"We celebrate the heartbeat of the destination, which is the track, and recognize that it is both the physical and emotional proximity which provides the magic of atmosphere and the identity of place," the statement reads.
"The next key element is the recognition that the new stand and track do not exist in isolation, that they are interwoven in the history, landscape and most important, the community of this unique suburb of Melbourne.
"As such, the landscape has been designed to enhance the track's parkland setting which in turn will benefit the Moonee Valley's growth in new businesses and new homes."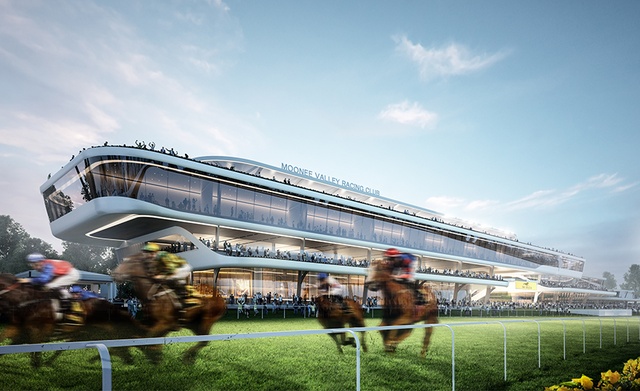 Despite the scale of the project, MVRC says the transformation will aim to retain the "unique, intimate atmosphere" of the racing amphitheatre.
"The scale and ambition of this project is unparalleled," MVRC chairman Don Casboult said in a statement. "The Valley of Tomorrow will respect our great heritage while creating a wonderful new environment for all to enjoy."
The venue's redevelopment is the result of more than eight years of planning by MVRC in consultation with state and local governments, its members and Racing Victoria.
The project will now move into detailed design and construction phase. It is anticipated that the grandstand development will commence after the running of the 100th Cox Plate in 2020.
The Cox Plate was inaugurated in 1922 and is one of Australia's richest, and most well know races. Notable winners include Phar Lap, who won the plate two times and Winx, who has won the race three times, most recently in 2017.