Cox Architecture redesign secures approval for controversial North Fitzroy apartments
The Victorian Civil and Administrative Tribunal (VCAT) has granted a planning permit for a controversial apartment complex in North Fitzroy following a substantial redesign by Cox Architecture.
The decision comes more than two years after developer Gurner submitted a development application for the project and follows a series of protracted legal proceedings and an intervention from planning minister Richard Wynne.
Cox Architecture's approved design includes a three-storey podium incorporating an extant heritage facade, and three towers of eight, nine and 10 storeys.
The complex will house 247 apartments, 16 townhouses, a restaurant and retail spaces on the ground floor.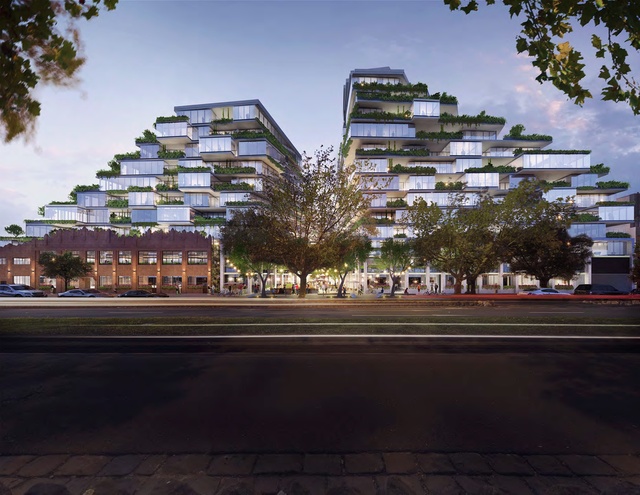 Conditions attached to the planning permit include the adequate preservation of a 46-metre-long "somewhat quirky" decorative facade built mainly in the 1930s.
Original plans for the Queens Parade site, submitted to council in May 2016, included two 16-storey towers designed by Koichi Takada Architects.
Those plans were met by an organized campaign by local residents who were concerned with the size and character of the proposed development. The proposal was later rejected by the Yarra City Council, which requested that the planning minister apply interim planning controls on the site.
"Maintaining Yarra's liveability and protecting neighbourhood character, especially in our heritage precincts, is a priority for Council," said Yarra mayor Amanda Stone at the time.
"Our community has told us that they are not opposed to increased housing density in appropriate locations, as long as new developments respect the local area. The 16-storey development that was originally proposed for this site clearly did not meet the expectations of council or the community."
The planning minister placed an interim overlay on the site on 28 March 2017, three days before a scheduled VCAT hearing, limiting any development to ten storeys.
Cox Architecture's initial design for the project was submitted to council in July 2017, while final amended plans were submitted to VCAT in February this year.
In the wake of VCAT's conditional approval of the development on 7 July, Gurner has released a statement critical of the handling of the case that notes that the approved design is of similar size to the original.
"For the minister to claim that a project is of state significance to warrant intervention and waste so much time and money for an outcome that represents just a nine-percent reduction in massing is ludicrous," founder Tim Gurner said. "However, we are pleased with the outcome and believe this new design will deliver on our vision a world-class precinct for the area"
Cox Architecture will now begin detailed design for the project, with construction expected to begin in 2019.
Another of Gurner's controversial developments in Collingwood, which was also intitally designed by Koichi Takada Architects before being redesigned by Cox Architecture, was approved in March.