Cox Architecture has released designs that will see a section of Pentridge Prison transformed into a hotel.
Pentridge Prison in Coburg was the largest prison complex built in Victoria during the 19th century. It operated from the 1850s and officially closed on 1 May 1997.
The 120-room Adina Apartment Hotel, located in B division, will encompass an all-day restaurant, day spa, 400 square metres of conference and meeting facilities, an indoor pool and gym and parking.
The prison's former chapel will be used for weddings and functions.
A new building will be constructed on vacant land adjacent to the heritage building, and will provide an additional nine levels of accommodation, one level of communal facilities and six levels of residential apartments.
"In regards to the melancholy aspects, if you like, of the original building, we'll be trying to really contrast that melancholia with what will be the new insertions in the buildings," said Ian Sutter, director of Cox Architecture in Melbourne.
Sutter said the original cells are too small to be transformed into hotel rooms, and the design will instead see groups of three or four cells turned into one hotel suite.
"There'll be parts of the prison that we'll just leave as it was, so you'll be able to experience the building just as it is right now, as a reminder of what has gone on there in the past without it being an experience akin to a theme park or anything like that," said Sutter.
He continued: "We're trying to let everyone see the power of the building – the thickness of the bluestone walls, the small aperture windows and doors that you have to walk past. The idea is to create a really unique and memorable hotel using all of the heritage fabric."
There are difficulties transforming a space that was initially built to be unpleasant into a hotel, Sutter said.
"I can imagine the difficult part is going to be getting services around the building. Obviously these sorts of buildings weren't designed for airconditioning and we've got tremendously thick walls and tremendously small doorways where you literally have to turn sideways to get through them. We'll have to work very closely with the fire consultants and the heritage consultants to get the right kind of approach," he said.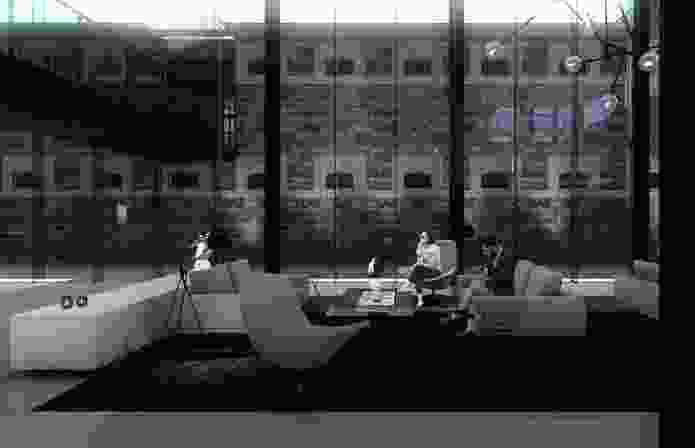 The project is part of a broader plan to develop the Pentridge area. NH Architecture and Contour town planners have developed the full masterplan for the site.
Shayher Group purchased the site in 2013 with the objective to "create an integrated hub of community activity with contemporary, architecturally superb residential, commercial and retail spaces that add to and celebrate the site's rich heritage."
The full masterplan includes:
A piazza precinct to be used for public events, outdoor cinemas, cultural markets and festival events. The perimeter of the piazza will be lined with existing bluestone buildings, which will house food and beverage, retail outlets, serviced accommodation and permanent residencies.
A mixed-use precinct, which encompasses a section of the former women's prison, includes a major building adjacent to A and H divisions, which incorporates commercial, community and residential activities.
Within the heritage building are childcare facilities, community halls and artist studios. Laneways and arcades connect the space with the adjoining piazza and courtyards.
Two other precincts – Coburg Lake precinct and Sentinel precinct – will be primarily for residential use and will provide a range of housing formats including one-, two-, and three-bedroom apartments, terrace homes and home offices. The project seeks to deliver affordable housing.
It is anticipated that all works within the masterplan will be complete by 2026.
Shayher Group will invest $1 million in Pentridge restoration works this year, as the 166-year-old prison will require careful ongoing care and attention in the future.
The hotel is expected to open in 2020, pending planning and heritage permits and construction approvals.