Cox Architecture's proposal for a new stadium at Sydney's Moore Park has been selected as the winning design.
The stadium will replace the existing Sydney Football Stadium (also known as Allianz Stadium), itself originally designed by Philip Cox and completed in 1988 as one of Sydney's major bicentennial projects.
In March, the NSW government announced it would demolish the existing 40,000-seat stadium and replace it with a new 45,000-seat stadium at a cost of $729 million.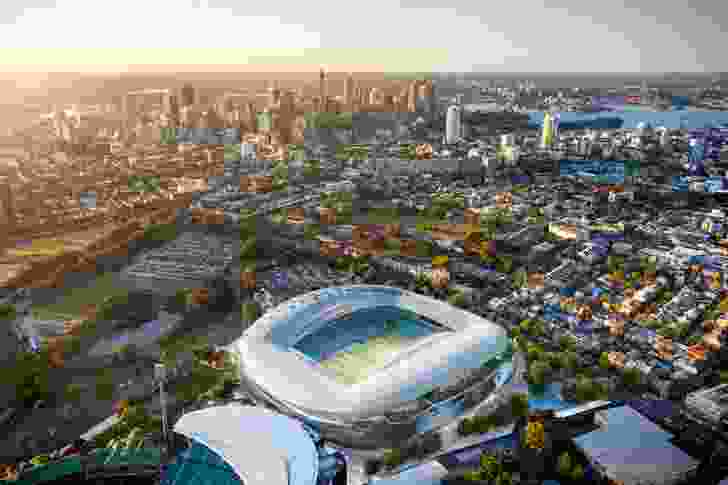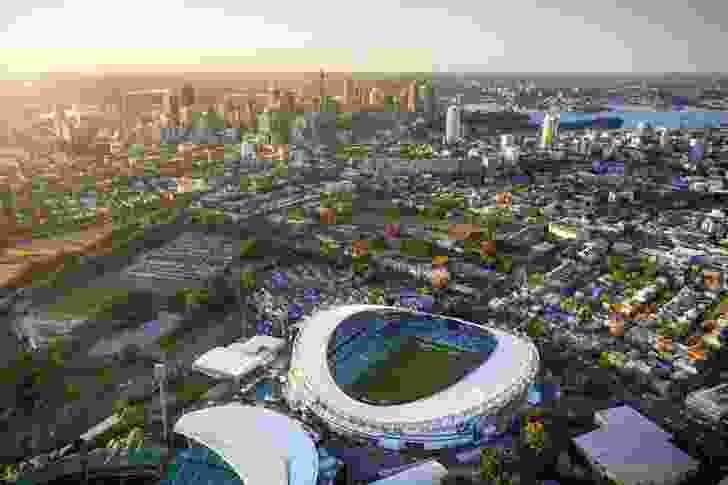 Cox Architecture's design succeeded over two other rival proposals for the project.
"We've proposed something with more community value, more experience for teams and fans, and with better connection to surrounding parkland and amenity," said Cox executive chair Patrick Ness. "It is something that is simultaneously sculptural and highly functional. It is lighter, kinder to the environment and more self-sufficient as a structure than any other major stadium in Australia. It is a fitting continuation of what it replaces."
Design director Pete Sullivan added, "And of course, there was the added responsibility to craft a form which progresses the elegance, balance and recognition of Philip Cox's original design."
The stadium is designed from the "outside in" and will integrate with the natural environment Moore Park. A sculptural, ribbon facade will draw on elements of technology, engineering and art, with its materiality changing in direct response to the immediate context, from surrounding fig trees, to the Sydney Cricket Ground, Kippax Lake and the neighbourhood of Paddington.
The structure will include an activated "events platform" in place of a conventional pedestrian concourse which will create a year-round public precinct for events. The landscape, designed by Aspect Studios, will weave together the parkland, public and activated spaces.
The stadium will have a lightweight roof structure that uses 40 percent less steel compared to the reference design, as well as solar panels and water harvesting solutions integrated into the roof.
Sports minister Stuart Ayres described the design as a "colosseum of sound and colour [that will] set the standard for rectangular stadium in Australia."
Demolition of the Sydney Football Stadium is due to begin in January 2019 and the new stadium is expected to be complete by March 2022.
The redevelopment of the stadium has drawn the ire of architects and the public alike. Of the submissions made to the state government's stage one development application, 95 percent were opposed to it and more than 200,000 people signed an online petition to stop the demolition.
The last game at the existing Sydney Football Stadium was held in September. Philip Cox told the ABC, "There's a tragedy in that we're losing a lot of the buildings that were put up for the Bicentenary." Cox's Darling Harbour Sydney Exhibition Centre was demolished in 2014 and was replaced with the new ICC Sydney designed by Hassell and Populous.
Related topics