The Queensland government has officially opened a new velodrome designed by Cox Architecture at the Sleeman Sports Complex in Chandler, south-east of Brisbane CBD. The facility has been named the Anna Meares Velodrome in honour of the retired Australian cycling champion.
The new velodrome is the first indoor track in Queensland. It is sited among a eucalyptus forest, against the side of a knoll to the west and adjacent to an existing BMX track to the east. "We arranged the building so that we would create a public plaza between the velodrome and the BMX track that would serve both facilities," said Richard Coulson, a director of Cox Architecture.
"The other benefit of siting the building into the side of the falling hill is, in game time, ticket holders can come in on the western side at [the same level as] the concourse."
The velodrome features a 250-metre timber track, which caters to all types of indoor cycling races. It accommodates 1,500 permanent seats, but will be able to hold 4,000 seats during the 2018 Gold Coast Commonwealth Games. A multipurpose indoor sports court occupies the centre of the track.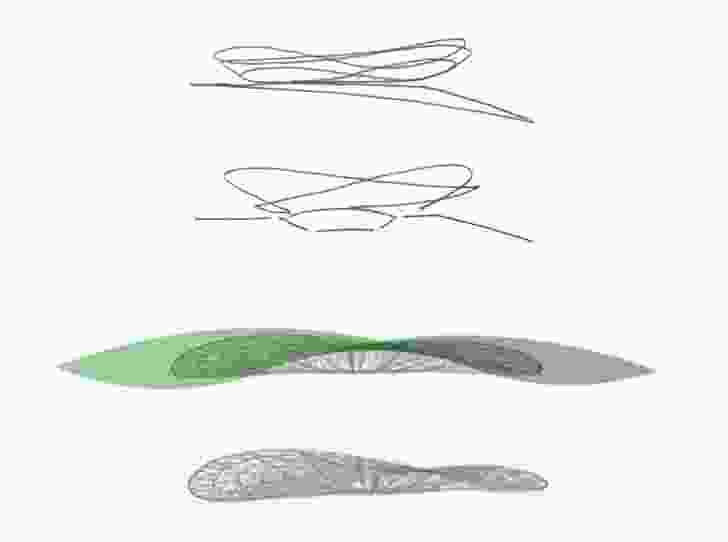 The sweeping, undulating roof form, which is inspired by the dynamics of cycling, is a defining feature of the velodrome's design. Coulson described the design of the roof as "Pringle-shaped" and said the form follows the velodrome's seating requirements.
"It lifts up towards the straights of the track where the greatest number of seats are and it pulls down at the bends where there is less seating," he explained.
The velodrome is made from a steel structure with a Polytetrafluoroethylene (PTSE) membrane cladding, which is both translucent and opaque to allow natural light into the building. The combination of steel and membrane creates a continuous tessellated pattern on the surface of the building.
The white membrane cladding also allows for projections to be cast onto the facade during game time. At night, external lights cast a silhouette of the trees onto the facade.
Cox Architecture won a design competition for the velodrome in November 2013. At the time, the then-deputy premier Jeff Seeney said, "The firm's winning design capitalizes on south-east Queensland's subtropical climate and conservation surrounds while its streamlined roof design will overcome the weather limitations of the existing outdoor velodrome […] built for the 1982 Brisbane Commonwealth Games."
The new $59-million facility is one of 17 new and refurbished venues proposed for the 2018 Gold Coast Commonwealth Games, which will also include a new Queensland State Netball Centre at Nathan designed by BVN.
Related topics