City of Melbourne councillors have given the all-clear for a 34-storey mixed-use development at the south-western end of Collins Street, designed by Cox Architecture and Gensler Architecture.
Still subject to final approval from the planning minister, the major project will see a vacant office tower on the corner of Collins and King streets and an eight-storey office building on the corner of King Street and Flinders Lane demolished.
Comprising two individual but connected towers to be built in two stages, the proposal includes 102,299 square metres of office space, 2,299 square metres of retail uses, a 135-square-metre publicly accessible plaza and a north-south laneway.
Council planners praised the scheme for its fine grain design to the street and its engagement pedestrians.
The architects note that the site's unique characteristics – with three major street frontages – "present an opportunity to create an activated ground plane, enhancing the public realm and providing new urban linkages in this part of the city."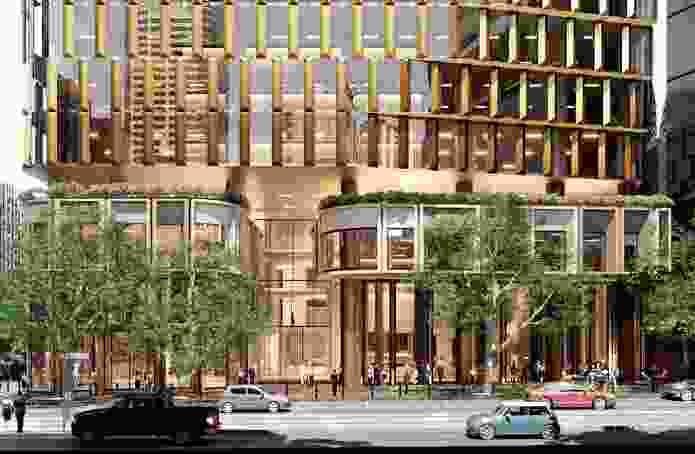 Speaking at the Future Melbourne Committee meeting held on Tuesday 4 February, Cox director Simon Haussegger said the design drew inspiration from the building that existed on the site in the last century: the elaborate Second Empire-style Federal Hotel and Coffee Palace, designed by William Pitt with Ellerker and Kilburn and built in 1888.
That building was demolished in the early 1970s to make way for the current office buildings.
"Some of the spaces in the Coffee Palace were about what we want to incorporate today: a grand arrival, fantastic social spaces, creating that sense of address and that sense of place," he said.
"Our proposal was about carving out place, and creating pedestrian flows and desire lines that ensure that those spaces are memorable."
The base of the building will be characterized by the generous use of glazing and high-quality materials such as sandstone and bluestone.
The "heavy" sandstone base is designed to be inhabited and activated in different ways as its uses evolve over the life of the building, according to Haussegger.
Charter Hall is the developer for the $1.5 billion project, which is slated for completion in mid-2022, subject to approvals.
Related topics