It took years of negotiation among partners at Cox Architecture for an agreement to emerge regarding the latest fitout of the firm's Sydney office space. Spanning four floors of a refurbished nineteenth-century warehouse building on Clarence Street in the city's CBD, the Cox Richardson Architects and Planners fitout houses around a hundred staff. Last changed in 1999, the existing fitout had been an open plan consisting of symmetrical rows of single front-facing work benches with side layout spaces. This new design is a significant shift in strategy from that arrangement.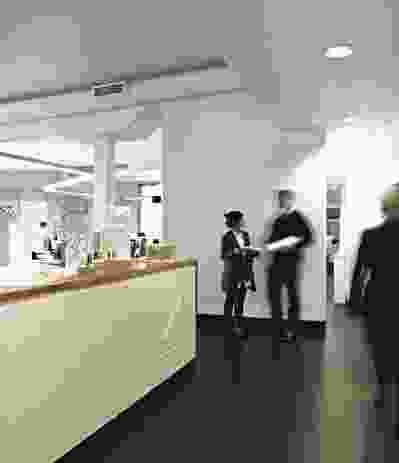 In this older and now replaced scenario, just like the Fountainhead fantasy, desks were lined up front to back, the lead architect overseeing a "machine reality," according to Nick Tyrell, lead architect on the new fitout. Instead, this new office space speaks much more about collective non-hierarchical collaboration, convivial social spaces and dynamic, informal communication.
On each floor, Tyrell has broken down the rows of desks into "snowflake" clusters of six to nine individuals, with four to six clusters per floor. The clusters have been moved off the walls, leaving wall space free to accumulate project-related material and information – a kind of "bedroom wall cultivation of creativity," says Tyrell, that rejects the concept of design in isolation in favour of creative mess.
The deploying of the snowflake clusters achieves several key things. The first is that it allows an elasticity to teams and a reconfigurability according to project need. Secondly, the cluster arrangement responds flexibly to the inconsistencies in size and dimension of the nineteenth-century floor plate. Finally, the cluster arrangement is an attempt to address the vertical separation and resulting siloing of teams that can occur when an organization spans four floors. Reconfigurable workspaces ultimately allow a kind of vertical churning of staff around different parts of the office.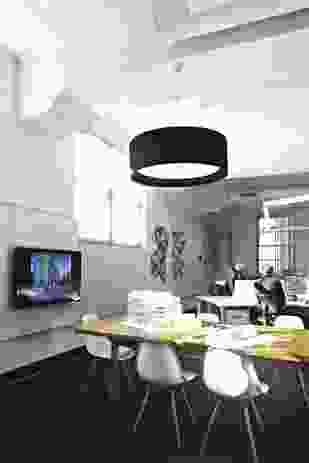 So, enter the dynamic workplace: workspaces that can be rearranged to respond to specific project, client and economic cycle demands; workspaces that are perceived to respond to and cultivate creative innovation. Architects have been designing this kind of stuff for their clients for years, and finally they're applying the same principles to their own organization. But don't make the mistake of thinking that this is about aesthetics. It's not the kind of tricked up colour scheme and balance-ball fitout we witnessed in the 1990s led by advertising agencies and a host of other creatives in the pursuit of the oft-cited "innovation" – what often seemed like more of an image of dynamism and creative output rather than any sense of innovation or transformation at an institutional or organizational level.
Additional movement between the floors is by two ancient lifts, or what feels like an even older internal fire stair. It's a shame that this one moment of real informal social space within Cox's internal carcass –the stairway – is the one space that hasn't been given any attention in this retrofit. Even within the boundaries of fire egress requirements, surely it is possible to spend some time thinking about how to enliven this space.
Sensorial stimulation has become important in the new fitout. The lighting levels have been shifted from a generalized four hundred lux, to spotlighting and desk-mounted task lighting. The space is warm. The light levels vary depending on the task. And the lighting is 75 percent more efficient than it was in the old fitout.
What Tyrell is doing with this project is nudging at, via spatial change and workspace flexibility, a new approach to creativity.
Save
Products and materials
Walls and ceilings

Ideas wall panelling, Echo panel by Woven Image. Fabric by Krost System Furniture.
Flooring

Tuftmaster Degree carpet. Artoleum Piano resilient flooring from Forbo Flooring.
Lighting

Magazine internal linear lighting from Artlight. Galaxy pendants from ISM Objects.
Furniture

Allways workstations from Haworth. Eames meeting chair from Living Edge. Catifa 46 meeting chair from Stylecraft. Linear meeting table base LC2 from Stylecraft. Meeting blackbutt table tops from Australian Timber Laminators.
Kitchen

White Corian benchtops. Mirror splashbacks.
Artwork

Level 4 artwork by John Peart.
Credits
Design practice

Cox Architecture Sydney
Sydney, NSW, Australia
Project Team

Daniela Sahlani, Helen Kuo, Ramin Jahromi, Tania Taylor, Nick Tyrrell
Consultants

Builder MPA Construction Group
Electrical engineer AECOM

Site details

Location Level 2, 204 Clarence St, Sydney, Sydney, NSW, Australia
Site type Urban
Category Interiors
Type Workplace

Project Details

Status Built
Design, documentation 3 months
Construction 3 months

Client

Client Cox Architecture
Website coxarchitecture.com.au

Source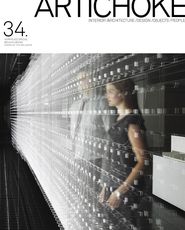 Issue
Artichoke, March 2011
Related topics