A translucent, plant-filled building, referred to as a "creative jungle," has taken out an international competition looking for architecture that would act as a stimulant to make a vibrant, creative space in the heart of Adelaide.
Launched by the South Australian chapter of The Australian Institute of Architects in partnership with Bee Breeders, the Adelaide creative community hub competition sought ideas for either permanent or temporary buildings that would transform a vacant lot adjacent to the General Post Office and across from Victoria Square.
From a field of 35 local, national, and international shortlisted entries, French architecture students Lucas Monnereau and Thomas Leblond (from the National School of Architecture Paris-Belleville and the National School of Architecture Paris-Val de Seine respectively) were named first prize winners for their scheme "Creative Jungle."
Characterized by a wave-form roof and and the juxtaposition of timber and glass elements, their proposed hub was conceived as a large workshop where a variety of work modes could "bloom together in dynamic ways."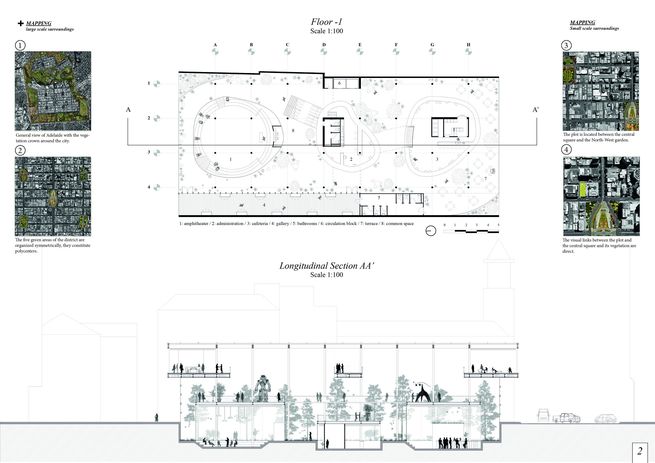 The jury was impressed by the buildings potential to encourage people of all types to engage with creative production. However, it was not convinced by the form of Creative Jungle's exterior shell and wave-like roof. "The plans and sections are especially strong in expressing an organic layout of program and volumes which seem to float about an internal forest," the jury noted. "This fluid organization creates a variety of engaging, dynamic spaces."
Taking out second place was an apparently brutalist-inspired design, The Factory, which comprised of three elements: a rectangular tower facing Victoria square, a taller cylindrical structure in the centre of the block and an L-shaped tower behind it.
Project designers Judith Busson Taridec and François Cattoni (also from France) noted in their submission that the project makes the transition between two types of urbanism, connecting the neighbouring historic GPO with the taller office buildings around it.
"At the core, the tower appears as a landmark, in reference to the steeples already existing in the urban landscape of Adelaide," they wrote.
Rounding out the top three was The Hub of Creativity, a scheme that comprised a collection of small buildings set around a central square designed by Kathrine Vand, Emil Trabjerg Jensen and Sebastian Appel of Denmark. The jury praised the design for its ability to establish a "village within the city."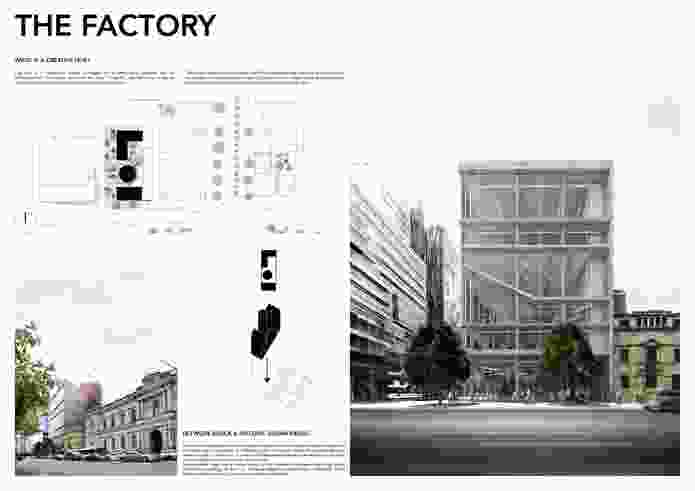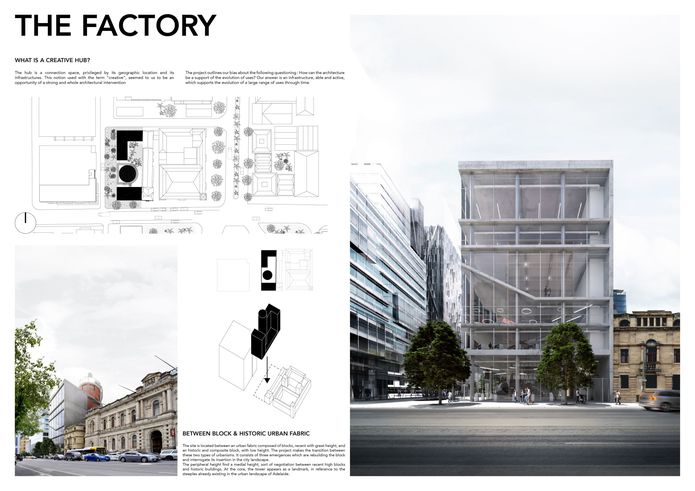 The student award was given to Banny Fabian Sandoval Salinas of Universidad Austral de Chile, while the SA chapter award went to Sandbox Studio, an architecture studio based in Sydney and Canberra.
The allotted site of the competition will soon to be home to a 20-storey office tower designed by Hassell and Fitzpatrick and Partners as part of the Precinct GPO development, which also includes a 15-storey tower atop the GPO building.
The SA chapter said it would consider discussing with the winner possibilities for future collaboration.
Submissions were assessed by a jury that comprised local and international experts including Rachel Hurst (University of South Australia), Anthony Balsamo (Walter Brooke and Associates and winner of the 2017 National Emerging Architect Prize), Brian Parkes (Jam Factory), Kaare Krokene (Snøhetta), Lise Van Dun (Valode et Pistre Architectes), Barbora Gezeova (Agence RVA) and Collin Anderson and Sara Goiria (Renzo Piano Building Workshop).
Winners were announced on October 1 and were displayed to the public during Adelaide's Festival of Architecture and Design from 5 to 8 October 2017. A total prize pool of US$6,000 (A$7,595) was awarded.