At the turn of the twentieth century, seven rises in Brisbane's east were named after the hills of ancient Rome, Seven Hills. The suburban development patterns of today reinforce this curious topographical phenomenon, as pocket parks appear on summits, crescents trace the contoured hillsides and houses are arranged radially from hilltops. On the northern slope of Quirinal Crescent sits Crescent House, or NOSTAW as it was affectionately named, home to members of the Watson family since 1939. Architect Luke Watson of Deicke Richards, grandson of the original owners, acquired the property with his wife in 2012 and set about adapting Crescent House to become a contemporary house and garden where fourth-generation Watsons could delight in the joys of childhood.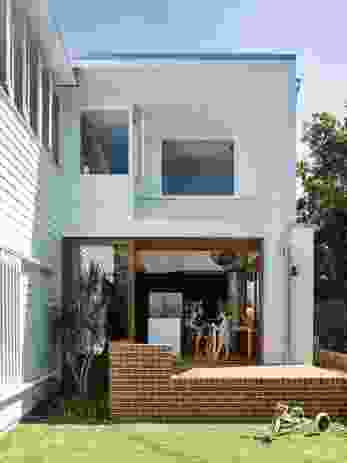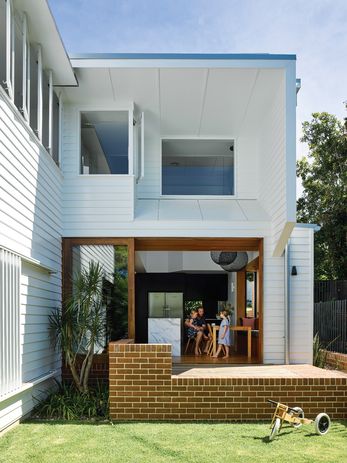 The weatherboard and terracotta-tiled, hipped-roof cottage was one of only a few houses settled in the area of vacant bushland at the time of construction. It was typically modest in footprint – only two bedrooms – yet crafted with care and skill, as evidenced by the highly decorative ceilings and the interior carpentry details. Luke fondly remembers childhood visits, summer days taking in the north-easterly breeze from the sleep-out-turned-living-room with his grandparents, their cherished collectables surrounding them and cricket commentators the source of ambient noise from the corner television. Memory and nostalgia guided Luke's architectural approach as he sought to make minimal disruption, sensitively renovating and extending the original and establishing new undercroft spaces "immersed within the landscape."
Through the process of alteration and addition the cottage was raised, a rear extension realized and a lower level established to connect with both new and existing landscape. Original rooms were subject to refurbishment, while the loose symmetry ordering living spaces on the west and bedrooms on the east was preserved. The most dramatic of the cottage's interventions took place in the north-west corner, where the floor was removed to create a double-height space above a new kitchen grounded in the landscape below. A new staircase and breezeway introduced at the back of the old cottage connects upper and lower, old and new. From here, new rooms extend north, culminating in a parents' retreat and sitting room.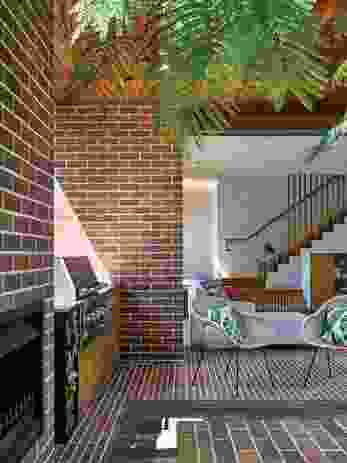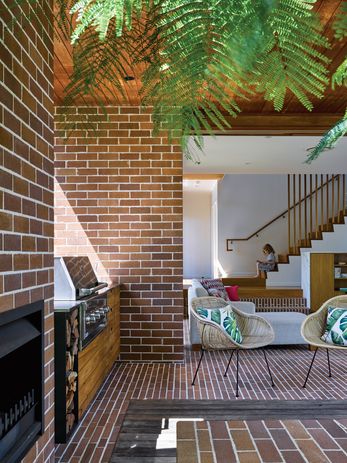 While the conventional rooms of the original cottage echo the nuances of occupation from a bygone era, the new spaces of the undercroft highlight the distinct shift that has occurred in the nature of domestic life over three generations. These contemporary spaces, including kitchen, dining and lounge, are much more flexible and engaged with their site. Larger openings and operable building edges allow walls to dissolve, coax the subtropical climate inside and draw family life onto the lawn and into the natural world of the garden. Rooms are oriented to capture sunlight and breezes and are protected from heat and glare. Timber and masonry floors are expressed continuously from interior to exterior, reinforcing the fluidity of indoor and outdoor territory.
Where brick is employed to formalize garden territories and establish platforms for outdoor living, the otherwise lightweight building appears to merge with the mass of the hillside. In the outdoor living room and pool terrace, architecture is expressed through a single medium – masonry – and the visual and sensory effects are powerful. The masonry floors instil a barefoot ambience and establish a level playing field for grown-ups, children and chickens. Where edges fold and cantilever, walls, seats and plinths are formed and the rules of gravity seem to be defied. As masonry mass radiates warmth on winter afternoons and coolth on summer mornings, it becomes a participant in the diurnal and seasonal cycles of this microclimate.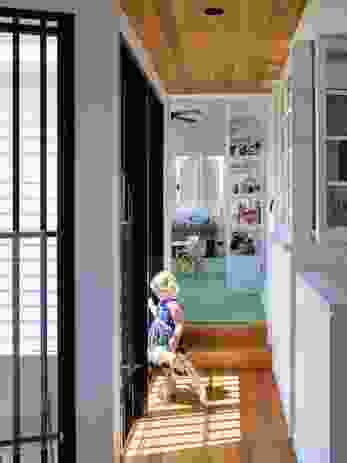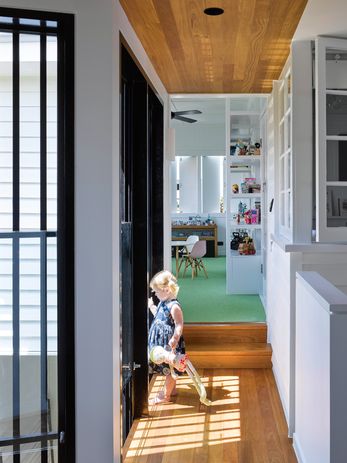 With the considered placement of each brick and decisive stroke of the trowel, the skill of the architect and the faultless craft of the masons, Shane Norton and Rese Rose Gates of Elvis and Rose, are made clear. Also revealed is their combined dedication to the problem-solving process of design and construction. Luke consulted Shane in the early conceptual design stages and continued to do so throughout the design and documentation process. Detailed drawings were challenged onsite and reworked at 1:1 as bricks were set out and wall heights confirmed before capping. "The collaboration with Elvis and Rose was critical to the success of the resolution of detailing," Luke says. "It was us challenging each other at every step."
While the original cottage appropriated the ceiling to express its most elaborate moments of folly and finesse, new interventions have commandeered the ground plane to fully exercise the craft of architecture. With pattern and form embroiled, masonry building blocks have resolved the historic disconnect between house and hillside and taken the incremental steps needed for contemporary life to engage with and respond to its subtropical landscape setting. The mindful hand of the architect has honoured the people and history of the place, ensuring that family memories made here will continue to be positive and plentiful.
Products and materials
Roofing

Lysaght Trimdek and flashings in Zincalume.
External walls

James Hardie Scyon Linea weatherboards in Dulux 'Lexicon Half' and fibre cement sheeting in Resene 'Nero Cool'; Bowral Bricks in 'Hereford Bronze' and 'Capitol Red'.
Internal walls

Gyprock plasterboard in Dulux 'Lexicon Half'; Boral blackbutt timber in Whittle Waxes Hardwax Oil; vertical joint boards.
Windows

Custom timber windows by Allkind Joinery and Glass; Rockpress custom steel windows in Dulux Ferrodor 810.
Doors

Custom timber doors by Allkind Joinery and Glass; Halliday and Baillie door furniture.
Flooring

Blackbutt floorboards in Whittle Waxes Hardwax Oil; Bowral Bricks in 'Hereford Bronze' and 'Capitol Red'.
Lighting

Moooi Non Random pendants; Artek 330S brass pendant lamp; Copper Topaz pendants; Flos Easy Kap recessed LED from Euroluce; Modular Nude wall lights; George Nelson Bubble Lamps; Muuto E27 pendant lamp; Lumascape landscape lighting.
Kitchen

Black European ash joinery; Calacatta Statuario honed marble benchtops; Miele oven, steam oven and warming drawer in 'Obsidian Black' and dishwasher; Wolf gas cooktop; Qasair Executive rangehood; Perrin and Rowe Mimas mixer; Oliveri undermount sink; Zip HydroTap; Liebherr fridge.
Bathroom

The Tile Mob bluestone hexagon tiles and white gloss tiles; Duravit Starck 3 wall-hung toilet, Scola basin (ensuite) and Vero basin with metal console (bathroom); Astra Walker Icon Plus tapware and accessories; Caroma Shark bath.
Heating and cooling

Jetmaster wood fireplace.
External elements

Sussex Monsoon column shower.
Other

Hussl Forum chairs, Didier Planar Table, Brydie coffee tables and Tiller Lounge Chairs, all from Cafe Culture and Insitu.
Credits
Architect

Deicke Richards
Fortitude Valley, Brisbane, Qld, Australia
Project Team

Luke Watson, Tom Kaye, Yasmin Crawford
Consultants

Builder Bev Jenner Constructions
Engineer AD Structure
Hydraulics H Design Pty Ltd
Joinery My Projects
Landscaping Steven Clegg Design
Masonry contractor Elvis and Rose

Site Details

Location Brisbane, Qld, Australia
Site type Suburban
Building area 834 m2
Budget $290

Project Details

Status Built
Completion date 2017
Design, documentation 14 months
Construction 12 months
Category Residential
Type Alts and adds, New houses

Source