Recently, there has been much debate about the role of criticism in architecture, with the popularity of architecture blogs, and online discourse in general, a consistent talking point. For example, Peter Kelly in Blueprint magazine writes that there is a lack of "rigorous criticism of significant new buildings" on architecture blogs and that instead a "more realistic and rigorous approach … is urgently needed." For Kelly, this was once the preserve of print culture. "As traditional publishing media and institutions become less influential, one wonders where architects can go to find informed, intelligent criticism of their work." Similarly, for Alexandra Lange in Design Observer, architecture criticism is doomed as a profession because "Online, both everyone and no one is a critic, and architecture talk proliferates, often in the absence of buildings." Meanwhile, Melbourne planning consultant Alan Davies attacks the overall "politeness" of criticism, suggesting that, in Australia at least, defamation law makes it impossible to truly critique a building to the level of less-than-satisfactory user experiences or general health and wellbeing. Given the tenor of this debate, the appointment of architect and academic Andrew Metcalf as "critic-in-residence" at BVN Architecture is significant. Was the creation of this role, which appears to have no precedent, intended to address similar concerns?
The impetus came from a series of external design reviews commissioned by BVN for its more recent projects. According to BVN national director James Grose, it became apparent from these reviews that a "more available intellectual resource" was needed, and so he invited Metcalf, who was on the review panel, to become the firm's full-time critic-in-residence. Grose is vocal about what he sees as the degrading of the culture behind architectural discourse, principally to do with the internet and its perceived role in maintaining a quick-fix culture. "In architecture, design is everything – allegedly. It differentiates the way you market yourself or the way you get work, and because of that, imagery becomes a currency. And with imagery comes the whole industry of publishing and the internet, and apparent literacy in design, and with that comes a really simplistic idea of what architecture should be." As a result, Grose wants BVN, through Metcalf's work, to strengthen its literacy in "what we as architects actually know as design as distinct from what the client body or public might think is design. In other words, as architects, we have to nurture our intellectual side."
Based in BVN's Sydney office, Metcalf visits the Brisbane office twice a month and the Melbourne branch once a month. He conducts "start-up workshops," held at the start of a project to identify architectural potential and opportunities, and during the life of a project holds design reviews/workshops to discuss the work as it evolves. As part of his job, he also holds six-week "theory reading seminars," stages the occasional exhibition (for example, of his architectural photography), keeps a weekly blog and performs a general mentoring role, maintaining a well-developed sense of the organizational culture so that staff members feel confident to approach him at any time to discuss particular issues or concerns.
The reading program, which is voluntary, is certainly intensive, and eclectic. Metcalf has introduced texts from Karsten Harries, James Attlee, Antonio Negri, Tim Wu, John Patkau, David Seamon, Peter Marcuse, Warren Breckman, Alejandro Zaera-Polo, Margarita Tupitsyn, James McQuillan and Rem Koolhaas. He explains that the Marxist political philosophy of Negri, difficult and dense, was included for precisely that reason. "One of the reasons for attempting a difficult text is that you then have the benefit of discussing it with others who have also read it and grappled with its difficult nature. A big organization like BVN has everyday pressures, stuff that architects can do without thinking because they've done it so many times before. But that's not advancing intellectual discovery or discovering new ideas in architecture. And we want to make that discovery something other than picking up another architect's ideas and admiring them. We want a deeper understanding of what the architectural possibilities are."
Supporters of online architecture criticism argue that it is a valuable reaction against the "over-theorization" of architecture, a return to a more immediate response to architectural issues. For Metcalf, however, "the introduction of theory is not project-specific in this case. Without sounding patronizing, it's more about staff development, with the encouragement to continue your reading, become interested and then go away and read some more." For Grose, while at one level the approach is about staff development, equally it's about "the aspiration to create a studio culture, and that requires thought beyond the option of using Alucobond or whatever. Its higher cause – its noble cause – is to make BVN's studio culture viable and robust. To do that, we must give people the opportunity to develop academically."
Within Metcalf's wider role, the culture of critique – modelled after university design crits – is essential. According to Grose, "When we first talked abut the role, it was 'How do we create a university mindset in a commercial practice, and deliberately structure it that way?'" Metcalf elaborates, "When I started as critic-in-residence, some projects carried inherent flaws for too long without being talked about. When I did bring them up, sometimes it ended in tears. This is the same as architecture school, which is renowned for that kind of thing. Most architects tend to be polite, middle-class people, and sometimes people do take it personally but you can't help that. To use a sporting metaphor, it really is about 'playing the ball, not the person.'" Grose has no doubt about the value of such criticism, pointing to recent projects that have become "considerably stronger" as a result of intense, sustained discussions with Metcalf. The critic agrees. "I have no turf to defend, which is a very important position to be in. I don't actually work on projects as an architect. If I did, I'd become too embedded and wouldn't be able to offer this kind of feedback. It's my role to block something which I think is less than satisfactory, and say, 'No, you've got to do better than that.' I frequently find myself having to make those sort of acute judgments, and I better get it right because it could lead a project the wrong way. People do listen and respond accordingly."
To an outsider, however, the idea of a critic-in-residence may well perplex. After all, it's hard to point to a particular aspect of a BVN project and say that that roof or that wall directly benefited from Metcalf's introduction of Negri to the curriculum. To a certain extent, we must take BVN's word that the role has delivered results, for, as Grose repeatedly emphasizes, its "higher cause" is not so much about quantifiable results but about imparting the culture of the old-school critic, and subsequently "the luxury of history, the luxury of contemplation." This, he hopes, will protect BVN from what he sees as "the onslaught of stylism, of the internet, of accessibility of information: the digital age and its simplistic view about most things, most notably about architecture." While many will vehemently disagree with Grose's blanket condemnation of internet culture, the larger point, about the value of honest, robust critical debate, is worth considering.
If you take the view that there is a certain "toothlessness" in current architecture criticism, then BVN would appear to have found an ideal solution: simply hire your own internal critic and set him loose.
Source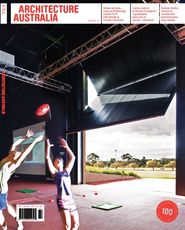 Issue
Architecture Australia, July 2011