The Sydney Central City Planning Panel has approved a proposal for a 25-storey office tower in central Parramatta, designed by Crone, with landscape architecture by Urbis.
Crone won a competition for the design of the building in 2012. A revised version was submitted to council in 2018 as part of a development application. The developers are Coombes and Drivas.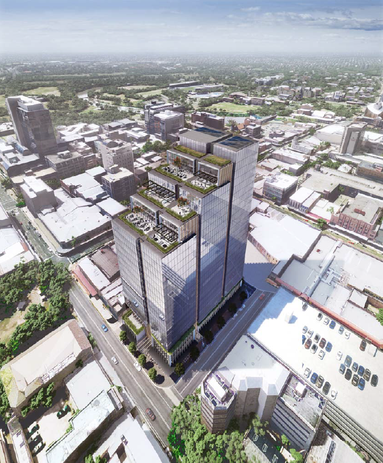 The tower will be located on a prominent site between Macquarie and Church streets in the rapidly ascending Parramatta CBD, close to Parramatta Station, the planned light rail line and a number of public spaces, including Centenary Square, Parramatta Town Hall, and St Johns' Cathedral.
The design was subject to an assessment by the City of Parramatta's Design Excellence Advisory Panel, which unanimously agreed that the design would meet Design Excellence standards with a few "minor" adjustments to the plans.
It will feature 2,106 square metres of retail space at ground level, with 36,963 square metres of commercial office space above.
A key architectural feature will be the four stepped terraces at the top of the building, which will act as extensions of the commercial spaces.
"The facade is made up of a series of primary and secondary vertical forms, the secondary recessive forms adds warmth and depth to the facade and unify the top of tower with the podium facade and its architectural language," reads a design statement on the practice's website.
"This design proposal integrates these qualities into its architecture and weaves them into the existing city fabric, and contribute to the rich and vibrant history, culture and life of the city."
The finished tower will have a five-star Green Star Design and as Built rating, a 5.5 NABERS Energy rating and a minimum NABERS water rating of four-stars.
Related topics