Borders are tricky things. While intended for regulation and coordination, superscribed boundaries can be disassociating and even disorienting. Crossing a border takes courage and resolve, qualities that each of the intrepid speakers of Artichoke Night School session seventeen, held in February 2015 at Space Furniture's Melbourne showroom, demonstrated in spades.
Vince Frost (founder of Frost*Collective), Caecilia Potter (founder of Atticus & Milo) and Matt Bird (founder of Studiobird) delivered inspiring talks of the changes they have taken on and the obstacles that they faced in doing so. All three presenters spoke not only of their professional lives, but also of personal situations, making for a particularly affecting and memorable episode of the Artichoke Night School speaker series.
If this session of Artichoke Night School were anything to go by, it would seem that big changes don't come around unprompted. Agents of change varied from financial consequences of the Global Financial Crisis to realizations about career satisfaction or personal circumstances. Though varied in motivation, Frost, Potter and Bird all spoke of a moment of self-awareness in which they identified a condition that required a change, and worked up the courage to make it.
For Potter, the epiphany came on a safari in Botswana. Surrounded by the beauty of nature, she realized that a career in design would give her life more meaning than her then-position as a marketing manager. Undeterred by the task of relearning, she went back to university to complete a design degree and establish her respected practice, Atticus & Milo. Having studied and worked in chemical engineering, law and IT consulting before eventually landing in design, she encouraged the audience to not let the idea of security get between them and changing their course. Her sincerity was palpable as she described the personal and professional satisfaction she gains from working in the design industry as a "profound feeling that energizes every day."
Bird's change was more incremental. His "border crossing" of design disciplines stemmed from the resourcefulness demanded after leaving a job in architectural practice. After working with found or readily available materials to make and set-up spatial installations, Bird made a lateral shift from building design to art installation. Today, he collaborates with Monash University students and other professionals to execute projects that cross innumerable borders, from performance art to retail design, and in doing so achieves a truly integrated outcome.
Having moved around continually during his youth, crossing borders was an innate process to Frost. After working in London and Tokyo, he moved his business Frost*Collective to Sydney, where it has flourished into a three-pronged branding, digital and environmental design company. Despite his unarguable success in this endeavour, perhaps the most compelling "border crossing" that Frost discussed was his innovative application of design principles to his personal life. Author of Design Your Life , Frost spoke openly and earnestly about his personal transformation. Treating his life as a "brief," Frost was able to prescribe himself solutions using the problem-solving and resourcefulness he developed as a designer to renovate his messy personal life.
As the night wrapped up, the three creatives shared advice for others looking to make their own changes. Potter spoke sagely about the necessity of stepping aside from one's hectic working life in order to clearly assess what is most important. Bird recommended the benefits that collaboration and mentoring can have in one's own work, and Frost warned against the pitfalls of self-doubt. Whatever the changes that led them there, all three speakers spoke wholeheartedly about the gratification they have in their current positions.
The Artichoke Night School series is presented by Artichoke magazine in partnership with Space Furniture. Night School session seventeen was held at Space's Melbourne showroom.
Source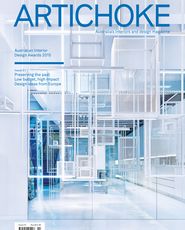 Issue
Artichoke, June 2015
Related topics