Blurring the line between art and play: the 2017 Cubby House Challenge
Five architectural and building firms have designed and constructed children's cubby houses for the 2017 Cubby House Challenge, which are on display at the Melbourne International Flower and Garden Show until 2 April.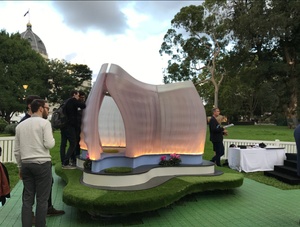 Playce, Porter Davis, Probuild, Grimshaw Architects and FMSA Architecture submitted cubbies for consideration.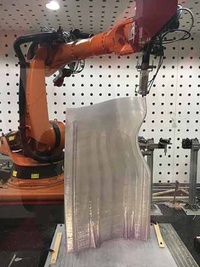 The Kooky Cubby House, which won the Best Architecturally Designed Cubby award, is designed by FMSA Architecture, in collaboration with the Architectural Robotics Lab at the RMIT University School of Architecture and Design, Upstream Studio, Aurecon and Bowens, and was created using 3D printing and other advanced digital technologies.
The design features LED lights, a perspex "butterfly" roof and walls made of unusual materials intended to stimulate children's senses through texture, light and colour.
Grimshaw Architects' entry is MySpace, a cuboid cubby house with an interior that children can "reinvent as they desire."
"Through MySpace we have reconceptualized the traditional cubby, transforming the rigid building form into one that allows children to create their own space by manipulating various-sized blocks across four levels," said Grimshaw Architects associate Matt Hutton.
Part of the design process involved a design charette where Grimshaw Architects architects revisited their childhood cubby house dreams, which were incorporated into the final design. "As kids we used to move the boxes to make voids which you could crawl into or use as stepping stones," said Hutton, recalling a childhood spent playing in his father's fruit and vegetable warehouse. MySpace was sold for $21,000 and won the Most Imaginative/Interactive Cubby award.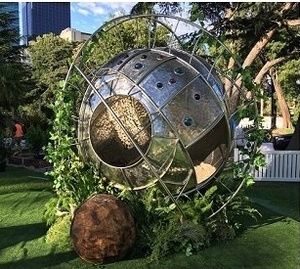 Playce's Glowb, a reflective sphere, sold for a record $26,000 and won the Best Australian Cubby award. Porter Davis contributed a scaled down version of Rapunzel's Tower, while Probuild's Chameleon is a colourful teepee.
The cubby houses were auctioned off on Thursday 30 March to raise funds for Kids Under Cover, a not-for-profit organization that works to prevent homelessness among young people. The cubbies sold for a combined $92,000 that will be matched by a dollar-for-dollar grant of $70,000 by Gandel Philanthropy.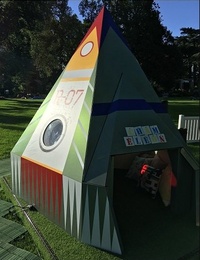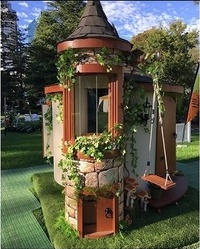 "This year's architectural and building teams were all selected because of their passion and interest in building the best places for children. It was a difficult decision because we had some of the biggest and brightest organizations apply. All of our shortlist have proposed some incredible ideas, and shown a deep commitment to the cause," Jo Swift, CEO of Kids Under Cover, said.
Director of Playce, Aaron Wallace, whose landscape architecture firm has designed a large reflective sphere as its entry, said that, "Having a safe place to grow and play is essential for children. I love everything about this charity; the assistance it gives to those who need it most and also for the opportunity it presents in allowing children to indulge and play in the most wonderful and clever cubby houses."
The judging panel included Peter Maddison (director of Maddison Architects and host of Grand Designs Australia), Joe Snell (Snell Architects), Alice Stolz (national managing editor, Domain), Lucy Feagins (editor, The Design Files) and interior designer Fiona Lynch. 
Judge Alice Stolz said of the competition, "It's […] a pertinent reminder to designers, architects and builders of what is really important when it comes to a house: the simplicity of security and shelter, and where possible, the flourish of clever and creative design."
The cubby houses will be on display at the Melbourne International Flower and Garden Show from 29 March to 2 April.