A cubbyhouse is somewhere you go to play with your friends, a tiny hideaway. The word "fun" slips into architect Ben Edwards' sentences several times as he describes the project. A renovation of a one-bedroom apartment in Fitzroy, it is Edwards Moore's first completed building. The partnership between Ben and fellow architect Juliet Moore opened for business only last year [2009]; previously Juliet was a director of 1:1 Architects and Ben was an employee there. The Cubby House is Ben's own apartment, which he shares with his life partner, the love that brought him to Australia from England three years ago.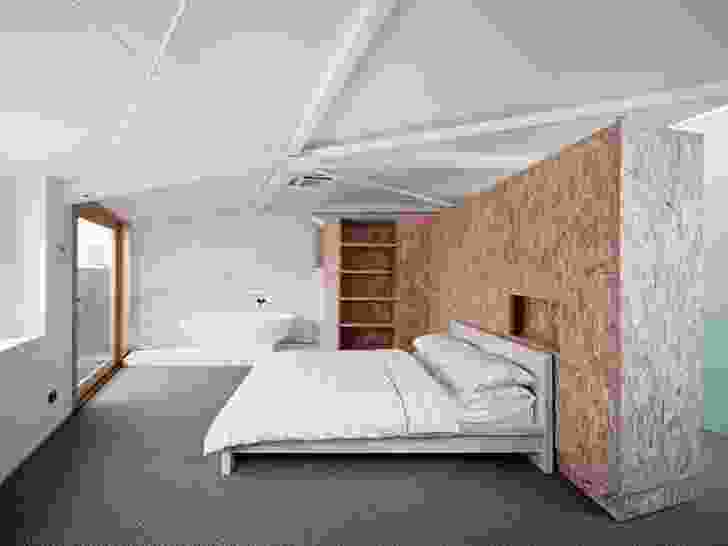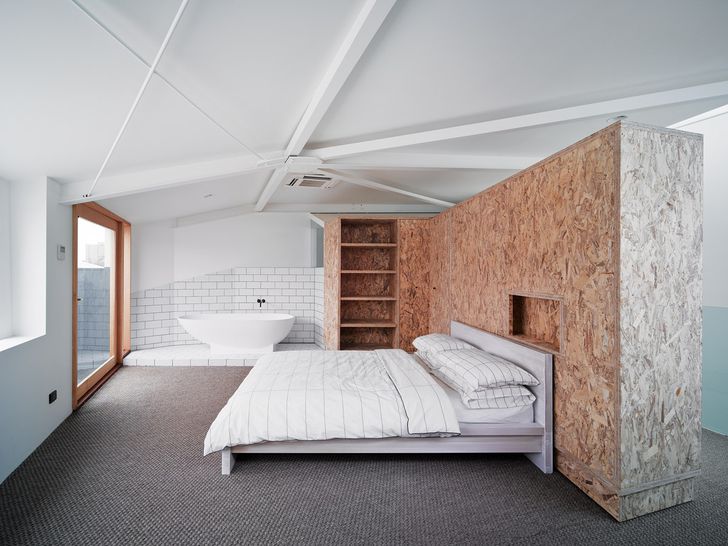 This is a project where a small space has created exciting, ingenious architecture. It was truly a job for an architect – a lot of creative effort is required to turn a tiny, one-bedroom apartment into a stimulating place to live. A pivoting wardrobe turns one bedroom into two. Cupboards double as movable partitions; the raised kitchen floor is also the first tread up the stairs. The bedroom contains the bathtub. The bookshelf houses the dog. Everything works hard, does two jobs. Even the downstairs toilet rinses your hands and refills the cistern at the same time.
There is one external factor that helps the apartment transcend its diminutive size: the view. It occupies the first and second storeys of a former sewing factory adjacent to the Fitzroy Swimming Pool. While the apartment downstairs only gets a view of the brick fence, the Cubby's transformation makes the most of its voyeuristic opportunity. A scheme fit for the constraints of Tokyo, the project expands its volume to fill the maximum statutory planning envelope. We go across to the pool to look back at the apartment, the best vantage point to see the new pop-up on the sawtooth factory roof. Unsurprisingly, Ben has a membership tag. "It's our pool, but not our pool," he says. It opens at 6 am. When the weather is chilly, steam rises from its heated waters. In summer, it is mayhem. "If you've got friends down there, they can say, 'Hi, come on down!'," says Ben.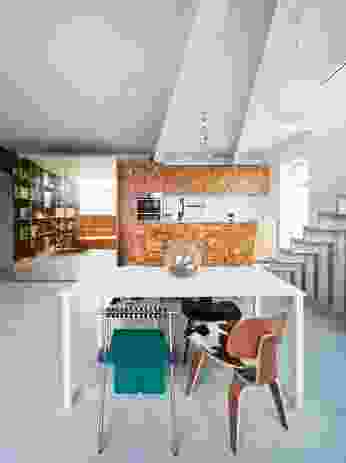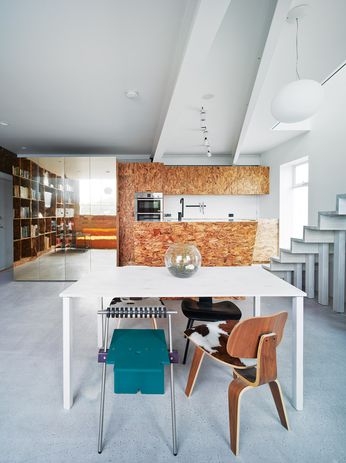 The construction for this tiny apartment renovation required the expense of scaffolding and a crane to lift the steel members, the glass and even the bathtub. (The joinery wall came up the stairs in modules.) In the end the main structural change was to enlarge the mezzanine. "You had to shimmy across to get to the bedroom – it was really small," says Ben. They also raised the upper floor to give the living area a feeling of space. Gold mirrors line the cupboards, reflecting the views and light, again helping to counteract the small size.
The project is like a jewellery box – everything inside the two-storey, square plan is aesthetically pleasing. Form is not left out, just because function holds sway. The angle of the cut-out for the stair is not orthogonal, but angled slightly and matched by the skylight above. This angle is taken up by the kitchen joinery, which leans into the living space like a three-dimensional parallelogram. The kitchen, too, is carefully detailed to hide the fridge and generally prevent "kitchenness" from dominating the precious living space. Likewise, the ability to seal off the front door by pushing a large gold-mirrored cupboard on casters in front of it maximizes cosiness. There are not too many expensive finishes. The oriented strand board (OSB) is about as cheap a lining material as you can get. Made from pressed timber chips, it's like a cheaper version of plywood, but as Ben puts it, "it has quite a warm texture to it." What is of value here is design.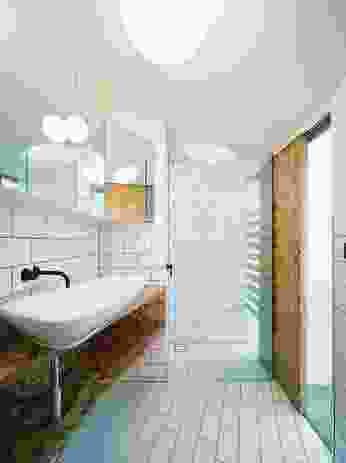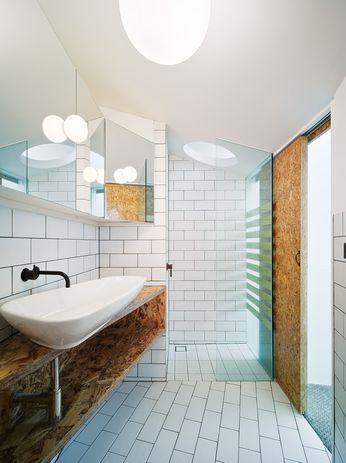 Upstairs, the whimsy and humour continue, as does the innovation. The bathroom has its own separate lowered ceiling. "By taking the wall up full height you would make the space feel small again," explains Ben. The shower water reaches you through a circular cut-out in this ceiling. The upstairs bedroom has two distinct modes: the wardrobe can pivot around like a giant door to make a second guest bedroom, or space for, "dare I say it, kids?" offers Ben. "There are no real interior walls," he says. And he's right. He calls the pivoting wardrobe ensemble "one large furniture object." Not "joinery," which would imply a built-in unit, fixed in place, but "furniture," something you can move around if needs be. Not to be changed around on a daily basis, but giving the space flexibility in the long term.
A life less ordinary: less spacious, sure, but more fun. Who needs space when you can have such an exciting retreat? A retreat perched near that other source of fun, the pool.
Products and materials
Roofing

Colorbond Lysaght Custom Orb; wool insulation.
External walls

Colorbond Lysaght Custom Orb.
Internal walls

Plasterboard, painted; exposed blockwork, painted; oriented strand board (OSB).
Windows

Frameless glazed facade and rooflights with laminated toughened Viridian SolTech low-e glass.
Doors

Victorian ash frames; pivot doors.
Flooring

Concrete with white translucent epoxy finish; reclaimed Victorian ash, limed; Sisal carpet.
Lighting

Sombra trimless downlights; Sunny track and spotlights; Flos Glo-ball pendants and surface-mounted lights; Antares recessed wall box (external).
Heating/cooling

Daikin ceiling-mounted cassette airconditioner; natural ventilation; passive solar gain via glazed upper-level facade.
External elements

Concrete floor; laser-cut screening; Japanese maple tree.
Other

Sliding OSB box with reflective gold facing; custom-designed OSB bookshelves, rotating wardrobe and divider.
Kitchen internal walls

Plasterboard, painted natural white; exposed blockwork, painted finish.
Kitchen flooring

Concrete with white translucent epoxy finish lower level; reclaimed limed Victorian ash in kitchen.
Kitchen joinery

OSB joinery and cabinets; LG Hi Macs 'Arctic White' benchtops with integrated sink.
Kitchen lighting

Sombra trimless downlights on ceiling; Sunny track and spotlights in kitchen.
Kitchen sinks & tapware

Ottavo black mixer tap.
Kitchen appliances

Bosch oven and integrated dishwasher; Miele washing machine; Liebherr integrated refrigerator freezer.
Kitchen doors & windows

Frameless primary glazed facade and rooflights, laminated toughened Soltech; pivot doors with Victorian ash wood frames.
Bathroom internal walls

Gres white pool floor and wall tiles; OSB toilet box (lower level).
Bathrooom lighting

Via ceiling glo-ball light; series of small glo-ball lights fixed to mirrored cupboards.
Bathroom tapware & fittings

Dornbracht shower fittings; Vola wall-mounted tap and mixer.
Bathroom sanitaryware

Palumba countertop basin and freestanding bath; Caroma Smartflush integrated WC and basin (in lower level bathroom).
Bathroom doors & windows

Frameless primary glazed facade and rooflights; laminated toughened Soltech; pivot doors with Victorian ash wood frames.
Credits
Architect

Edwards Moore
Fitzroy, Melbourne, Vic, Australia
Project Team

Ben Edwards, Juliet Moore, Edwina Hollingsworth, Georgina Baronian
Consultants

Builder Truscorp
Engineer VDM Consulting
Interiors Edwards Moore
Joinery Jack Westell and Michael Doubas
Lighting Edwards Moore, Euroluce

Site Details

Location Fitzroy, Melbourne, Vic, Australia
Site type Suburban
Building area 94 m2

Project Details

Status Built
Design, documentation 4 months
Construction 6 months
Category Residential
Type New houses

Client

Client name Ben Edwards

Source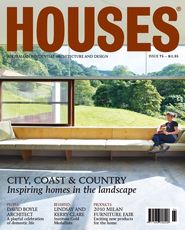 Issue
Houses, August 2010
Related topics