A new cultural hub celebrating Jewish life and culture will be built in Elsternwick, under ambitious plans revealed by a number of Melbourne's key Jewish institutions.
The Jewish Arts Quarter will be centred around a new eight-storey building at 7 Selwyn Street designed by Melbourne's Mclldowie Partners that will bring together the Jewish Museum of Australia and the Kadimah Jewish Cultural Centre and National Library, along with performing arts and co-working spaces.
The building will be woven into an existing precinct that includes the Jewish Holocaust Centre, Sholem Aleichem College and Classic Cinemas, and will "shine as a beacon" to the Australian Jewish experience and to social connection and cohesion in Melbourne.
"The ability to rejoice in the widest range of arts and culture will encourage everyone that visits the quarter to appreciate and gain a better understanding of what we can offer – especially as we emerge from these challenging times," said Barry Fradkin, president of the Jewish Museum of Australia: Gandel Centre of Judaica.
Mclldowie Partners' design for the eight-storey Jewish Arts Quarter building is defined by a deliberate division between podium and tower, with the podium housing the museum and co-working spaces occupying the tower.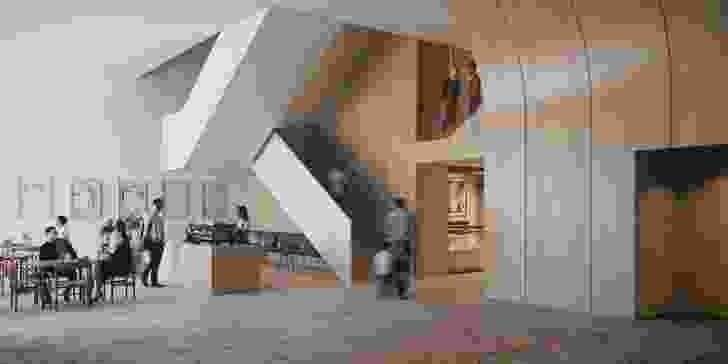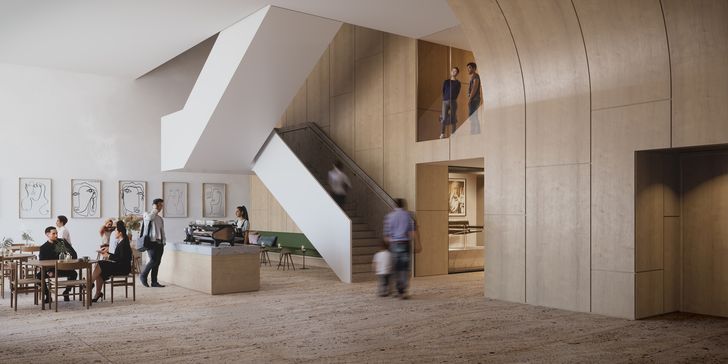 "The podium aims to respond to the existing rhythm of Selwyn Street by sitting in direct alignment with its neighbours, particularly the Jewish Holocaust Centre to the north," the architects state in a design report.
"The design draws on horizontal references from both the Holocaust Museum and Classic Cinema which breaks down the facade so that it responds intimately with the human scale of the street."
"The highly textured concrete of the podium has a material richness and patina that reflect the passing of time. A series of curved panels peel away from the facade, a playful invitation to the museum beyond, akin to opening the pages of a book or the calligraphic quality of Jewish written language."
Along with permanent and temporary exhibition spaces for the museum, the podium will house learning spaces for school groups, adult education classes and public programs, a museum shop and a café serving contemporary Jewish cuisine at ground level.
In the basement, a multipurpose performing arts venue will accommodate up to 300 for theatre, dance, music and comedy performances along with lectures and other community uses.
The tower, setback from the street and the neighbouring apartment building, has its top corners lifted, "as if peeled to match the sculptural quality of the podium below."
It is fully glazed to the east to provide natural light to the office spaces, and clad in a veiled metal screen on its other facades. "The design expresses, in its facade, the building's civic and cultural value, whilst considering its immediate and broader context," state the architects.
Though the project is yet to go before council, it is supported in principle by the Victorian government and the Glen Eira City Council.
"The Jewish Arts Quarter offers a wonderful opportunity for the wider community to come together – regardless of race or religion – to celebrate the rich Jewish culture that is so much a part of Elsternwick and Glen Eira," said mayor Margaret Esakoff. "It will provide a welcoming space for everyone to celebrate Jewish life, culture, food, arts and music."
Related topics