Cumulus Studio has won a design competition for a new café in the forecourt of the Roy Grounds-designed Arts Centre, which occupies a prominent site on St Kilda Road in central Melbourne. The structure will replace a temporary plastic gazebo that the café operated in for more than a decade.
In May, Arts Centre Melbourne announced that it was looking for designs that would make Cento "more comfortable for customers, increase its serving capacity and project a more generous civic presence, in keeping with its location."
Following an expression of interest process, a jury selected four practices to participate in the competition: Cumulus Studio, Architecture Architecture, Sibling Architecture and Clare Cousins Architects.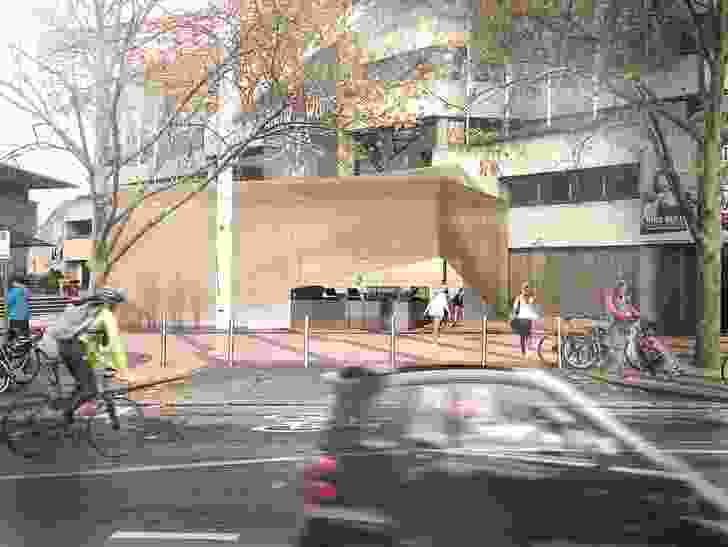 The brief called for a design that would weather Melbourne's changeable climate, transition from serving coffee in the morning to meals in the evenings, and have a five-year lifespan.
Cumulus director Keith Westbrook said the proposal, titled The Protagonist, "uses the café to create an opportunity for the theatre to have a presence on the street, by drawing upon the familiar aspects of the theatre to engage with the passing public and to create a new visitor experience relating to [the Arts Centre]'s brand."
Inspired by theatre curtains, the design includes a curtain façade made from Kaynemaile, a fire and UV resistant polycarbonate mesh, originally used as chainmail costumes in the Lord of the Rings movies.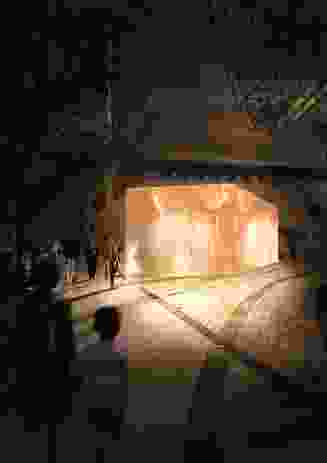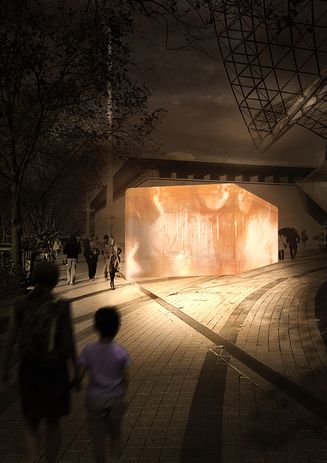 "Specifically, the design plays on the iconic and universally understood element of the theatre curtain as a device to signify 'open' and 'closed'," Westbrook said.
The "curtain" can also be used as a backdrop for art projections.
Hamish Lyon, director of NH Architecture and jury chair, said the versatility of Cumulus Studio's design put it over the edge. "When 'open,' it feels fully a part of the Theatre Buildings forecourt, and allows for informal and variable visitor occupation to extend well beyond its boundaries.
"When closed, it can host events and with changing lighting, set the mood for evening drinks and light meals, pre or post-event," he said.
"The layout provides for four clearly articulated zones, distinguishing service areas, seating areas, and a plug and play space."
The jury that evaluated the designs comprised Vanessa Bird (director, Bird de la Coeur Architects and former Victorian chapter president of the Australian Institute of Architects), David Islip (principal advisor, Office of the Victorian Government Architect), Hamish Lyon (director, NH Architecture), Frank Bischoff (director of Food and Beverage, Arts Centre Melbourne) and Kristen Eckhardt (director of Marketing and Communications, Arts Centre Melbourne).
The Arts Centre is part of a heritage-listed arts complex was designed by Grounds and built in 1973. The precinct also comprises both Hamer Hall, facing the Yarra River, and the National Gallery of Victoria, also designed by Roy Grouds.
Related topics