Rory Hyde: We're sitting here in the magnificent Royal Academy of Arts in London. How did you end up here as the curator of architecture?
Kate Goodwin: I studied architecture at the University of Sydney; I was interested in it as a discipline that crosses so many aspects of life, both creative and practical. In my final year, I went on an exchange to McGill [University] in Montreal, where I got involved with the student gallery. We were playing with architectural ideas and experimenting with different modes of presentation, doing mini exhibitions and installations, which really opened up something for me. I then had an opportunity to come to London and got a job doing architectural programming at the Royal Academy – and sixteen years later, I'm still here. What about you?
RH: I studied architecture at RMIT University, worked for various practices in Melbourne, and then went to work in the Netherlands. I was always drawn to the ideas of architecture, and like you, was looking for other ways to explore these beyond practice. So, I started doing radio, writing, making books and making exhibitions. This led to a job at the V&A [formerly the Victoria and Albert Museum]. I've been here six years.
After all this time in London, we've not had this discussion, and curating in general is quite under-theorized, I would say. How do you define what you do? What's the job?
KG: I'm interested in the positive tension between the discourse within architecture and those outside of it. I find them to be almost at odds with each other. The things that concern architects and what concerns the public at large can be very different. I guess I see the job at the RA as trying to bridge between those conversations.
RH: Yes, absolutely. There's a real discipline required to work with big public audiences, in terms of language and ideas. Not dumbing down, but telling a story. I thought your show Sensing Spaces: Architecture Reimagined (2014) was really successful in this way. It brought together a serious group of practitioners and reframed their work in an inviting and accessible manner.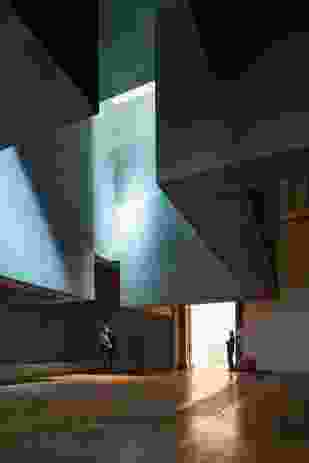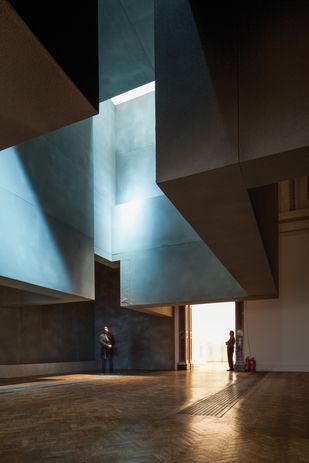 KG: That's nice to hear. The exhibition's premise was that even if you think you know nothing about architecture, everyone can feel it and will have an emotional and physical response. Sensing Spaces was about the complexity of lived experience and aimed to capture and communicate something which is embodied in architecture. For example, there was simple joy in climbing the hidden wooden spiral staircases within Pezo von Ellrichshausen's structure to emerge into the ceiling space, standing right up close to the wonderful ornament in this immense gallery.
Your work seems to be more about framing a thesis and drawing together material that supports and builds on it. What is an exhibition to you?
RH: I see exhibitions as a way to make an argument in public. For me, it's all about the why. Why show this work now? Why show it here? What is the message you are trying to give to the visitor? It's always about trying to shift something, to change somebody's mind, or to give them the tools to make change themselves.
In The Future Starts Here (2018), which I curated with [architect and curator] Mariana Pestana, we wanted people to become more aware of the way technology is shaping all aspects of our lives. So you might walk in feeling anxious about the future or about technology, but then through the course of the show you learn more, and you learn the tools for taking control, so you ultimately walk out of the gallery and see the world with a new lens – you know which levers to pull in order to make change. So, it's really about agency.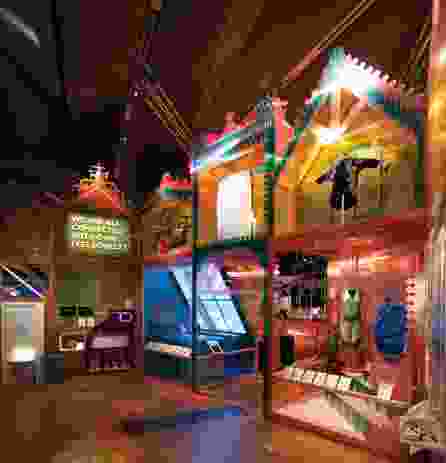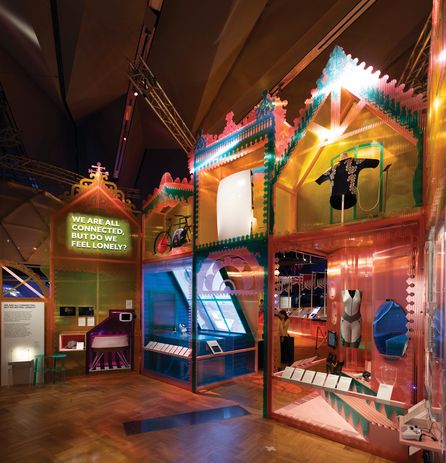 KG: I'm interested in the idea of "permission," which is related to agency. I was talking to a visitor who said that what she found compelling about Sensing Spaces is that she felt she had permission to "play" in that space, which she wouldn't normally within an institution like the Royal Academy – it can be quite an intimidating social space, with all its layers of culture and etiquette. An exhibition can reset those boundaries and open up new kinds of possibilities.
RH: I feel this conversation is most advanced in the museum sector, even more so than in architecture. It's a discipline that's very close to people and tries to be very clear in creating spaces of encounter between things. I've learned so much from spending all these years in a huge public building, with thousands of people coming through it every day. I've become hyper- aware of those spatial constraints. I'm sure it's made me a better designer!
KG: That's right – you start to view the world through these different, and more human-centric, lenses. I did a takeover of our new spaces designed by [British architect] David Chipperfield for a project with Disordinary Architecture, who I know you are also working with. They rethink and reframe disability in fantastically refreshing ways. The activities they ran made me alert to where the hindrances and possibilities of our spaces lay, even as an able-bodied person.
RH: To finish up, I thought we could look across the sea toward Australia. There's a huge number of institutions for architecture in London, but back home, there doesn't seem to be a single one. What is the impact of this, do you think?
KG: I think it's really important that there are museums and arts organizations where architecture can be framed as an integral part of culture. They allow a deeper and more nuanced understanding of architecture and how it's relevant to all of our lives.
RH: Absolutely. Without that story, the narrative is captured by property and lifestyle – with real estate agents on one side and Grand Designs on the other.
KG: And actually, both of these are dislocated from real life. Architecture gives form to our ambitions as a culture; it embeds and expresses all kinds of social, cultural and political ideas. And if we don't acknowledge that, then we can't progress.
Caption
Photography Peter Kelleher (left), Anthony Coleman (right)
Photography Anthony Coleman
In The Future Starts Here (V&A, 2018), Rory Hyde and Mariana Pestana brought together more than one hundred objects to encourage attendees wto feel more in control of technology.
Kate Goodwin curated Sensing Spaces (Royal Academy of Arts, 2014) to challenge our perceptions of space via house-size installations, including this one by Grafton Architects .
Pezo von Ellrichshausen's structure in Sensing Spaces enabled visitors to climb, via hidden spiral staircases, to the gallery's ornate ceiling to experience a different perspective.
Source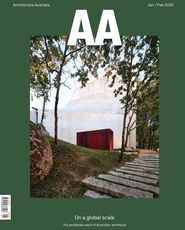 Discussion
Published online: 25 Mar 2020
Words: Kate Goodwin, Rory Hyde
Images: Anthony Coleman, Peter Kelleher
Issue
Architecture Australia, January 2020