Before the new Curtin Connect opened at Curtin University in 2017 – taking up residence inside an imposing brutalist building that has been stripped back to reveal its original splendour – students had to visit several offices across the campus to engage with representatives from multiple departments to resolve administrative queries.
Now, several back-of-house departments have been accommodated inside one building and their public face, Curtin Connect, is located next door, thereby streamlining processes for students and staff. Curtin was founded in Perth as a technical institute and was laid out in the 1960s by public works architect Vin Davies. He masterplanned the buildings and sports fields within the grid of a pine plantation that had occupied the site since the 1930s, and his signature architectural style – buildings constructed with bricks and off-form concrete – established the language for the institution's subsequent development.
At the heart of the campus and a prime example of Davies' approach is Building 102, a brutalist structure that contains a timber-lined performance theatre complete with its original stage. Over the years the building had been converted into office space, and those later additions had obscured its monumental qualities.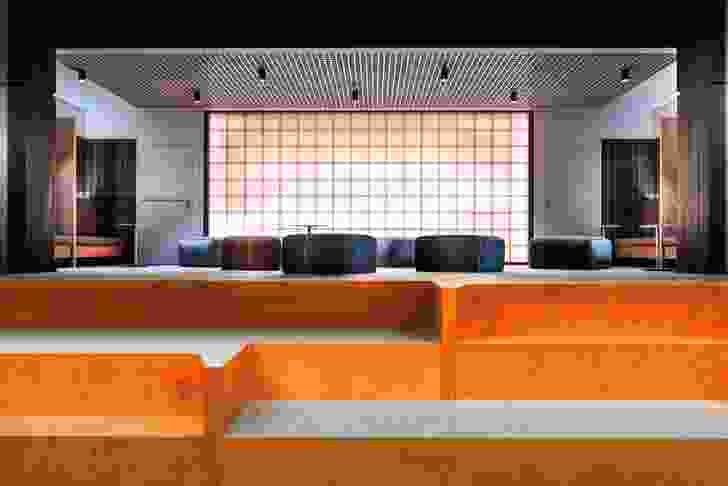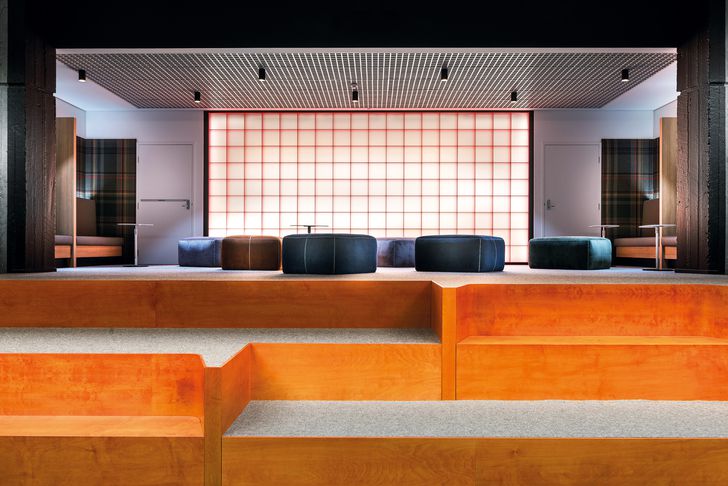 Entering the space now for the first time, one can't help but be captivated by its scale and the original jarrah-lined ceiling, which folds down to enclose the central section. "We kept the original timber and concrete, and removed the fluorescent lighting and replaced it with LED lighting," says Geyer's design manager Stephen Pooley. "This was all here before, but nobody came in here, and you couldn't appreciate the bones of the building anyway, because of the office partitions and new upper floor."
Upon arrival, students have two options: access the self-service terminals at the raised "Tech Bench," positioned to highlight the sculpted off-form concrete wall behind it, or take a ticket for an appointment with staff. An SMS alert system allows students to leave the building to visit nearby cafes or the library, or they can stay and use the wifi and charging points.
It may appear simple and straightforward now, but behind the scenes, the project required a major internal reorganization, says Pooley. "The initial briefing period was three months, during which we undertook a series of staff workshops," he recalls. "We were working with ten departments in ten different locations across campus. We ended up with fifteen separate office moves. The staged construction program took ten months, so we built a pop-up student services facility while we relocated Campus IT and the marketing and finance departments."
They are now co-located in the adjacent Building 101, the first building completed on campus in 1966, which was originally an administration hub. Inside, Geyer removed partitioned offices and converted the basement carpark to make way for a two-storey office design that encourages communication and collaboration.
"Before, people were quite siloed in their work environment, so the major change here was cultural change, and [it was] a bit of a shock for the staff, to be honest," Pooley says.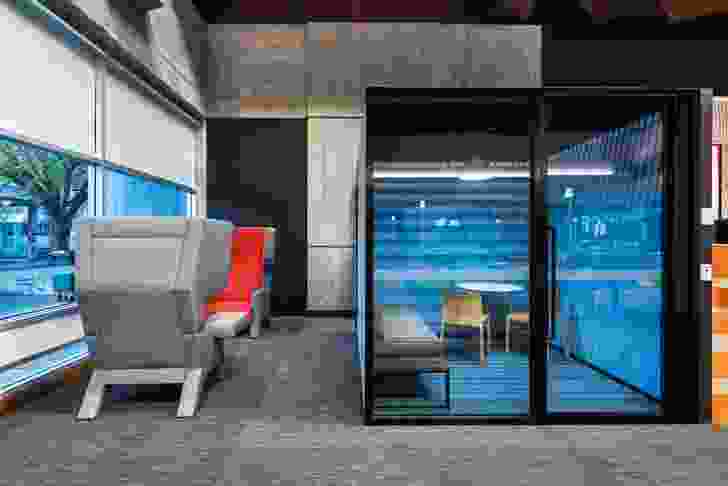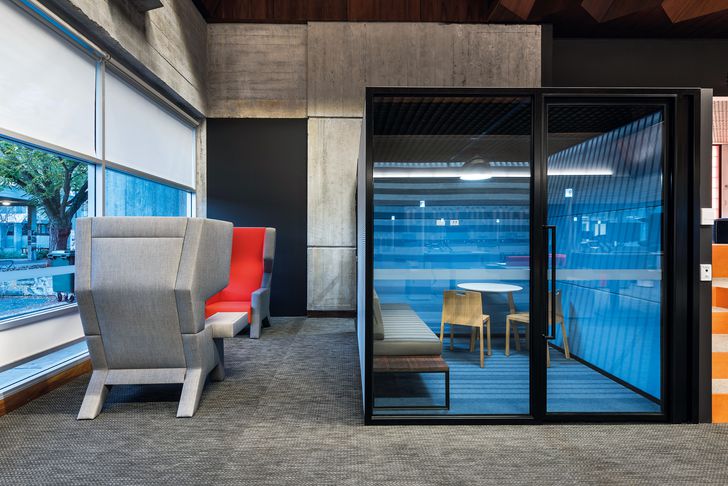 The new arrangement means that most student enquiries – and there can be one thousand per week during peak times – can be addressed digitally or via short face-to-face meetings in Building 102. Desks for that purpose place staff alongside students for a less combative experience, and there are different spatial types available should the query demand extra privacy or time.
Geyer identified four main tiers of engagement and provided appropriate seating and furniture. Tier one includes the Tech Bench and the Connect Lounge, an ergonomic waiting area that facilitates the use of hand-held devices and features flexible furniture on the graded former stage. Standing desks are equipped with all-in-one computer monitors, printers, student card readers and point-of-sale facilities to tackle short queries. Tier two provides conversation-style settings with pairs of Prooff Earchair Armchairs, which create a relaxed and discrete environment with more visual privacy. Tier three comprises open consultation rooms. And finally, tier four includes closed consultation rooms in this space and in the nearby foyer of Building 101.
Throughout all the new spaces there is an emphasis on employee health and wellbeing, which stems from Curtin's position as one of the world's leading research centres into the health effects of prolonged sitting and reduced physical activity. The university is keen to demonstrate leadership on this issue, and consequently every new desk has sit/stand capacity to encourage staff to move around freely during the day. Generous kitchen and dining facilities and a newly enlarged outdoor courtyard provide an appealing destination for staff to prepare meals and gather during breaks.
The design also prioritizes access to views and natural light, and in the office area, the various departments are segmented by large planters full of greenery and a modular custom-designed timber screen that appears in various guises throughout the project. Geyer also reinstated the open courtyard between buildings 101 and 102 to increase natural light into both structures and improve pedestrian circulation around them.
Now, thanks to Geyer's painstaking reworking of these two early campus buildings, and the careful planning of the spaces within them, the central zone of the campus has been restored. By bringing together Curtin Connect and the administrative functions that underpin it, Geyer has reinstated the geographic heart of the university according to Davies' original plan.
Products and materials
Walls and ceilings

Zintra acoustic wall panel in 'Cinnamon' and Ecoustic wall panels in 'Natural' and 'Taupe' from Instyle. Bulletin board in 'Baby Lettuce' and 'Nutmeg Spice' from Forbo. Laminex Impressions laminate in 'Sublime Teak.' Cotto Manetti terracotta panel in 'Rustic Split' from Artedomus. Walls painted in Dulux 'Natural White.' Ceiling painted in Dulux 'Timeless Grey' and 'Ceiling White.' Autex Quietspace Lattice.
Windows and doors

Doors painted in Dulux Duralloy 'Notre Dame.'
Flooring

Artisan woven vinyl flooring in 'Coal' from Bolon. Marmoleum Real vinyl flooring in 'Graphite' from Forbo. Tweed carpet from Desso. Carpet in 'Grass' from InterfaceFlor.
Lighting

Muuto Unfold lamp from Living Edge. Berber Coal spun pendant from Jardan.
Furniture

Kayt Quiet alcove seating, Humanscale task chair and OTM table from Schiavello. Bloom Circlet modular seating and Duet Low stool from Stylecraft. Unnia chair, Dunas LB armchair and Pedrali Bold table from Mobilia. Pebble seating from Zenith. Seb stool, Pearl swivel chair, Phoenix Butter side table and Stanley stool from Jardan. Fabric panelling in 'Surrey' and 'Edinburgh' from Camira. Messenger fabric panelling in 'Sycamore,' 'Voyage,' 'Jetty' and 'Pensive' from Kvadrat Maharam.
Credits
Design practice

Geyer
Australia
Project Team

Steven Pooley, Kim Thornton-Smith, Simone Oliver, Peta Rae, Angela Kuroiwa, Stephen McDonnell, Lan Chung
Consultants

Builder Swan Group
Engineer Wood & Grieve Engineers, BCA Consultants, Milestone
Lighting JSB Lighting
Project manager RPS Group

Site Details

Location Perth, WA, Australia
Site type Urban

Project Details

Status Built
Completion date 2017
Design, documentation 8 months
Construction 8 months
Category Interiors
Type Universities / colleges

Source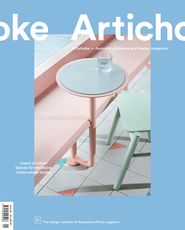 Issue
Artichoke, March 2018