It's not inaccurate to talk about Andrew McConnell's folio of restaurants as an empire, but there's something about that very commercial language that just doesn't feel right. Because anyone who's eaten at Supernormal or Cumulus Inc. or Ricky & Pinky or Meatsmith – yes, the list keeps growing – knows how lovingly he crafts entire dining experiences. Sure, you do have to pay at the end, but McConnell's ability to bring together incredible food, slick-but-warm service and sophisticated interior fitouts is antipodean to the kind of "rack 'em up, roll 'em out" ruthlessness that the word "empire" implies.
At the centre of this – no, not empire, universe? – is McConnell's flagship fine-diner, Cutler & Co., established in an old metalworks building on Gertrude Street in early 2009, when that part of Fitzroy was still a gritty urban dead zone. The original fitout, by architect Pascale Gomes-McNabb, was a seductive composition of banquette seating, bentwood chairs and fabric-wrapped lights that hung from the ceiling like dark clouds, and it transformed a cold industrial building shell into a warm inner-city sanctuary. But eight years is a long time – in hospitality, in interior design, in somehow-still-gentrifying Fitzroy. So when architect Iva Foschia of IF Architecture had completed the fitout for McConnell's new wine bar, Marion, also on Gertrude Street, her practice was engaged to reimagine Cutler & Co.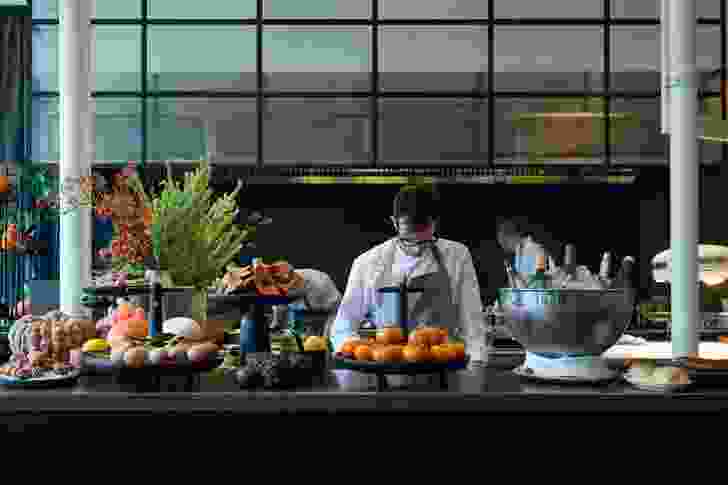 It's interesting listening to Foschia talk about eating here before the redesign, ordering dishes based on understated menu descriptions and being awed by the food that subsequently arrived at her table. Her interpretation of this experience – that there's no room for razzle- dazzle; everything, from menus to service to the physical space, is an accessory to the experience of eating wonderful food – was fundamental to her concept for the new fitout. Namely, using the Cutler & Co. interior to create sensory associations relating to food.
The idea was in part inspired by the neurological phenomenon of synaesthesia, where stimulation of one sensory pathway triggers sensations in a different sensory pathway, such as seeing colours as a result of hearing music. So in plan, we have north, south, east and west, but now also earthy, spicy, smoky, herbaceous and salty, expressed in different places through colour, texture and materiality. Perhaps most striking of these elements is the eastern wall in the main dining room, clad to half-height in beautifully marbled green Pilbara stone panels, with booth seating upholstered in moss-green nubuck leather. The suggestion of herbaceous leafiness sits just at the threshold between conscious thought and unconscious perception, and the contrast between the rough old brick wall a nd the polished stone is outright mouth-watering – like an architectural metaphor for the culinary pairing of creaminess with textural crunch!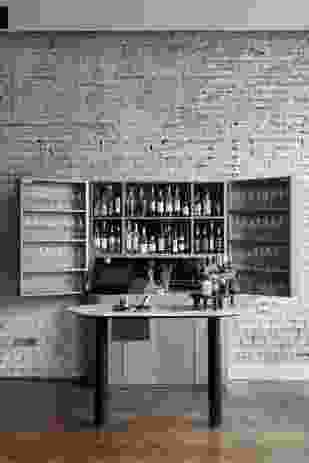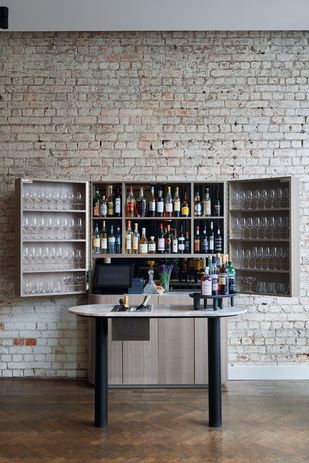 This application of explicitly luxurious materiality to the old building shell hints at a repositioning of the restaurant into a higher culinary stratum, as do other finely wrought details, such as the elegant waiter's station, crafted from bronze, timber and stone, in the centre of the main dining room. But the change is better explained in the context of an internal restructuring of the space, and the restaurant offering, into three segments. The front third is now a bar, with leather-upholstered stools arranged around high marble-topped tables, and oak-framed armchairs. It's a place for everything from a quick drink before dinner, to a slow drink before more slow drinks, to a full, but more casual, dining experience. With views out to the traffic and trams, over the counter into the busy open kitchen, and across the floor to a standalone cocktail bar, this place has Friday night written all over it.
The other view from here is back into the restaurant, through steel-framed glass doors to the main dining room. In this segment we find the herbaceous zone along one side wall, the elegant waiter's station in the middle of the floor, and a general seating configuration catering to couples and small groups – curved, earth-brown leather banquettes; circular American oak tables; upholstered Arne Jacobsen Series 7 chairs. The feeling is of intimacy in the midst of quiet activity, the social buzz of the bar replaced by the background hum of a well-drilled service team and snippets of conversation.
The dining room extends through another wall of glass doors into the third segment, which can be configured for general dining or events. The feeling here is different again, thanks to a change in flooring from timber to smoke-grey carpet, but also to the large, horizontal window that's been cut into the rear brick wall. The window, with steel frames matching the glass doors elsewhere, bathes the room in northern sun and frames a quintessentially Fitzrovian backstreet panorama of rusty corrugated iron roofs and wonky chimneys. Under the window is an open fire and lounge seating – Sunday afternoon to the front bar's Friday night.
But this place is pretty special any day of the week. IF Architecture has created a beautiful interior imbued with the colours, tastes and textures of food, that sets the stage – subconsciously and functionally – for one of Melbourne's finest culinary experiences. There's a strong sense of luxury and fastidious attention to fine detail, but razzle-dazzle is strictly BYO.
Products and materials
Walls and ceilings

Existing walls painted in Dulux Wash 'n' Wear in 'Natural White. W alls in Pilbara Green polished marble from Cairns Marble & Granite. Burnished steel salvaged from demolition.
Windows and doors

Steel-framed windows powdercoated in Dulux 'Black Ace.'
Flooring

Natural Coir matting in black from Birrus. Broadloom wool and nylon carpet in 'Coal' from Godfrey Hirst. Existing timber floor.
Joinery

Champagne bar features honed Pilbara Cream marble from Cairns Marble & Granite, ghost gum oak timber veneer from Fethers and bronze mirror from Viridian. Chef's bar features Australian Emprador marble from Cairns Marble & Granite and smoked oak timber veneer from Briggs Veneer.
Lighting

Apparatus Tassel pendant from Criteria. Bronze wall lights from client.
Furniture

Stellarworks Utility stool from Living Edge. Cassina Caprice lounge chair and Cassina Poetique tables from Cult. Prostoria Oblique armchair from Stylecraft. Fritz Hansen Arne Jacobsen Series 7 chairs. Table tops and bases from Thonet. Banquettes feature smoked oak timber veneer from Briggs Veneers. Banquettes feature range of upholstery, including Italian leather in 'Sundance Ash' from NSW Leather, Mokum Alpaca Velvet in 'Truffle 003' and Nuback Leather in 'Outback Billabong' from Pelle Leathers.
Other

Made to Measure coat hooks. Cheminees Philippe fireplace from Wignells.
Credits
Architect

IF Architecture
Melbourne, Vic, Australia
Project Team

Iva Foschia, Mimi Westhorpe, Kathryn McKenzie
Consultants

Builder Blueprint Commercial

Site Details

Location Melbourne, Vic, Australia
Site type Urban

Project Details

Status Built
Design, documentation 6 months
Construction 1 months
Category Interiors
Type Restaurants

Source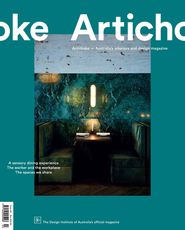 Issue
Artichoke, September 2017
Related topics