Dalkeith is an old suburb of Perth, surrounded on three sides by the Swan River and home to some of the city's finest old mansions. This residence shares a street with hundred-year-old bungalows and questionable modern-day interpretations of past and international styles of architecture. Our project challenges this context and the contemporary desire to exhibit power and status through architecture. Mostly concealed behind an existing street wall, the project quietly addresses the street while unfolding a controlled sequence of spaces that engage with a hidden garden.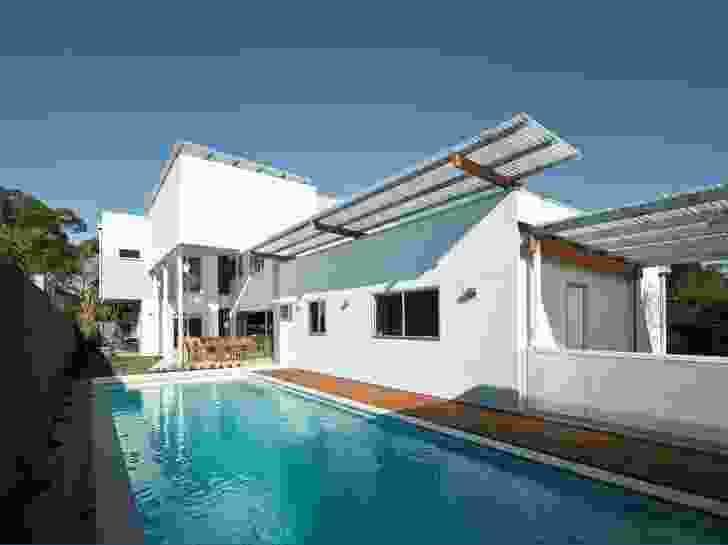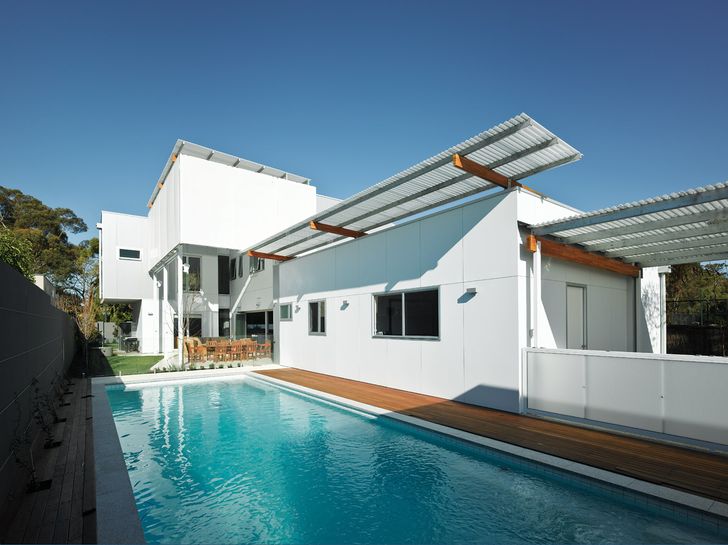 We explored the relationship between house and garden by adopting a set of elements developed in a past desert community centre project – a platform, pavilions and parasols. We also introduced a new element – parasites. These four interact to configure the site flexibly, using every part of the property and dismissing the traditional notion of a front and back garden. Site organization is the beginning of a collection of low-tech, cost-effective environmental devices that are bound by the architectural intent, generally concealed from view and denying the contemporary and popular image of a sustainable house.
Perth is the third windiest city in the world and the pavilions are articulated to allow wind to penetrate deep into the house. The wind is cooled by shallow ponds adjacent to the low-level windows, while hot air is drawn out the top of them. The articulated form increases the roof area and potential for water catchment; all roof water is stored in a sub-surface concrete tank under the front garden and supplies both the pool and the house. Water is heated by a solar hot water system with back-up gas instantaneous heater and sun-heated pipes mounted on the roof. Water consumption is minimized through low-flow fittings and the entire house is set up with grey water recycling.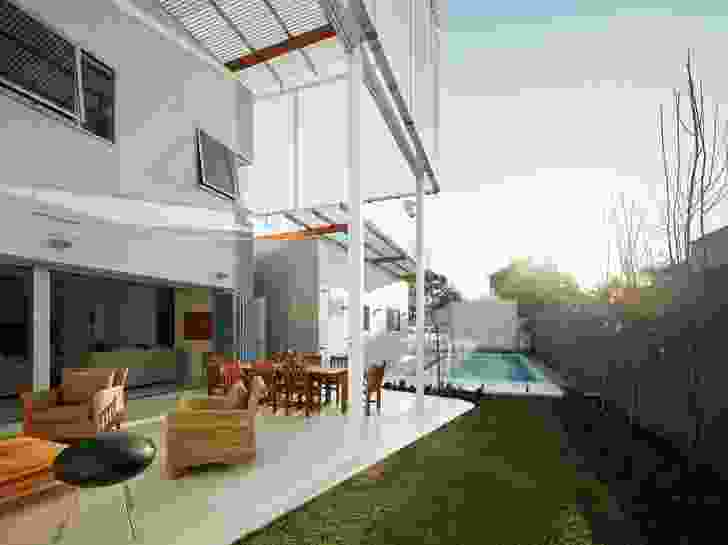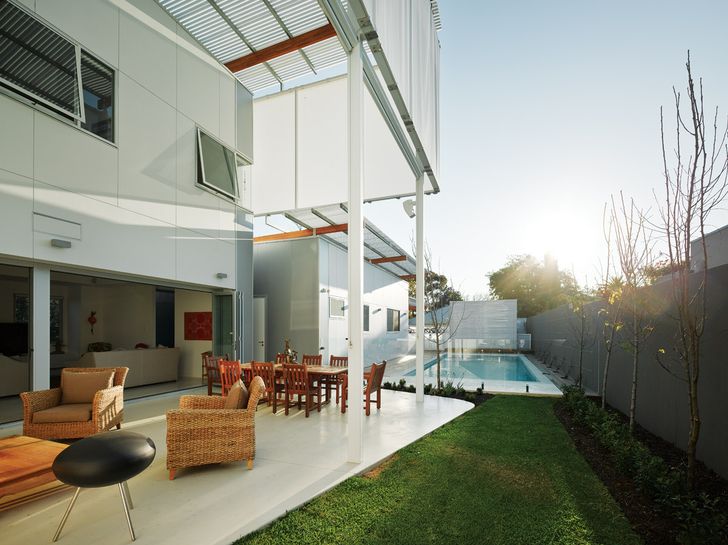 A double-height outdoor room has been created, which mediates the temperature of both the lower and upper levels. Automatic blinds temper sun penetration. The blinds double as a projection screen, transforming the outdoor living room into a theatre under the stars. Roof-mounted photovoltaic cells provide power, while consumption is minimized with compact and T5 fluorescent light fittings and low-energy fixtures. The PV cells, parasol roof and hot-water system shade the roof to reduce heat build-up. Winter heating is provided by the direct-sun thermal heat gain of the concrete platform, supplemented with ethanol fireplaces and sub-surface, in-floor heating.
The house is constructed from plantation pine and the cantilevers from plantation plywood. Use of steel and other high-embodied-energy materials has been minimized. The house is clad in a composite, fire-rated panel with sheet steel exterior and an acid-free recyclable core, providing superior thermal performance and minimal material waste. Materials are mostly screw-fixed rather than nailed to increase the capacity for future reuse.
Read a discussion on sustainable site strategies here.
Products and materials
Roofing

Lysaght Trimdek, Colorbond 'Shale Grey'; Suntuff polycarbonate sheet, 'Opal'.
External walls

CSR Expresswall CFC, painted; Austral X-Flam panel, Colorbond Metallic; Lexan TwinWall polycarbonate, 'Opal'; Suntuff polycarbonate sheet, 'Opal'.
Internal walls

CSR Soundchek plasterboard, painted; Lexan TwinWall polycarbonate, 'Opal'.
Windows

Capral Narrowline frame; Viridian ComfortPlus glazing.
Doors

Rondo P50 shadowline, painted; solid core doors with hardwood frames.
Flooring

Polished concrete; Cavalier Bremworth carpet 'Troika'; Original Ceramics tiles.
Lighting

Specific Lighting.
Kitchen

Laminex Innovations and Colourtech ranges; Caesarstone benchtops, 'Snow'; Bosch appliances; Zip HydroTap; Abey sink and mixer.
Bathroom

Laminex FSC timber veneer; Caesarstone benchtop; Reece fixtures; Rogerseller tapware.
Heating/cooling

Radiant Floor Heating electric in-slab heating; Daikin ducted air conditioner; Issey Blinds shadecloth and motorized blinds.
External

Cemex concrete paving, 'Wattle'.
Other

1.5 kW PV cell; 22,500 L underground stormwater tank; grey water system; Solarhart hot water system.
Credits
Architect

Iredale Pedersen Hook Architects
Australia
Project Team

Adrian Iredale, Finn Pedersen, Martyn Hook, Vincci Chow, John Belviso
Consultants

Builder A. T. Brine and Sons
Engineer Scott Smalley Partnership
Pool Future Pools

Site Details

Location Dalkeith, Perth, WA, Australia
Site type Suburban
Site area 934 m2
Building area 450 m2

Project Details

Status Built
Design, documentation 15 months
Construction 24 months
Category Residential
Type New houses

Source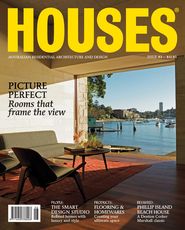 Issue
Houses, December 2011
Related topics