The old manufacturing areas of southern Sydney are intriguing pieces of inner urban fabric. Emphatically industrial in urban scale and character, their proximity to the city centre has made them an obvious target for the city's recent growth. The infiltration of parts of this industrial grain with new housing, public spaces and institutions has seen it acquire a charged ambivalence, with the coexistence of contrasting types and uses forming a very particular, and under-appreciated, transitional urban character.
Alexandria was selected by Judith Neilson as the site for the Dangrove Art Storage Facility, designed by Tzannes. The label "art storage facility" strains ironic credulity as soon one begins to confront the cultural ambition of both the institution and its architecture. The facility is extraordinary in every sense: 10,500 square metres of floor area holding 2,750 formally designated "works", totalling more than 10,000 objects of inexhaustibly varying media that comprise Neilson's collection of contemporary Chinese art. The functional requirements of such a repository conjure expectations of a place that is silent, lightless and still – expectations that are confounded within moments of breaching the building's taciturn street grille. The building teems with activity as the movement of trucks, forklifts and technicians animates the rigour of its arrangement.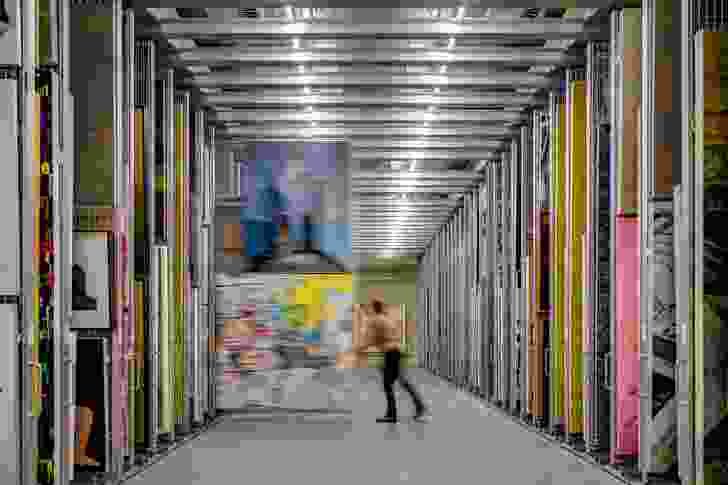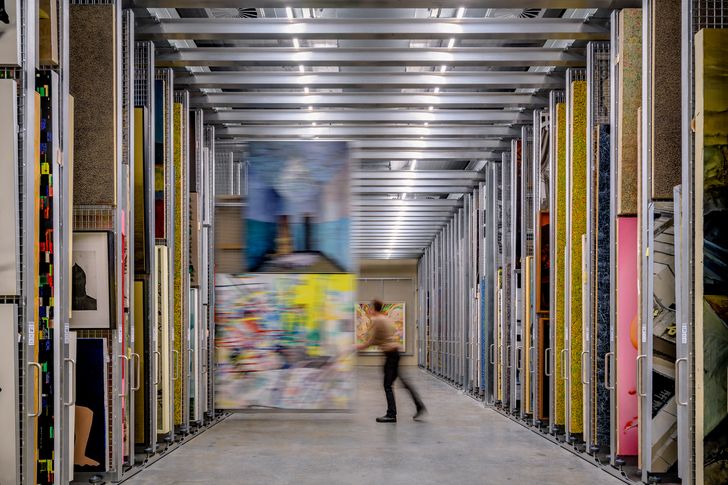 On the lower level, a linear organizing corridor launches directly from the loading dock, forming a shared anteroom to a series of cellular archival rooms and conservation workshops. The spaces are deliberately uncompromising in their material utility, accentuating the physical intensity and vigour of the works that are either protected within or placed along the anteroom for inspection or assessment. The material language of this lower world is brutally efficient: tilt slab, unfinished blockwork and concrete, and fire-rated board. Nothing is concealed; structure forms surface and defines architectural expression. The only "finished" space is a facsimile of the interior of the White Rabbit Gallery, located a few kilometres away in Chippendale and established by Neilson in order to share the collection with the public. Inside Dangrove, exhibitions can be tested and refined in matched spatial and lighting conditions prior to installation in the public gallery.
A strategy of calculated redundancy lends the lower level a satisfying tectonic compression. Water and fire protection is addressed through spatial means, rather than servicing alone. Fire egress corridors form a protective void around the perimeter of the building. They are graded to shed water, and incorporate a continuous scoop drain, in anticipation of potential failure of the tilt slab panel joints in the future. Four physical layers would need to be breached for water to reach the collection – joint, drain, void, hob. The building's servicing provides museum-standard temperature and humidity control throughout the archival areas, and although the building management system is still in the commissioning and adjustment phase, its six hundred photovoltaic cells appear close to offsetting, entirely, the energy required for lighting, heating and cooling.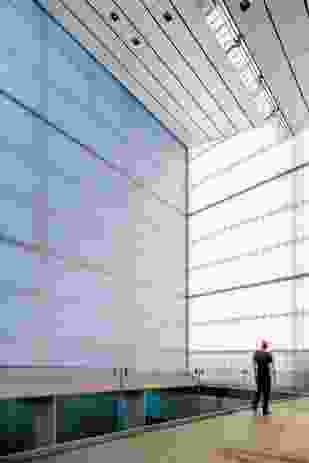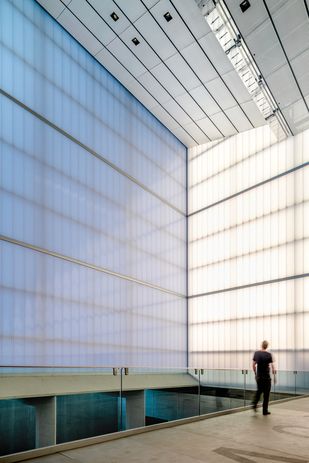 Uncompromising functional rigour determines that circulation within the building always prioritizes the movement of art, predominantly by forklift. This is apt, but in acknowledgement of the centre's intermittent semi-public use and visitation, a path for human movement is articulated through the considered use of transparency and natural light. The psychological power of this promenade de lumière plays against the raw introversion of the lower level, structuring a path from the prosaic to the ethereal. It begins with a brut industrial streetscape and a pathway delineated only by painted line-marking, leading towards a glazed reception point, where a hint of daylight filters down the edges of a stairway, beckoning movement upwards.
Ascending, one arrives at the glazed edges of a bounded, sunlit courtyard, where a large sculpture of a reclining figure by South African artist Angus Taylor playfully puts to rest any lingering temptation to seek to register human scale. Offices and a research library that accommodates visiting scholars are gathered around the courtyard, which opens away from the more aggressive street frontage. A long, wedge-shaped room tapers to follow the street boundary. The atypical angular geometry lends the room an invigorating sense of motion that is reinforced by the warm daylight it receives from three directions: the courtyard, a fifty-metre-long strip window that frames an industrial panorama, and a series of concrete vaults that draw zenithal light into the rear of the space. The room is used for the staging of both art and events, and is bookended by oxidized steel joinery that elevates an industrial sensibility to a striking, urbane aesthetic. One can readily imagine the reciprocal panorama, framed by the strip window, that is presented to the opposing concrete batching plant when evening functions in this space are in full swing.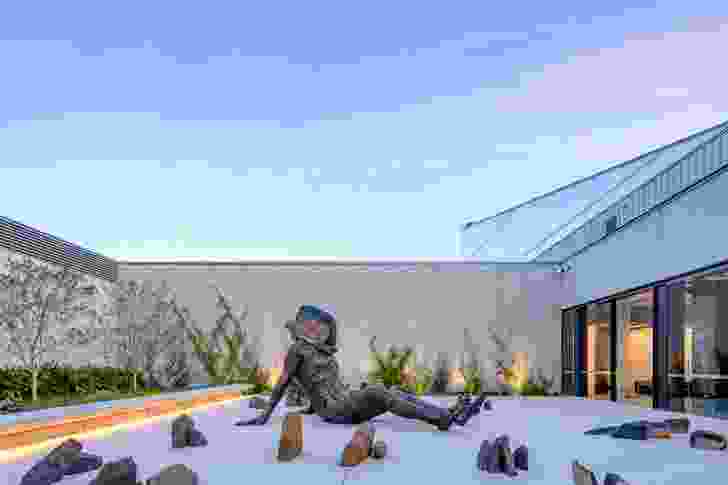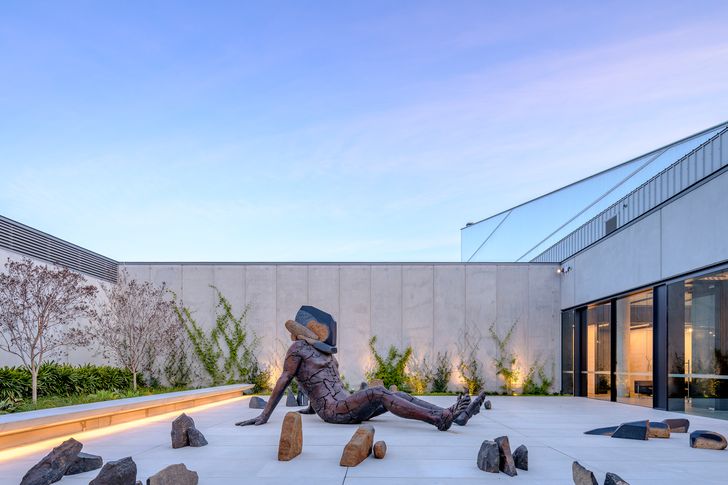 Soon, it is apparent that this impressive space is merely an antechamber, as twelve doors pivot open to reveal the architectural apogee – a ninety-metre-long hall with an escalating sectional form increasing from eight to thirty metres in height. Here is a room conceived to frame spectacle, permitting complete immersion in select parts of the collection and an opportunity to revel in privileged contact with it. The relationship between architecture and art is historically vexed. Each needs the opportunity to cultivate a distinctive voice, without overpowering the other. The interrelationship is dynamic and recalibrated with each installation or performance.
It is a conceit to imagine that you have the measure of this room from architectural photography alone; be assured that this is no mute vessel. Its scale is directionally dynamic, appearing to soar unimpeded in one direction, while being stepped and modulated in the inverse. The light quality in the room is constantly animated – suffused with cool, filtered daylight from its dual-layer polycarbonate shell and balanced, once again, by a shaft of warm sunlight that falls vertically from a skylight along the rear wall. In the evening, lighting effects are dramatic and theatrical. Even when dormant, the space rouses the imagination; it is expectant and pre-emptive, anticipating its next artistic encounter. Form inspired, rather than followed, function in this instance. Designed to showcase performance art, mixed media and large works, the hall quickly piqued interest as a space for musical performance, despite there being no specific acoustic component in the original brief. Musicians actively respond to the room's cathedral-like acoustics, intuitively modulating the pace and character of their performances to harmonize with its volume.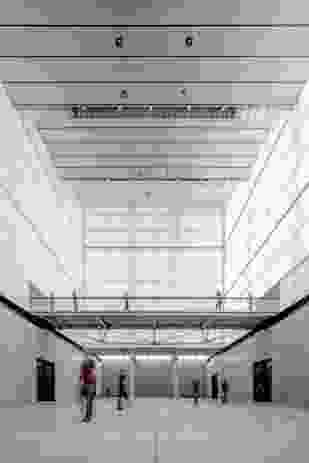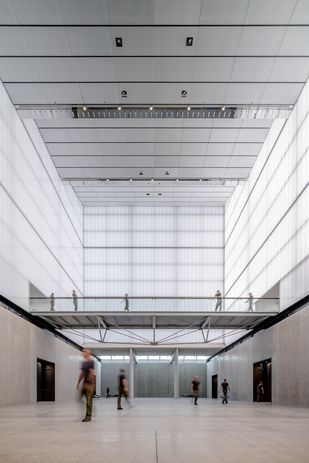 Here too, the full life cycle of the built fabric is meticulously considered. The paired polycarbonate skins are detailed with fully accessible fixings. Each is an independent, waterproof, UV-filtering, thermal skin that can be replaced when the polycarbonate reaches the end of its working life without exposing the interior, or the collection, to weather or harm. A series of very simple plant room pods plug directly into its luminous exoskeleton, further amplifying the hall's character as a space decoupled and distanced from earthly concerns.
Tzannes is a practice renowned for the clarity of its architectural intent, so it is unexpected to find that it is the ambiguities held within this project that are the most engaging. Are these rooms served or servant spaces? Is the hall a gallery or a theatre? Is the language authentically industrial or bespoke minimalism? Detached urban object or connective industrial tissue? Introverted archive or cultural ensign? It is alternately all of these things, and more. In being so, this sophisticated architectural proposition frames an astute response to a fluid urban context – as well as sustaining multiple, open possibilities for this remarkable institution, as it evolves in the coming decades.
Credits
Architect

Tzannes
Chippendale, Sydney, NSW, Australia
Project Team

Alec Tzannes, Chi Melhem (project directors), Jonathan Evans (sustainable design and design review), George Korban (project architect), Neil Haybittel, Derek Chin, Luke Novotny (architects), William Blake, Lily Tandeani, Tony Lam (designers), Kate Nason,, Sarah Reid (graduates of architecture), Elanor Hyland-Falle (lighting and furnishings)
Consultants

Acoustic consultant Acoustic Studio
BCA consultant Philip Chun
Builder Infinity
Building surveyor SDN Land Surveyors
ESD Steensen Varming
Electrical and lighting consultant Steensen Varming
Engineer TTW
Facade consultant Surface Design
Fire consultant Red Fire Engineers
Flood assessment WMA Water
Hydraulic consultant Warren Smith and Partners
Landscape consultant Oculus
Life cycle analysis The Footprint Company
Mechanical and services consultant Steensen Varming
Project manager Aver
Quantity surveyor Bylett and Associates
Town planner BBC Consulting Planners;
Traffic consultant Thompson Stanbury Associates

Aboriginal Nation

Dangrove is built on the land of the Gadigal people of the Eora nation.
Site Details

Location Alexandria, Sydney, NSW, Australia

Project Details

Status Built
Category Commercial, Interiors
Type Warehouses

Source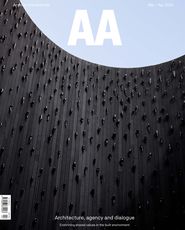 Issue
Architecture Australia, March 2020
Related topics