Many grand old warehouses of inner Sydney have been artfully converted over the past few decades into open, flexible and exciting homes. One such example in Sydney's inner west was split into three family residences some fifteen years ago. Living in the north-east corner, with one level of modest bedrooms and one level of open-plan kitchen/living/dining space above, a young family has grown to love the home's character.
Over time, however, these infinitely flexible but never private living arrangements presented a challenge for children wanting independence and a parent wanting to be musical at home. So Welsh and Major Architects was commissioned to design an extension that allows space to host sleepovers, prepare for exams, learn an instrument or simply get invested in a quiet book. Defying the ubiquity of open-plan living, this project champions the humble room.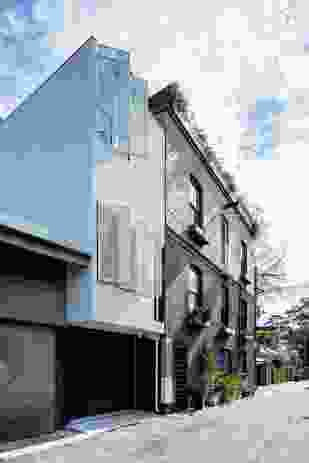 Sitting beside the three-storey ex-warehouse, the new extension occupies a slice of airspace previously held by an old shed and a strangely floating bathroom. This unusual opportunity to build beside the existing structure meant that on each floor of the home, one new room could be added to the layout. At ground level beside a detached flat, this room is a garage and laundry. Above and adjacent to the bedrooms is a room for movies, sleepovers and study, with a small balcony attached. The top floor, accessed through the living room, contains another, smaller room and a bathroom – a refitting of the old hovering loo.
The new rooms are direct and practical. Nothing fancy has been built-in; instead, good proportions create welcoming and useful space. A couch can be placed in a room to watch TV or a table for study. A computer can be set up against a wall or an artwork hung. Generous openings face the laneway, lighting the rooms and inviting breezes, with screens to maintain privacy between neighbours. The balcony on the middle level extends the space outdoors and promotes openness to the elements while maintaining shelter. Further into this room, a concrete beam hovers overhead – the existing structure of the old toilet. The texture of the concrete is held within a plywood ceiling that mimics its shape. It has been retained and embraced in the architecture so that it can tell one of the building's many stories.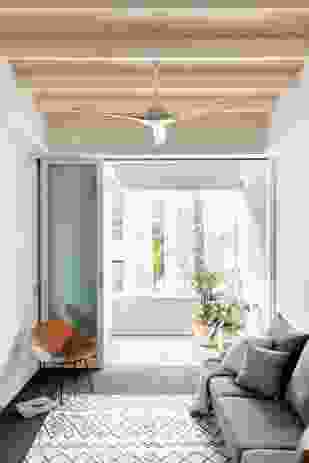 Architect David Welsh describes the project as "chapter five in the story of this building." In chapter 1, the warehouse was a grain store and bakery. Chapter 2 saw the building extended as the bread business was booming. Chapters three and four were the recentdevelop ments to make the warehouse into homes and chapters six and onwards will no doubt continue to extend the building's narrative.
As our requirements for living evolve, it is logical to expect these charming old buildings to be repurposed and renewed. The question then becomes how to do this appropriately. Just as the humble room provides an old solution to this family's new problem, this new building draws on local references to balance the familiar with the contemporary.
The exterior is coated in a white, textured render. The white form is clearly a contemporary addition, yet this rough and bumpy material appears all over historic Sydney – as the feature chimney of a Federation home or the front columns of a Californian bungalow. The windows are vertical and reflect the historic proportions of the existing warehouse. Their white perforated metal screens are patterned with striking vertical arrows that mark this stage of the building's life. If the ornate red brick coursing championed the prosperity of warehouse construction, the screens champion the forms possible in contemporary architecture. These references are discreet but they continue the construction stories of the area and keep some of its traditions alive, albeit in a refreshed way. They allow a contemporary building to feel at home next to its historic neighbour.
Darling Lane is a great example of architecture facilitating transformation. The changing needs of a family and the changing face of a suburb are held within this tiny new structure – the latest chapter in both the life of a building and the lifestyle of its occupants.
Products and materials
Roofing

Lysaght Klip-lok roof, flashings and rainwater goods in Colorbond 'Surfmist'.
External walls

James Hardie blueboard cladding; Sto Australia textured render.
Internal walls

Plasterboard.
Windows

Painted timber frames by Hardman Joinery.
Doors

Hormann garage and entry door, powdercoated.
Flooring

Stainmaster Solarmax Inscape carpet in 'Slate'.
Lighting

All lights from Tovo Lighting.
Bathroom

Astra Walker tapware, towel rails and fittings in matt black (black bathroom) and chrome (white bathroom); CASF Corian Quiet 7110 basin and vanity in 'Glacier White' (black bathroom); Artedomus Breccia Nera stone vanity top and American oak cabinets (white bathroom); Caroma Urbane inset basin (white bathroom); tiles from Surface Gallery; Catalano Zero 50 wall-hung toilets from Rogerseller.
Heating and cooling

Three Sixty Spitfire ceiling fan.
External elements

Tallowwood deck.
Other

Custom screens and numberplate designed by the architect, manufactured by Eastern Suburbs Steel Fabrication.
Credits
Architect

Welsh + Major Architects
Sydney, NSW, Australia
Project Team

David Welsh, Dean Williams, Felicity May, Miles Dean, Whimbrel Wilson
Consultants

Builder Hi Spec Constructions, Burton Built (black bathroom)
Engineer Cantilever Consulting Engineers

Site details

Location Sydney, NSW, Australia
Site type Suburban
Site area 135 m2
Building area 295 m2
Category Residential
Type Alts and adds, Residential

Project Details

Status Built
Completion date 2018
Design, documentation 60 months
Construction 9 months

Source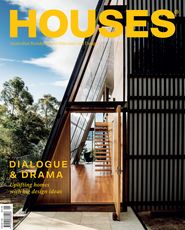 Issue
Houses, February 2019