First House: Durbach Block Jaggers
A mix of innocence, ignorance and enthusiasm comes with starting a new practice. This Sydney house is an early exploration of Neil Durbach's obsessions and interests as an architect. Twenty-four years after designing it, Neil reflects on his first experience of working independently.
It must have been sometime in the autumn of 1990 that I found myself inside Woollahra Municipal Council wondering if the man behind the counter was ever going to approve the small house I was terribly keen to build. It was to be my first project completed independently, designed for a wonderfully free-of-doubt couple by the names of Michael and Zenga.
While waiting at the council offices I thought of my friend and early mentor Willie Meyer, a hugely successful and enigmatic architect in Johannesburg, South Africa. Willie, a golden student of Louis Kahn, had ordered a special tailored suit to wear at council meetings. It was black, it was shiny and it was worn in patches. Its trouser legs were so short that when he wore it, four inches of his very white shins were clearly visible above his black socks and shoes. He wore the suit whenever he met with the council so that its members would feel sympathy towards him and be more inclined to approve his projects. My tactic back then was to appear dazed, confused and insecure about what I was proposing to the council. I hoped that doing so would elicit some pity and they would say, "Oh, ok," just to get rid of my pleading and pacing.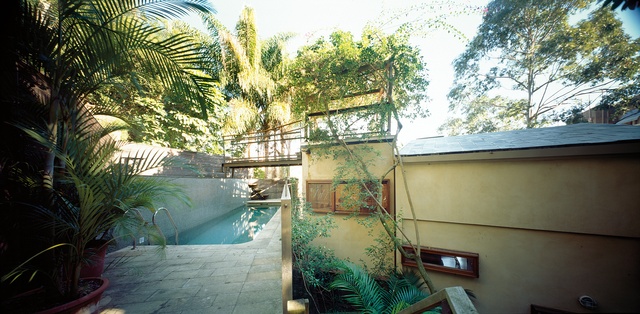 Sometime later, in 1991, plans for the Darling Point House were approved. Rather improbably, we started construction. I had worked on residential projects before, a couple of renovations and so on, but not like this, all alone and freely independent.
Darling Point House consists of two angled pavilions – one containing the bedrooms and bathrooms, the other the living area – organized via the varied external spaces. These come together like a set of linked experiences through and around the site. The house is really little, as is the site it sits on, and it's terrifically invisible when viewed from the top of its forty-nine stairs. Building it, [co-director] Camilla Block remarked, was going to be like constructing a ship in a bottle.
There is a time in your architectural life when what you know is nicely balanced with what you don't know, when innocence and ignorance can move mountains of bricks and keep them in place, and seem to prevent water from doing the things it just always wants to do. It's like you have your hands gleefully on the steering wheel but the brake, the clutch and the accelerator are all operated by invisible forces. The early days of our office were very much a stumbling, bumbling kind of adventure from week to week. Kept afloat partially by a volatile mix of teaching and freelance work, we somehow got the Darling Point House documented.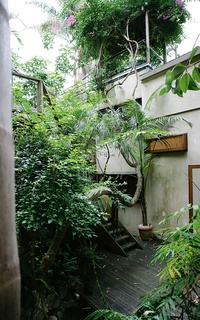 Ken Maher had taken pity on me and set me up in the corner of the top floor of his huge warehouse office in Kent Street, Sydney. I had access to a fax machine and a printer and most importantly to Robin McInnes and Everard Kloots, who realized the detailed drawings for the house when things were a little slow at Quay Partnership – how things have changed. Camilla had just started working with me but already knew more about framing and bracing than I did (she still does, actually).
I believe that an architect is created in about seven years – throughout your education at university and the year or so after that. That's when you create your own heavens and earths, the things that only you are really interested in. I fell in love with architecture through the people around me and through my teachers. I discovered Louis Kahn through Stan Field, Gunnar Asplund through Michael Graves, Le Corbusier through Roelof Uytenbogaardt, Konrad Wachsmann through Alan Hirschfield, and the magic of geometry and the beauty of geography through Stanley Saitowitz.
Of course, there are excursions and holidays in other architectures and there is a certain amount of polishing and nips and tucks and so on, but your core – your very own genetic combination – is formed in those seven years.
The Darling Point House is simply an early exploration, or crude sketch, of those obsessions and interests. My interest in odd materials is seen in the use of tennis court netting for handrails and green slate slabs for roof tiles. The architectural promenade, the delirium of gardens and water, the mystery of darkness and the pleasure of sunlight – all evident in this early project – are still the things I value and seek and take pleasure in today.