A thrill for any playground designer is to see a long-imagined project finished and covered with kids – sandy, messy, happy and engaging with nature. This thrill is evident at the new Darling Quarter playground designed by Aspect Studios, where thousands of children have swarmed since it was opened in September 2011.
The playground is part of a major urban renewal in Darling Quarter, within Sydney's Darling Harbour. The vibrant mixed-used precinct has replaced Sega World, a lake with paddleboats and a smaller, isolated playground. The 1.5-hectare site is now home to two 6-Star Green Star commercial buildings on Commonwealth Bank Place [*]; a children's theatre; a retail terrace with cafes, restaurants and bars; grassed community areas with table tennis facilities, moveable public seating and rugs; and the centrepiece – a huge, four-thousand-square-metre playground with one thousand square metres of interactive water play. The bold creation of play space as the centrepiece of this urban renewal project has ensured immediate and enthusiastic public use and economic benefits to the precinct.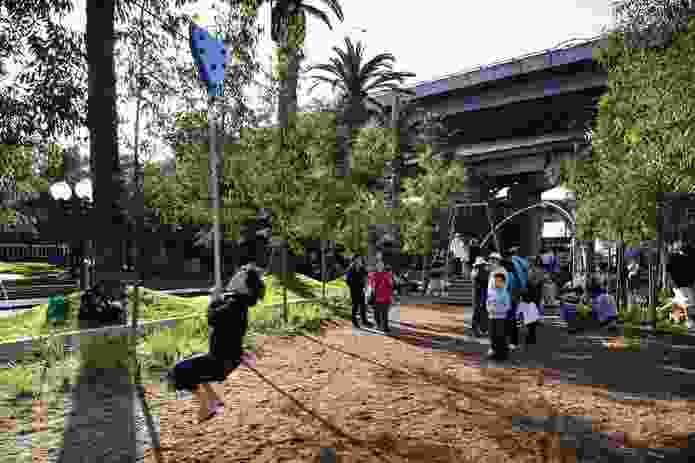 The new playground, the largest in the Sydney CBD, draws strongly on the northern European-style playground, which focuses on children interacting with nature and natural systems, and allows elements of managed risk. Water, always a feature of Darling Harbour, is given centre stage here, with the design referencing the original palm-lined valley of Darling Harbour and its industrial history. An abstracted river environment is created with beautifully formed concrete in intricate and tactile forms, including man-made river boulders that are decorated with industrial motifs and which can be filled with sand or water as part of children's play. A pumping station delivers water to streams with sluice gates, water switches, a water wheel and a large water jet area. Children can control the pumping and routing of water, mixing it with sand as desired. It is technically complex, visually engaging and hugely appealing to youngsters. The use of synthetic softfall is minimal, and mulch and planting have been used extensively – a brave move at this scale and in such an urban context.
The site contains eleven play areas, offering different opportunities for all ages, at varying levels of risk and with a wide array of physical sensations and opportunities for exploration. Impressive lighting and light shows provide ambience at night-time and attract teenagers and young adults onto the playground. True intergenerational play is encouraged.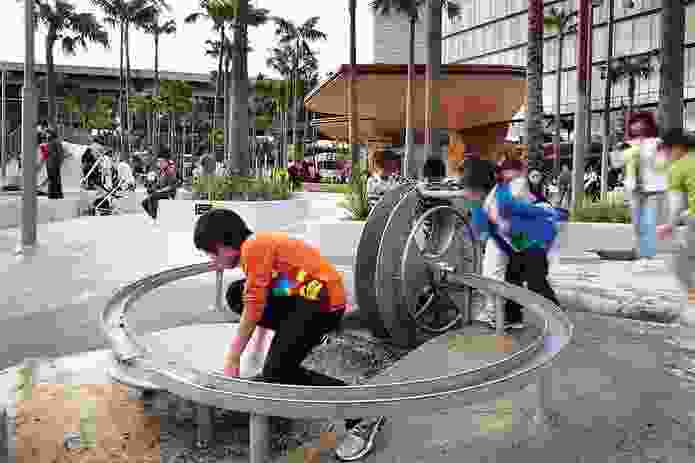 Darling Quarter, along with Blaxland Riverside Park in Sydney Olympic Park, is introducing a new genre of playground to Sydney. More than a regional playground, it is operating as a "family entertainment precinct," a term coined by New Zealand-based independent play consultant Doug Cole. Whole families are staying for long periods of time to take advantage of the high-quality, free and engaging facilities.
However, this type of space seems to be changing the nature of play. The large volume of users makes play exciting, social and challenging, but it also introduces prolonged queuing and more restless play as children run around trying everything. Does this lead to a shallower, less sustained play? The large scale of the playground and volume of visitors also raises significant safety issues. It is easy for parents to lose sight of their children and some might wonder what is ending up in the sand and water.
The popularity of the playground was underestimated and despite the robust and hard-wearing finishes, the issues of overuse are considerable. Over half a tonne of sand is removed from the sumps every week. Sand areas need daily cleaning, mulch needs to be topped up regularly and plants have needed new protective walls to allow them any chance of survival. Rapid wear and tear of the specialized water-play equipment imported from Germany is occurring and it will be costly to maintain. This has all resulted in the need for maintenance budgets to be significantly increased. However, the precinct's economic benefits outweigh these additional costs, meaning both the client (Lend Lease) and the land owner (Sydney Harbour Foreshore Authority) remain delighted with the outcome.
In 2011, Darling Quarter won an award for excellence in design in the AILA New South Wales Chapter Awards, which acknowledged the financial and environmental sustainability of the precinct and the project's outstanding technical and design resolutions. But more than awards, it is the delighted squeals coming from under water jets, the intense concentration and teamwork used to manipulate the water devices, the proud faces on the summit of the climbing structure and quiet digging in the sandpits that are testament to the quality and innovation of this new play space. In the midst of a highly urban environment, surrounded by office workers, conference and exhibition facilities, is a play venue that is worth travelling to. Here, children can safely delight in nature, exploration, adventure and a little bit of risk.
Darling Quarter received the President's Award for Landscape Design from the International Federation of Landscape Architecture at a presentation in Shanghai in October 2012.
* The Darling Quarter commerical building precinct by architects FJMT was awarded Office of the Year at the 2012 World Architecture Festival Awards in October 2012.
Credits
Design practice

ASPECT Studios
Australia
Project Team

Sacha Coles, Kate Luckraft, Joel Munns, Liew Kheng Teik, Saskia van der Put, Chris Moore, Nick Braun, Erica Xu, Scott van den Boogaard, Emma Cave, Alexander Carlile, Lauren Nissen, Catherine Wilson, Eve Valensise
Consultants

Architect fjmt
Civil and structural engineer Hyder Consulting
Environmental sustainable design Arup Sydney
Facade lighting Ramus Illumination
Heritage consultant Deuce Design
Interior design SJB Sydney
Lighting masterplan Spiers and Major
Mechanical engineer Arup Sydney
Signage Deuce Design
Structural engineer Arup Sydney
Water feature consultant Waterforms International

Site details

Location Darling Harbour, Sydney, NSW, Australia
Site type Urban
Category Landscape / urban design
Type Public / civic

Project Details

Status Built
Completion date 2011
Design, documentation 26 months
Construction 18 months
Website http://www.darlingquarter.com/

Source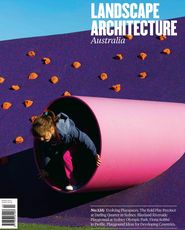 Issue
Landscape Architecture Australia, August 2012
Related topics