The traditional family home is losing its grip as architecture gradually starts to more accurately reflect what is really happening in domestic life. Whether it's due to the economy, an empty nest or suburban cringe, there is an increasing desire to swap the quarter-acre block for access to premium social infrastructure, urban life and bona fide culture. For many of us this means our housing needs to sit neatly between the house and the apartment and, most likely, in the inner city, where designers are required to be savvy with the use of space and confident about various contextual issues.
The recent collaborative development between Neometro, McAllister Alcock Architects and Kerry Phelan Design Office in Melbourne's leafy South Yarra is a commercial venture where the project was developed for "every client." And it works: if you can think of a domestic scenario, then this property can accommodate it with elegance. For this design team the concept of "home" required a flexible arrangement that could change over a lifetime. Today you may wake up to a young family, tomorrow you could be working from home, in ten years you might be sharing your coffee machine with your teenager's friends and then, in later life, you might not have to share anything with anyone.
This project showcases the combined design brains and years of residential building experience of Jeff Provan from Neometro and Kerry Phelan. The team continued to develop the design throughout the building process – an advantage of being both the builder and the designer – and had the unique opportunity to fine-tune and tweak it right to the end.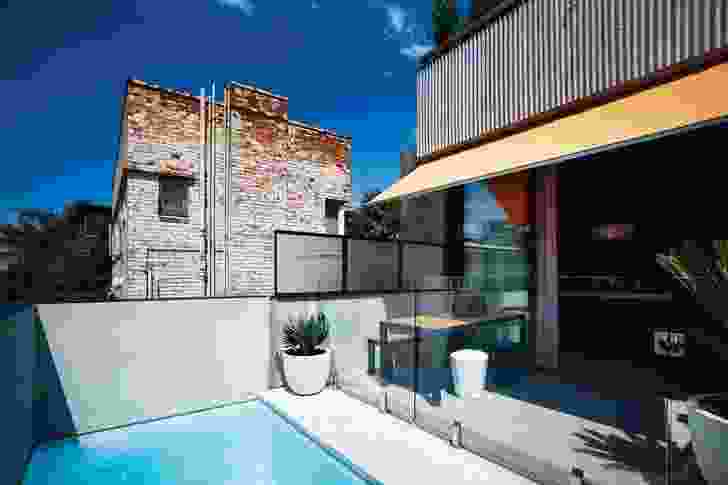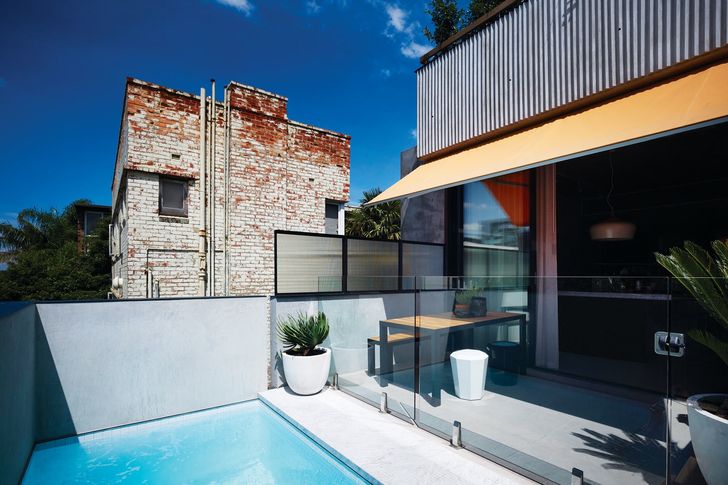 The result is a home that offers options to live in many different ways. It also tracks the shifts in how we live through spatial configuration and material sensibility. The four-storey and nearly three-hundred-square-metre home is sited amid a representative cross-section of dwellings. The neighbouring buildings consist of large freestanding homes, medium-density developments and high-density apartments. Jeff responded with a palette of harmoniously textured greys that sit happily in the surrounding mix, without sacrificing a contemporary edge.
As one half of a bespoke pair, the house negates the constraints of the site by digging in and rising up. The entry on ground level consists of three feature rooms that can be used in various arrangements. A main bedroom with an ensuite and a high-walled courtyard is slightly separate from the other rooms and sits at the rear of the block. The other rooms could be used as a study, home office or child's room, depending on the domestic requirements. The circulation area (which includes a lift that services the four levels) is impeccably detailed with an elegant washed cedar wall that closes neatly into a single surface. A stair wraps the lift, forming a continuous loop from the basement to the floors above.
On the lower level there is a large, flexible space that might become a cinema or a gymnasium, and no doubt at some point a lucky teenager's "batcave." In a house that includes a wine cellar, bike storage and car parking to fit four Minis, that teenager may be around for quite some time.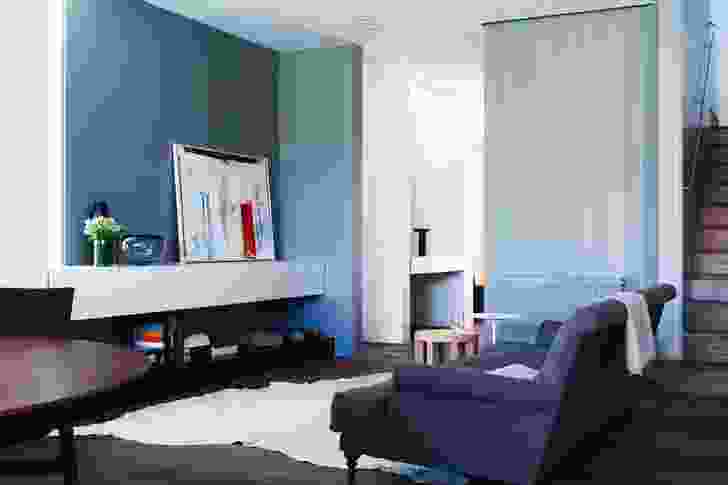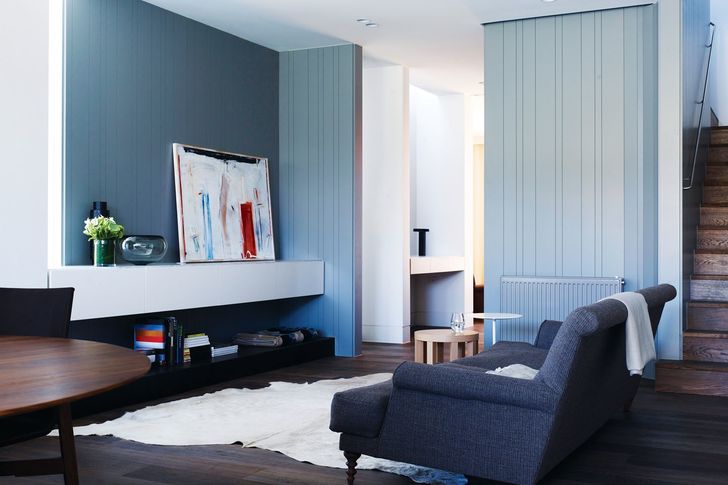 Upstairs, the first floor has two separate living areas. An American oak floor connects a few sneaky turns, while carefully positioned openings provide glimpses out to the surrounding context. Urban life is but a few steps away and the visual connection with the roof lines and patina of the streetscape reinforces a sense of proximity between the public exterior and private interior spaces.
The Carrara marble kitchen gathers the living areas together with a black marble plinth, which subtly separates the interior spaces from the outdoor barbecue area and plunge pool. When looking out through the palm trees you might, for a second, think you are in Los Angeles. The smooth concrete finish on the fence around the pool provides privacy but is delicately spaced to enable small sliver views and the tickle of a cool breeze. A clever Carrara surround safely ribs the pools edge. These tricks create the idiosyncratic moments that Neometro does so well.
It is when you're on the top floor that you really know that this is home. The main bedroom is accompanied by an ensuite and robe that could easily add fifteen years to any relationship. What joy: robes big enough to parade in and a freestanding bath for some serious self-reflection. A series of discrete sliding door panels means the spaces can be made more or less private depending on your mood.
The detailing and differentiation of the exterior concrete is delightful. The in situ, ribbed, rough render and hard plaster finishes are hallmarks of an architect obsessed. Who would want their design any other way? Here, it is all about how design can create possibilities.
Products and materials
Roofing

Specialised Roofing Services steel deck roof.
External walls

Specialised Roofing Services Rheinzink cladding; V & R Solid Plastering rendered walls; G Ferlauto Carrivale Formwork Service precast concrete.
Internal walls

Signorino porcelain tiles; custom feature wall panelling painted in Dulux 'Timeless Grey'; V & R Solid Plastering hard plaster; Dulux 'Vivid White' wall paint.
Windows

Jaden Aluminium Windows doors and windows; Austview Sashless Windows glazing.
Doors

Custom timber door handles; Designer Doorware Kali levers and privacy bolt; R. E. Spence and Co doors.
Flooring

Hammer Carpets Yak and Fletco Ex-Dono Weave carpets from Whitecliffe Imports; Signorino tiles; Royal Oak Floors timber flooring.
Lighting

Coco Flip and Porcelight pendants from Corporate Culture; Darkon Architectural Lighting downlights; Jasper Morrison and Flos wall lights from Euroluce; Light Project lights.
Kitchen

Amalgamated Marble Carrara stone benchtops and Zimbabwe Black stone plinth; Miele oven, combi steam cooker, dishwasher and gas cooktop; Quasair rangehood; Franke Kubus sink; Sussex Pol mixer from Reece; custom joinery; handles in Dulux 'Stone Grey'.
Bathroom

Duravit Vero and Architec basins; Catalano Muse basin from Rogerseller; Caroma toilet; Kado Lure bath and Nikles Cubic Techno Twin Waterrail shower from Reece; Astra Walker mixer; Parisi Elise towel rails; Avenir Furniture Design Artizen shower shelf; Creative Shower Screens screens.
External elements

Brighton Pools and Spas pool; Mergelock Systems pool fence; Kensington Water Tanks Enviro tank; Rietmans bluestone pavers.
Heating and cooling

Fujitsu airconditioner; Insail Yachting awnings; Lidi Group curtain and blind fabric.
Other

Hub Furniture.
Credits
Project Team

Jeff Provan, Nina Provan, Clare McAllister, Karen Alcock, Maria Danos, Jack Tu
Interior designer

Kerry Phelan Design Office
Melbourne, Vic, Australia
Consultants

Architect McAllister Alcock Architects (MAA)
Builder Neocon4
Designer Neometro
Developer Neometro
Engineer Bland Connard Menzies
Joiner Gemwood Interiors
Landscaping Neometro in collaboration with Neil Barns

Site Details

Location Darling Street, South Yarra, Melbourne, Vic, Australia
Site area 215 m2
Building area 344 m2

Project Details

Status Built
Design, documentation 12 months
Construction 16 months
Category Residential
Type New houses

Source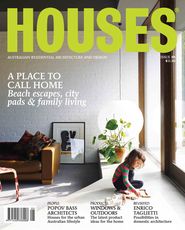 Issue
Houses, October 2012
Related topics