Ghanaian-British architect David Adjaye and Australian Aboriginal artist Daniel Boyd have been appointed to design a new public square and plaza building and artwork on George Street in Sydney's CBD.
The new building and plaza will be part of Lendlease's Sydney Place development at 180 George Street, designed by Foster and Partners. When complete, it will be transferred to the City as a public asset.
The proposed public building will be in the form of a pitched roof house, reminiscent of the dwellings of Australia's early European settlers.
The multi-purpose space could be used for an open plan cafe, a meeting space or a gallery space. It will also include an elevated balcony, which will over look the plaza on one side and a series of laneways on the other.
A perforated steel artwork on top, with myriad circular openings, will filter dappled light onto the plaza.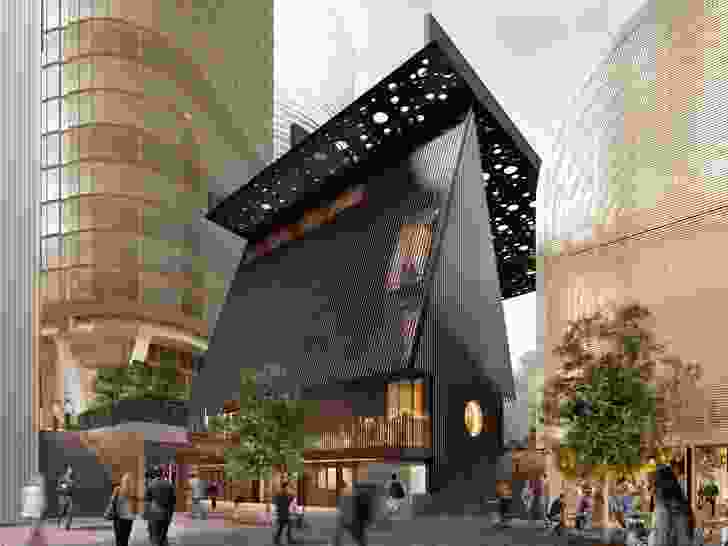 "We believe this new community building and George Street public plaza will become a cherished destination in Sydney's city centre, a generative place for people to connect, recharge, reflect and take a pause from the rhythm of a fast-transforming city." said David Adjaye.
Daniel Boyd added, "It provides a space of contemplation and diversity, a space to extend knowledge of experience – a multiplicity of experiences and narratives, currently extending back 60,000 years through the connection of the Gadigal people of the Eora nation. "Acknowledging that we can never fully comprehend our past or future is the first step in reconciling differences of perception."
Adjaye and Boyd met in Venice in 2015 when Adjaye designed the central exhibition All the World's Futures, curated by the late Okwui Enwezor. Boyd was one of the artists invited to exhibit.
Adjaye invited Boyd to collaborate on the George Street project.
"The idea of a public plaza provided a great opportunity for David and I to work together on the concept of relationships – how we as individuals perceive our relationship to a particular place and how collectively those relationships play out in a space," Boyd said.
The Adjaye and Boyd team were selected following a competitive expressions of interest process.
Ken Maher, chair of the City of Sydney's design advisory panel, said, "The building and plaza are a remarkable addition for the city and will be something that will be visited internationally. It gives a moment of pause along the journey of George Street. It is a more intimate moment in the life of the city."
City of Sydney's Director of City Planning Graham Jahn added, "This is an incredibly powerful work because it's so unusual. It's a public square but it's also a room within the city. It has that wonderful ambiguity and the potential for an incredible presence in the evening."
The proposed building and plaza will sit atop public bike parking facilities and it will also be adjacent to the EY Centre by FJMT. The project is due to be completed in 2022.
Related topics