Working across residential, retail and hospitality projects, David Hicks is an interior design and architectural practice with a strong, holistic approach. "We consider architecture, interior design and decoration as one," says founder and principal David Hicks.
Each David Hicks design is a distinctive, bespoke response to a brief. While some projects surprise with the bold combining of colour, texture and pattern, others are expressions of muted simplicity. "All of our projects have a commitment to spatial planning, quality of materials, rationalization of the design idea and accurate delivery of the details," says David.
This year David Hicks released the David Hicks Collection, which comprises rugs and sofas. Currently the range includes six designs of each. Over the years David Hicks has custom designed rugs and sofas for private clients, and this experience has gone into creating an eclectic, appealing range.
David knows how important a rug can be in defining a space and in anchoring its furniture. "A rug can make a room," he says. "It provides a layer of warmth, texture, colour and pattern. It is a very important accessory that can set the whole mood for a decorative scheme."
David teamed up with Mark Cadry to design the rug collection, which features a selection of abstract and geometric designs. Each rug is an expression of modern luxury, hand-made in Tibet from the finest quality wool and silk. The abstract Sun rug captures a warm, intimate feeling reminiscent of a silver sunburst with a flare at its centre. The Moroccan rug brings to life David's passion for Moroccan design and "the organic repetitiveness of their pattern and subdued, almost faded colours."
The sofa collection has equal breadth and appeal. "Simple, clean lines ranging from modern to contemporary to the slightly formal inspired the sofas," says David. "There are six shapes that have been refined over the last five years. The form and detail of them is a representation of what we do in our design work."
Sofa designs include the sophisticated, elegant Harlow with its traditional design elements like skirting and thin arms, and the chunkier, more robust Brando, with its chrome legs and low-riding contemporary feel.
As David Hicks sofas can be custom made to any length and upholstered in any fabric the possibilities are endless. And the real test of a good sofa? "A good sofa is one that you do not want to get out of," says David with a laugh.
Source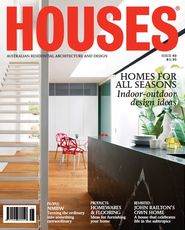 Issue
Houses, December 2012
Related topics