Architecture Media editorial director Cameron Bruhn has walked the halls of the IMM Cologne international interiors show in Germany for the latest and greatest products. Here's a selection from day two of his visit.
Aranha chair from Branca-Lisboa
"Aranha" means spider in Portuguese and this chair follows this principle in its organic structure. The central body weight is distributed dynamically on its thin and flexible legs. The Aranha low chair is made in solid beech wood with a woven rattan seat. Aranha is made using a mix of digital tooling and traditional wood joinery.
Domo is the Australian supplier of Branca-Lisboa.
Moor chair from Durlet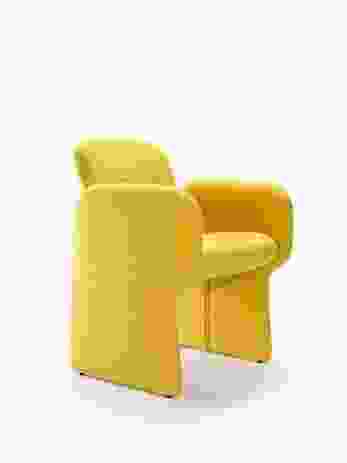 Sylvain Willenz designed the Moor chair for Durlet. Moor's identity lies in its rounded and dynamic profile. This soft and comfortable armchair combines the subtle elegance of leather with a gentle and friendly design. Balanced proportions are underlined by a double-stitch running along the chair's smooth edges and curves. Moor comes in a monotone version as well as a dual-tone version, where the top of the backrest is executed in a different colour from the rest of the chair, resulting in a more playful look. The chair can be ordered on castors, as well as on wheels.
Available direct from Durlet.
Rolf Benz footstool seat 953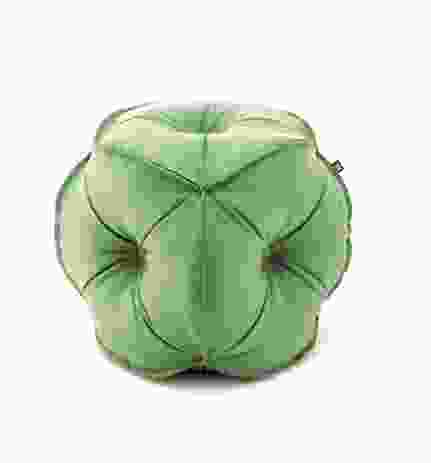 The new Rolf Benz 953 footstool seat, designed by Johannes Steinbauer, lends itself to a new style of relaxation. Six laser-cut circles made of high-quality wool felt have been sewn together, filled with foam and modelled using buttons and thread. The result is a highly comfortable and original footstool, which is great to use and easy to handle. The footstool is available in four colours: light green, blue green, dark red and dark grey.
Rolf Benz's Australian suppliers are Ultimo Interiors (WA), Transforma (SA) and Pad Furniture (Victoria).
Rip Chair from Schneiderschram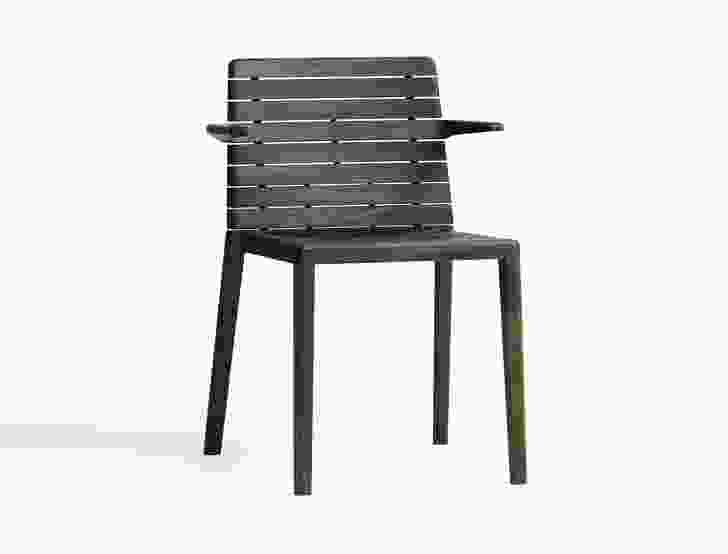 The Berlin-based design duo Läufer + Keichel created the Rip Chair for Schneiderschram. The chair is composed of individual wood slats, which fit together almost invisibly. This design provides the Rip Chair with a light and airy appearance, while guaranteeing perfect ventilation. The key feature of the new version is the armrests, which are an extension of one of the backrest segments. The Rip Chair has a stackable design and comes with an oak or oiled walnut finish.
Available direct from Schneiderschram.
Jill chair from FreiFrau Sitzmöbelmanufaktur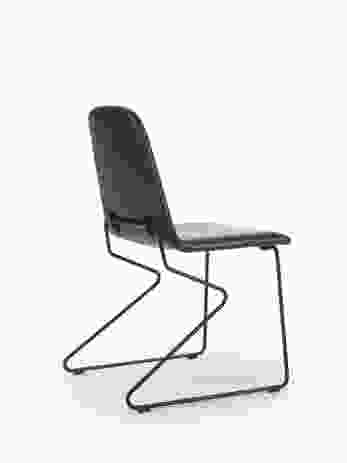 Designers Michael Geldmacher and Eva Paster from Designduo Neuland have found a way to give the classic cantilever chair a new look, between conservative reinterpretation and desirable difference. Designing the Jill chair began with the idea of putting the seating shell on a sled-base frame that requires a lower wire diameter. For those who love individuality Jill can be personalized by choosing from the wide range of high quality covers or the option of dyeing the individual framework.
Available direct from FreiFrau Sitzmöbelmanufaktur.
Twins armchair from Expormim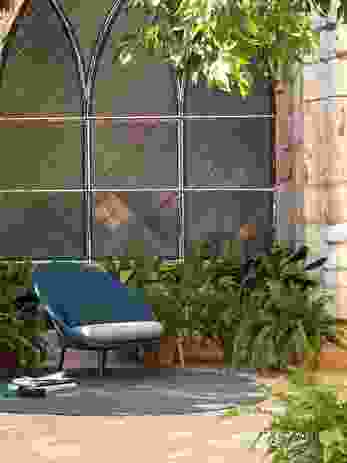 MUT has designed this pair of armchairs called Twins. While one looks masculine and the other feminine, the pieces capture charm, beauty, design, and soul. With Twins, MUT wants to give a feeling of extreme warmth in outdoor spaces by using new and unique technical fabrics. With an aluminum frame, the armchairs can be dressed in an interesting collection of textiles. Twins can be used in public spaces and residential environments.
KEZU is the Australian supplier of Expormim.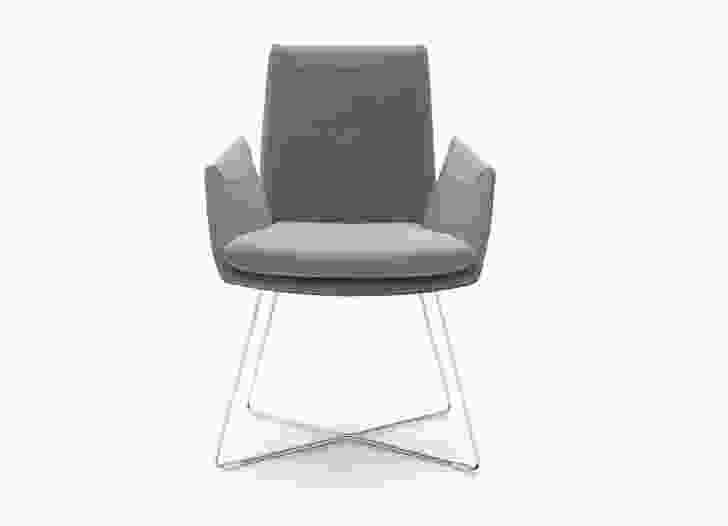 Cordia upholstered chairs from COR

Designed by Jehs + Laub in Stuttgart, the new additions to the Cordia collection include upholstered chairs that combine aesthetic comfort with ergonomic design. The chair, which features upholstered seat shells with armrests, has elegant backrests in two different heights and a tilting mechanism. The substructure comprises an aluminium frame with feet on glides or castors. Alternatively, it is executed as a wire frame, either chrome-plated or lacquered. Distinctive quilt seams emphasise the contours of the design.
Available direct from COR.
Beau Fixe from Ligne Roset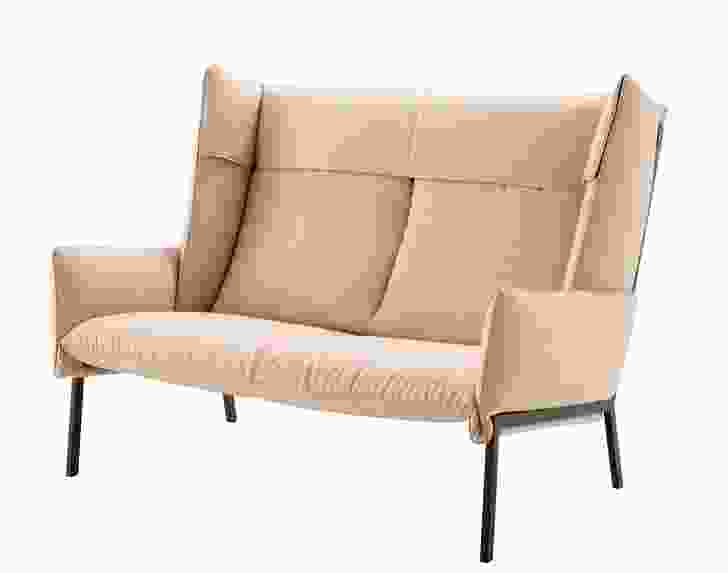 Beau Fixe's designer Inga Sempé is undoubtedly the best person to describe this new seating range, which takes up the challenge of offering maximum comfort on the lightest possible structure: "What I wanted was a version of opposing volumes: light, structured and soft. Beau Fixe is the simple assembly of two complementary pieces: a metal structure and a quilt. The structure functions like a giant clamp, which holds the one-piece quilt in the jaws formed from the main uprights. These jaws segment it and fold it into rectangular panels, which form the armrests, seat and back. A structure is often designed to support a mattress or cushions and then disappears beneath a cover. On the Beau Fixe armchair or settee, it remains visible from bottom to top since it holds in place the quilt, the seat, from the seat to the headrest, and this great vice which unites metal and fabric. Of the structure one sees only a trace of matt black metal, which sinks into a soft, puffy mattress divided into symmetrical rectangular bulges, like a spoon in Italian meringue."
Domo is the Australian supplier of Ligne Roset.
Related topics