Architecture Media editorial director Cameron Bruhn has walked the halls of the IMM Cologne international interiors show in Germany for the latest and greatest products. Here's a selection from day three of his visit.
Koya desk from Ligne Roset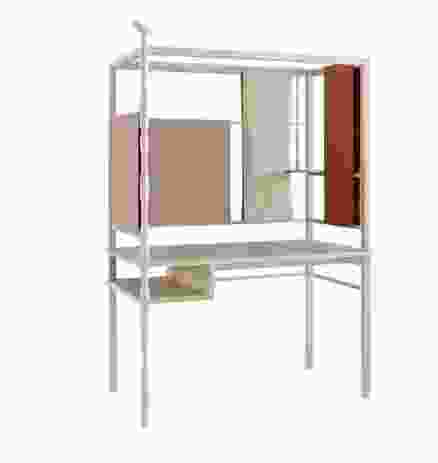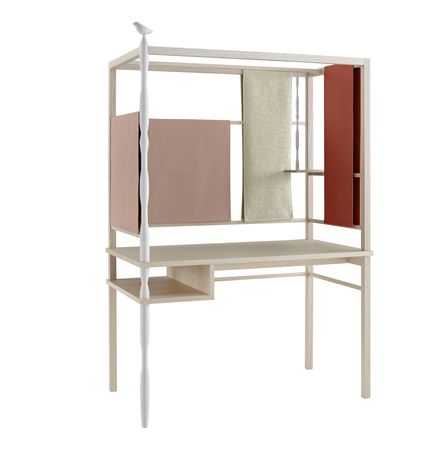 With the Koya desk, designer Marie Christine Dorner has worked ash into various shapes and forms: solid blocks, solid turned ash and sculpted ash. The Koya desk is evocative of nature, like a cabin nestling at the bottom of the garden. Dorner says, "The Koya desk is a refuge for working, concentrating, reflecting, imagining. With its fabric screens simply hung from rails, it becomes a hideout; a domestic cabin. Its architectural structure makes its own little universe in a loft or large apartment; the piece makes its own space. With or without screens, it enables one to create a personal space, which one can personalize by hooking up a light, placing a candle lamp on the shelf, adding a photo, books, or putting one's papers on the shelf beneath the desk top. It will appeal to adults and children alike."
Domo is the Australian supplier of Ligne Roset.
ADD bench system from Lapalma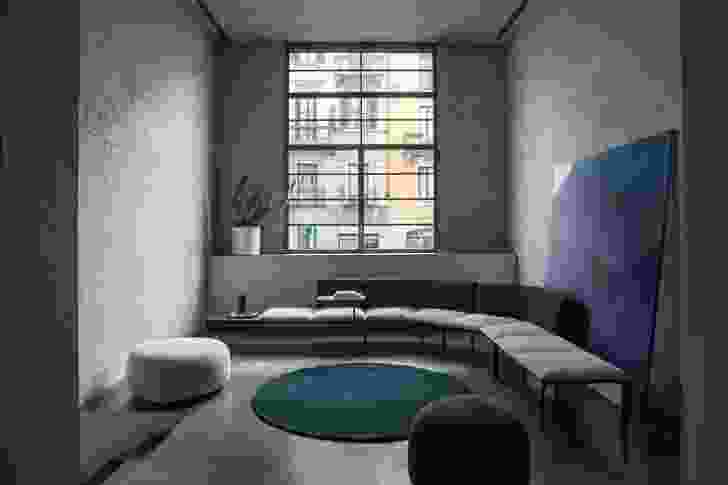 Designed by Francesco Rota, ADD is a versatile system of modular seating – an extremely flexible product with the aim of meeting any need in the contract market (hotel rooms, waiting rooms, lounge areas, private studios, corridors), with the possibility of being adapted to the residential use too. The system is made of a base where you can mount panels, seats, seatbacks and other devices to obtain simple, compact modules. Each frame consists of extruded aluminium profiles linked by steel plates and elastic belts to increase the comfort of the seating. The very shape of the pads draws the attention to the seat itself. The same effect is also achieved by a marked, contrasting stitching. These features typically characterize an industrial product enriched by handcraft working.
ECC Lighting and Furniture is the Australian supplier of Lapalma.
Collar Lamp from Gubi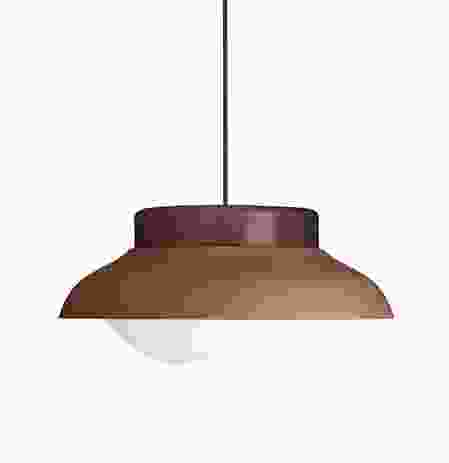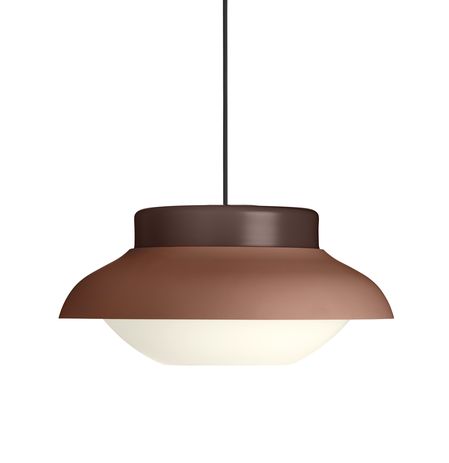 Collar Lamp is German designer Sebastian Herkner's first product for Gubi. Collar Lamp is a series of pendant lights that combine hand-blown glass and an aluminium "collar." The lamp looks great by itself but by mixing colours and sizes can achieve strong personal and playful installations. The Collar Lamp comes in two sizes and is available in five different colours: black, grey, taube, terracotta and sand.
Cult is the Australian supplier of Gubi.
Lax collection from More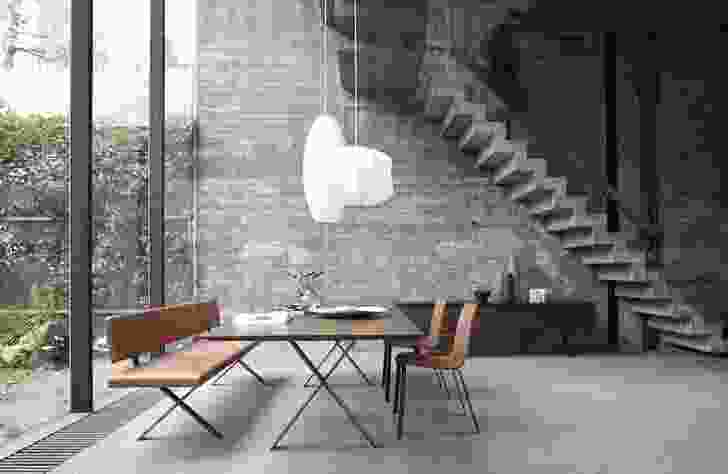 The Lax collection from More includes a table, bench, daybed and bed. The collection features new surfaces and a mix of materials, reminiscent of Danish and Italian style. The tobacco-colored, varnished steel frame of the Lax table supports a massive board of smoked oak, which is three-centimetres thick and tapers out to one centimetre on all sides. The Lax bench for the table is available with a wooden seating surface or upholstered with natural leather or fabric.
Available direct from More.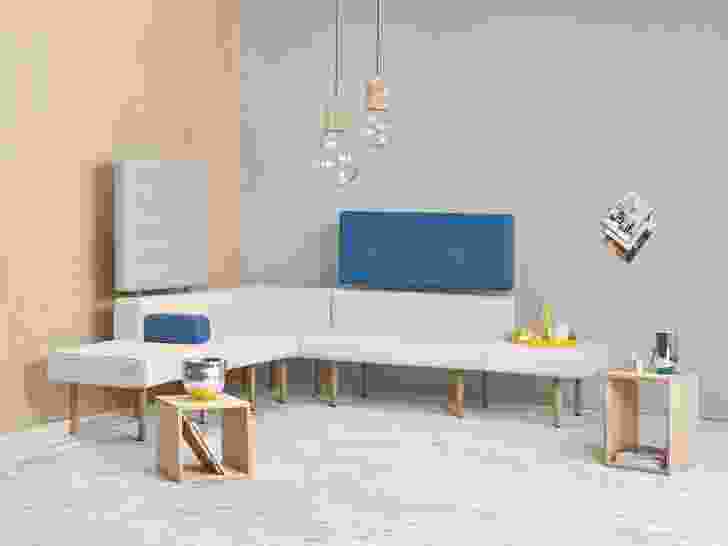 Goofy modular bench system from TON
With a playful design, the Goofy bench designed by British-Italian industrial designer Sam Sannia has a number of different sized segments and backrests that can be easily used as a classic next-to-wall seating unit as well as used in a closed relaxation area in an open space.
James Richardson is the Australian supplier of TON.
CC Stool from Tecta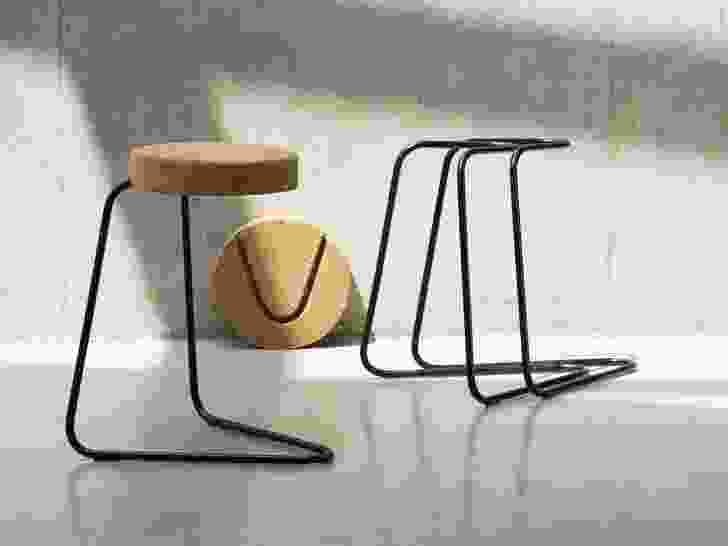 Designed by Joop Couwenberg, CC is a stool designed to support active sitting. Its design is based on dynamics and simplicity. The seat is easily disconnected from the frame and multiple frames can be stacked horizontally to save space. From an environmental perspective, a minimal amount of materials and parts are used. The soft seat is a biocomposite made from used cork bottle stoppers and the resilient frame is made from durable, recyclable steel.
Available direct from Tecta.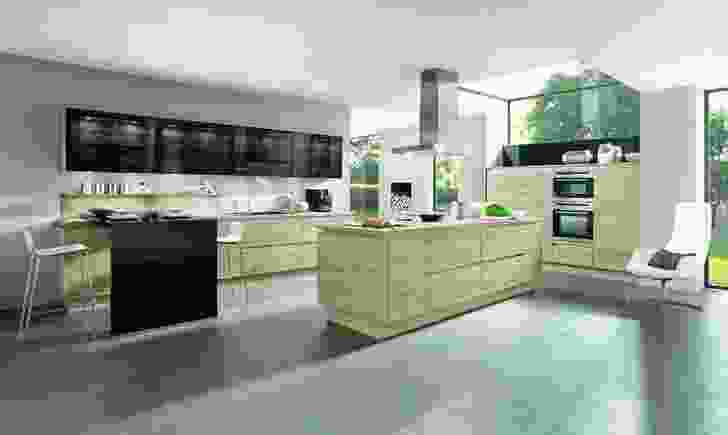 Riva kitchen from Nobilia
The Riva is a modern designer kitchen that appears spacious and linear. This is achieved by its elegant mix of fronts in Sanremo oak with sophisticated black glass. The new wood decor with synchronous pore finish combines innovative surface technology with a natural look. The Riva model is available with or without handles.
Kitchen Choice is the Australian supplier of Nobilia.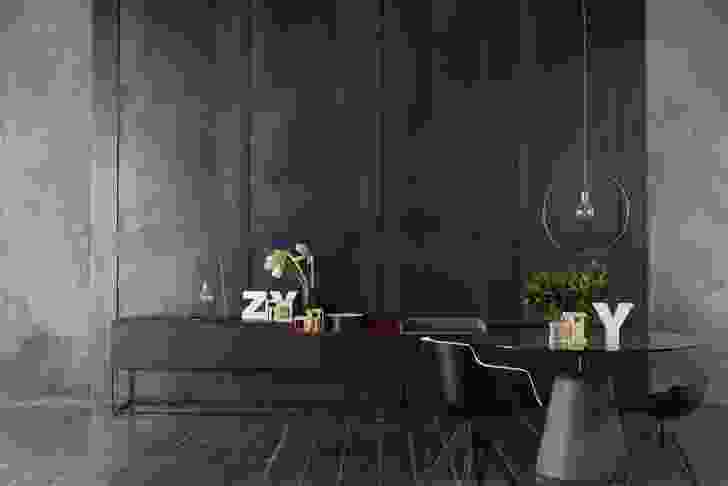 Inmotion from MDF Italia
These storage units consist of column units, base units, stackable and hanging units. In 2015, MDF Italia presents an extension of the Inmotion cabinet range by introducing a new wall element, as well as sideboards in various lengths (pictured) and layouts equipped with tray-shaped compartment.
Hub Furniture is the Australia supplier of MDF Italia.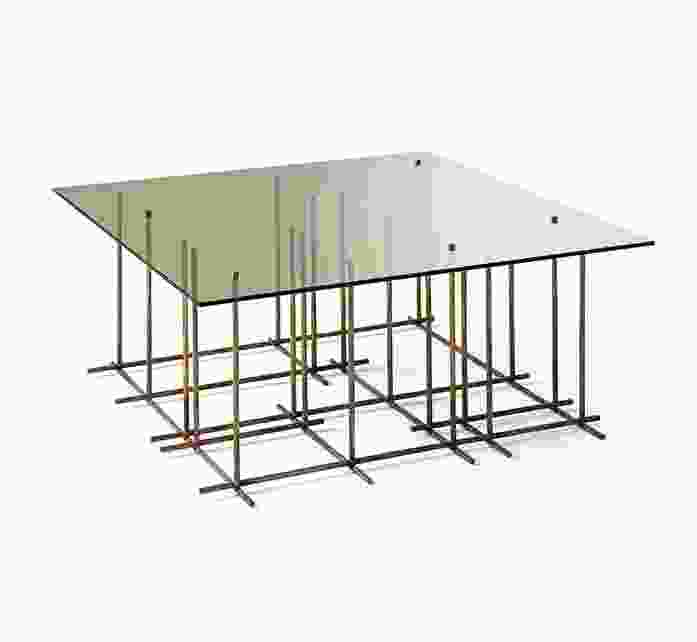 Tetris coffee table from Galloti&Radice
Designed by Massimo Castagna, the Tetris coffee table for Gallotti&Radice is structured in hand-burnished brass. This brass is naturally spotted and irregular, making each product unique and exclusive. The table top is available in three different shades of glass.
Space Furniture is the Australian supplier of Gallotti&Radice.
Related topics