Flying shelf by Ferm Living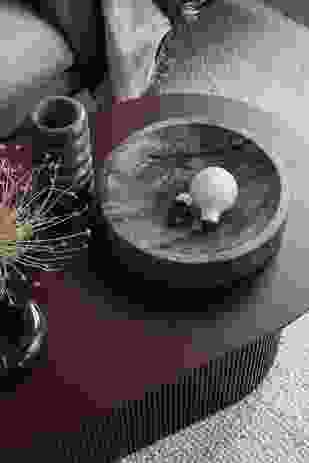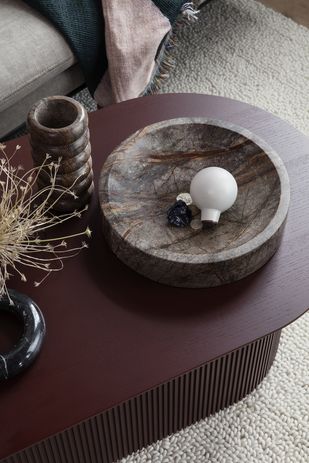 Divided into "rooms" (kitchen, living, bedroom, kids room), Ferm Living's stand was a real delight. One of my favourite products was Podia, a sturdy oval side table made from timber. The table is available in 'red brown' and black and features slats on the side, giving it a graphic expression. The table top lifts away to reveal handy storage making it perfect for small spaces.
Maya collection of fabrics by Sunbrella and Sien + Co
Sien + Co and Sunbrella have teamed up to explore a new line of performance fabrics that emulate the perfect imperfection of handcraft, with the chunky texture of wool. Together they have created the thickest, most texturized Sunbrella products that have ever been made. The collection features six Sunbrella performance patterns, all part of the Maya Collection, inspired by the Yucatán Peninsula. Five colourways, ranging from the in-right-now dusty rose to soothing turquoise colours of the Carribean sea.
Colombo coffee table by WeWood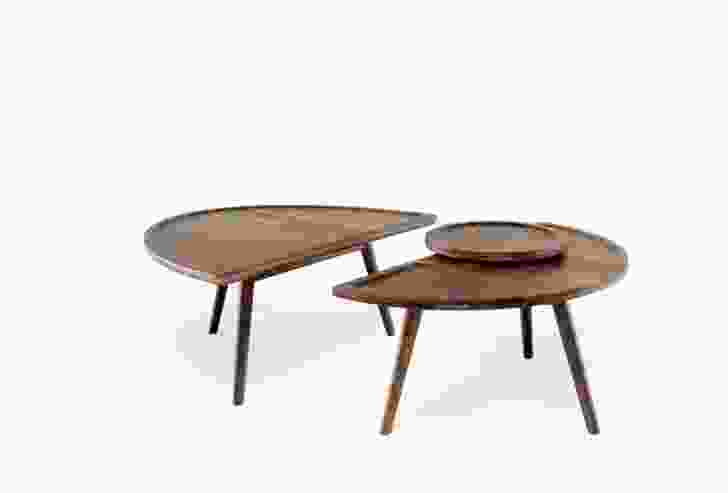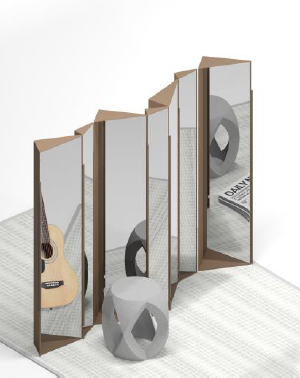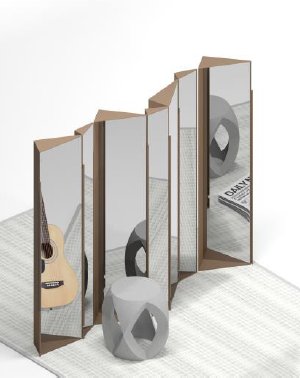 Portuguese joinery company WeWood has created the Colombo coffee table – an egg-shaped table composed of two halves, which can be separated to become two smaller tables, each with its own character. One side appears like a half ellipse shape and the other in a semicircle propped with a rotating. This unexpected mix of shapes and features make this table a simple, practical and unique piece.
Cubist mirror screen by WOHAbeing and WeWood
WeWood has been busy! This time they've collaborated with Singapore-based WOHAbeing on this reflective screen. The Cubist is a room divider, a mirror and an object that turns the space surrounding it into a piece of art. Inspired by cubist paintings, its mirrored surfaces, which can be arranged at different angles, remind us of the strong angles and simultaneous, multiple perspectives of cubism – turning the different reflections of the room into a piece of art itself.
Campanes table by Pierre Charrie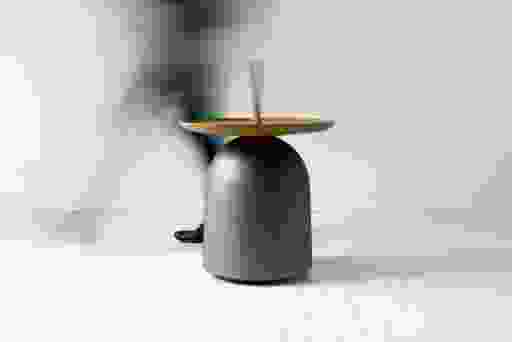 Designed by Pierre Charrie, this side table is inspired by bells, gongs and singing bowls that can be found all over the world. These bells give rhythm to daily life, punctuate significant moments or accompany meditation and ceremonies. Taking cues from these symbolic and musical objects, Charrie intended for the Campanes tables to be part of the users rituals. Campanes tables are manufactured by Fondax and Tournerie du Plat d'Or.
Kanne collection by DOIY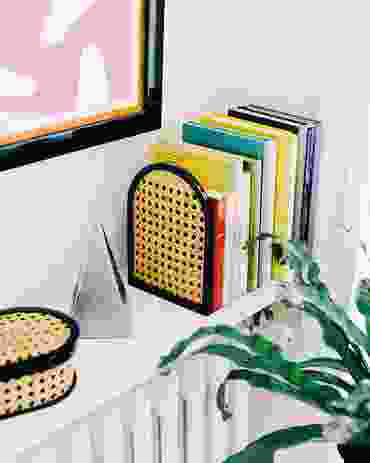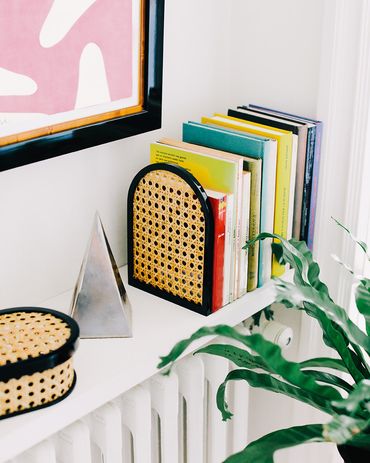 There's no doubt cane and rattan are going to be big. Yesterday we saw the Small Closet by Calma Chechu and today it is this capsule collection of storage items for the home and office, made from, you guessed it, cane. The collection includes book ends and stationery holders and will give any space that "French bistro" feeling.
Bonnie and Clyde table by DOOQ
Inspired by the Hollywood legends Bonnie and Clyde, this table features sensual curves and straight lines to embody the perfect mix of beauty and danger. Made from solid stone, the table's curves can fit magazines or books making it more practical than first appears and cleverly plays with positive and negative space.
Denver crystal collection by Reflections Copenhagen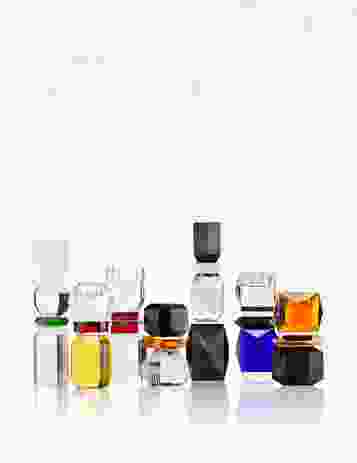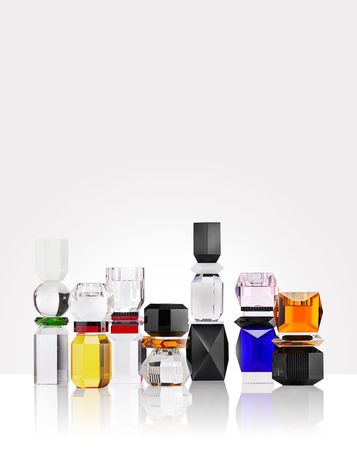 The two founders of Reflections Copenhagen, Andrea Larsson and Julie Hugua, were drawn to 80s architecture and rock n roll when they designed their AW18 collection. The result is a collection of edgy and dramatic crystal objects that use deep and dark colours. The crystals have been beautifully cut to bring out the contrast of colours and details.
Related topics