Now in its twentieth year, Maison&Objet Paris continues to bring together decoration, design, furniture and accessories in this grand exhibition. Last week Architecture Media editorial director, Cameron Bruhn explored the exhibits and displays at the 2015 Maison&Objet Paris. Here are his favourites from day two.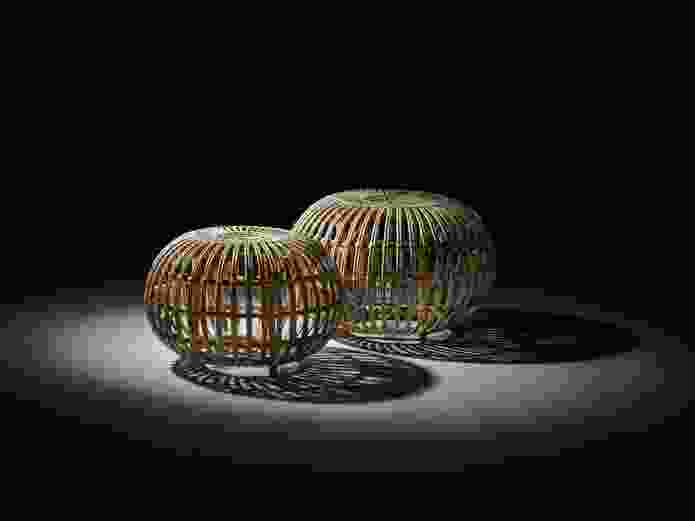 Franco Albini Ottoman from Sika Design
Paying respect to the original designs and as Scandinavia's oldest producer of rattan and wicker furniture, Sika Design has put the chairs of some of Europe's most skilled and important architects and designers back into production. In 1951, Italian architect and designer Franco Albini designed an ottoman made of rattan, which is an original, artistic and elegant piece of furniture. It is a multipurpose and timeless piece and, today, is more relevant than ever due to its ecological sustainability of rattan. The ottoman comes in two different sizes.
Domo is the Australian supplier of Sika Design.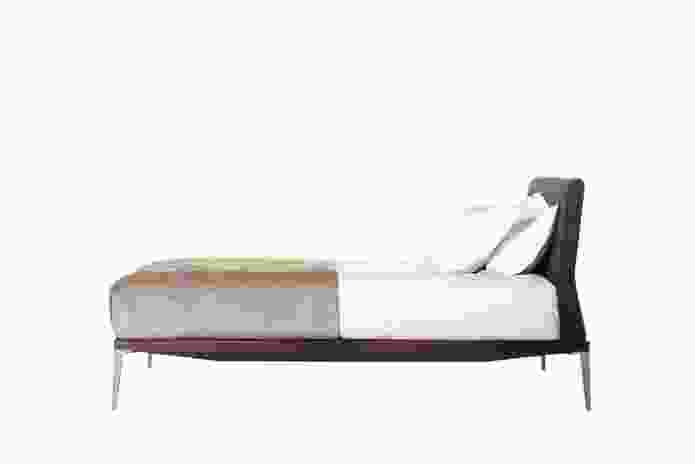 Bretton Bed from Matthew Hilton
The Bretton bed, designed by Matthew Hilton, is made of robust materials including solid hardwood, anodised aluminium and rich textiles. The bed is named after a town in Yorkshire, England, which is home to some of Hilton's favourite sculptors. The bed was manufactured to the highest standard in Portugal by leading modern woodworker, De La Espada.
KEZU is the Australian supplier of Matthew Hilton.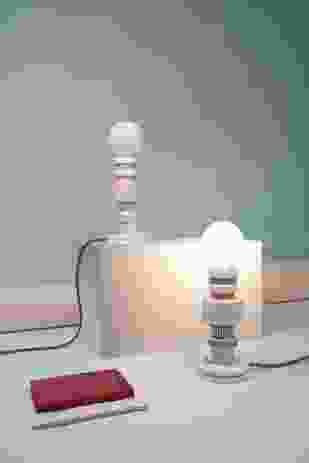 Moresque lamps for Seletti
Moresque, the new collection of pendant and table lamps by Alessandro Zambelli for Seletti, captures the Moorish charm of the Alhambra region in Spain. Clear lines and compact volumes are features of this collection of light fittings. The surfaces of Moresque flaunt an array of bold colours and more subtle filigree polychrome. The slender ribs of architectural Arabesque alternate with bolder bands of colour in a vigorous succession of polychrome, stylized lines.
Available direct from Seletti Australia.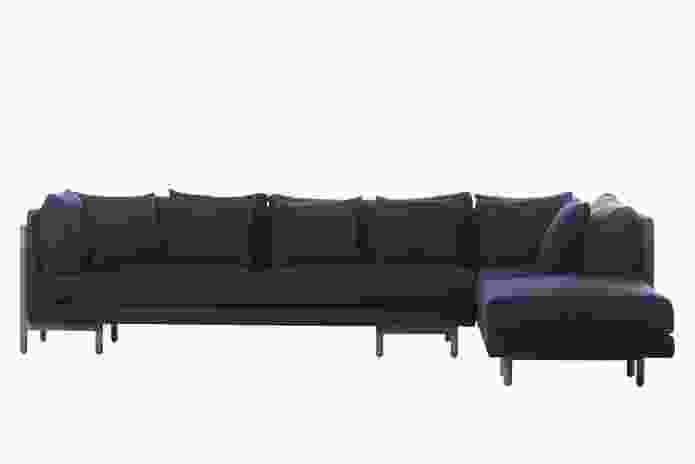 Frame sofa by Neri&Hu
At this years Maison&Objet Paris, Shanghai-based interdisciplinary design studio, Neri&Hu launched the Frame collection, consisting of a bed and sofa system which are supported by a clear wooden frame structure to which various accessories can be clipped, such as a tray or light. Drawing on the design studio's architectural expertise, the new products were presented in a specially designed, compact 'home' environment.
KEZU is the Australian supplier of Neri&Hu.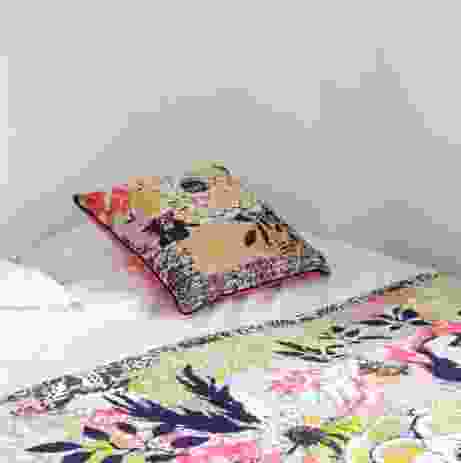 Neo homewares by Les Ateliers des Boissiers

Neo is the new knitted range for your home. The range came from a partnership between French family-owned business Les Ateliers des Boissiers and the designer Laure Girardin Vissian and her team. Through innovation and technique, Neo is a collection of high quality stitches for throws, cushions and scarfs. Neo remains very fashionable through the colours and designs used. It is part of the new homeware chic trend.
Domo is the supplier of Les Ateliers des Boissiers.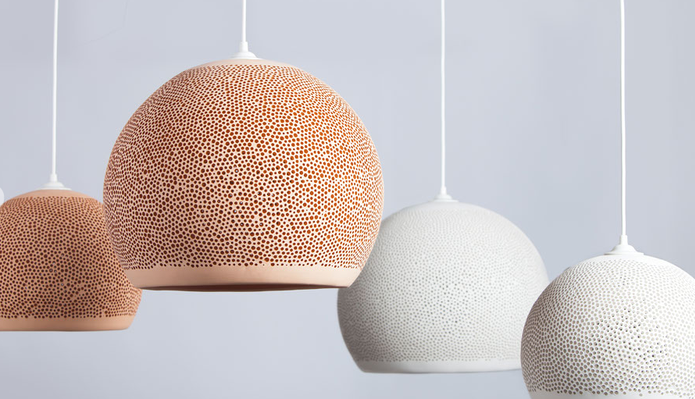 SpongeUp pendant lights from Pott
Designed by Miguel Angel Garcia Belmonte, SpongeUp is a collection of handmade clay pendant lights that come in a variety of clay-like colours. The lights have a perforate, porous texture, evoking the shape of a sea sponge. When lit up, tiny nodes of light shine from within the lamp shade. The shades are available in three sizes.
Available direct from Pott.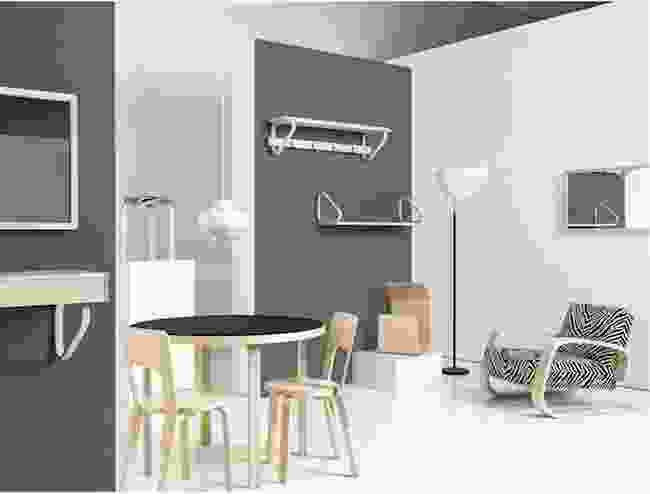 Alvar Aalto classics reintroduced by Artek

Artek has reintroduced a number of Alvar Aalto's designs from the archive. Aalto's Wall Drawer 114B is a charming and popular multipurpose piece of furniture that has been used in a variety of ways since its introduction in 1936, including as a telephone table and a nightstand. Aalto's Coat Rack 109C and Mirror 192A and 192B were also reintroduced. Artek's iconic light fixture, were also presented. The light fixture A330S, better known as "Golden Bell," is made from one single piece of brass and features Aalto's typical streamlined design. Other products included Alvar Aalto's classic Stool 60 from 1933, in a newly interpreted version by Dutch designer Hella Jongerius.
Anibou is an Australian supplier of Artek.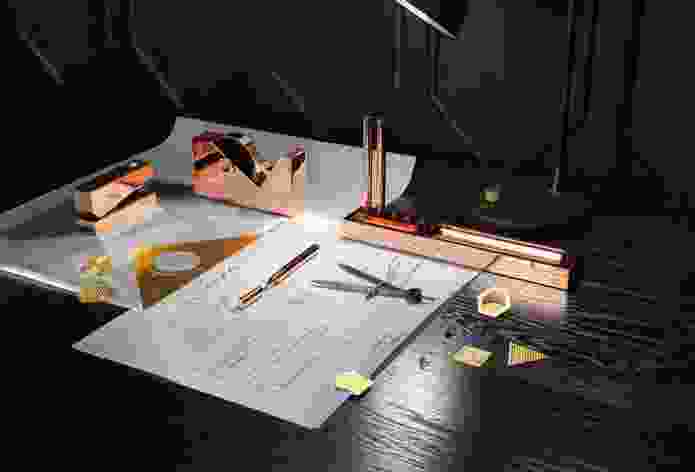 Cube stationery collection by Tom Dixon
Cube is a series of minimalist pieces, part of a rapidly evolving stationery collection. Stripped back to its bare essentials, Cube is made from zinc alloy and finished with a copper plate. The pieces are robust design artefacts for the modern desktop or the sophisticated study. The collection includes a stapler, a desk tidy, a pen and a tape dispenser.
Dedece is an Australia supplier of Tom Dixon.
Related topics