Durbach Block Jaggers has won a design excellence competition for a multi-level car park and commercial tower in Penrith in Sydney's west.
Penrith City council conducted the competition, run through the Government Architect NSW, for a new development in response to demand for car parking, recreational facilities and entertainment venues in central Penrith.
Durbach Block Jaggers's design, which was unanimously chosen by selection panel, consists of two parts: an arched brick base with public spaces and a playground on top, and a tower containing car parks and commercial offices straddling this base.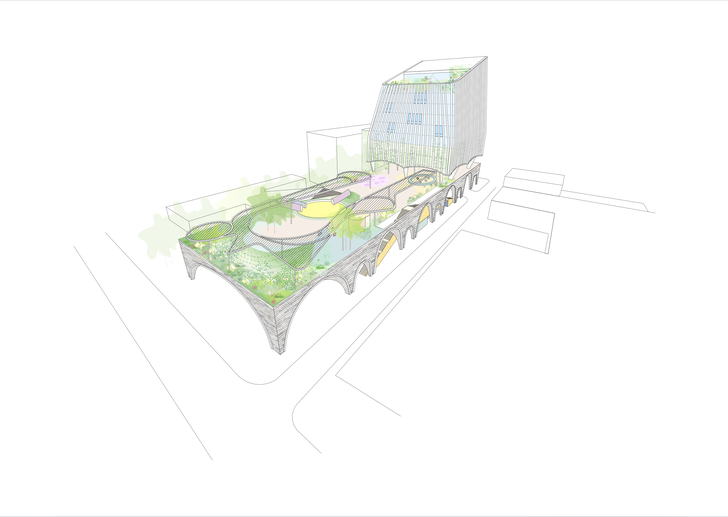 "Think of it as a building with two characters – the low rise section has space for play, performance, markets and music," said Penrith mayor Ross Fowler.
The design also offers a number of public and community amenities, including a basketball court-sized open space, with bleachers within the arched base; a shaded playground area above with swings and water jets, that would be accessed via the bleachers; and a function room with a rooftop garden on the top level of the tower.
The playground will also be connected a shaded car parking area beneath the tower which would also be used for occasional community events.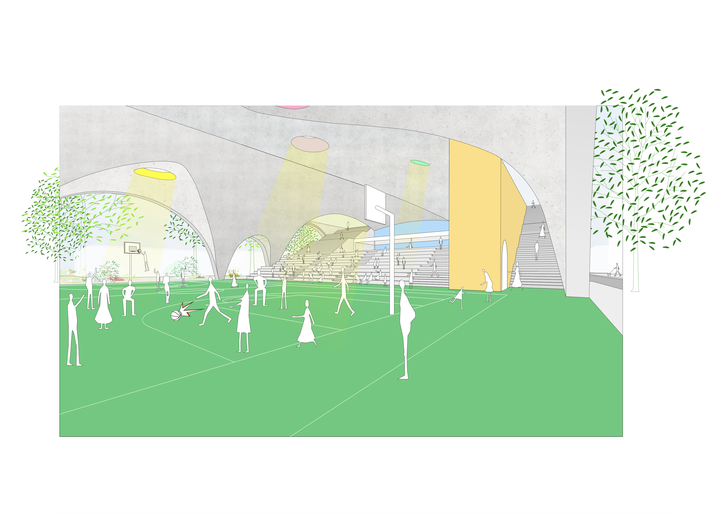 A large garden at the northern edge of the site will be connected to a future green land bridge over the railway tracks.
Penrith mayor Ross Fowler said the winning design "fulfils council's planning goals of creating a liveable, sustainable city [and] provides an example for future developers to follow."
"We have shown that innovative buildings are possible, and there is no longer any excuse for simple concrete boxes," he said.
"At Soper Place you will be able to park on site, go to work, have a great meal, chill out in the roof top bar, sit under a tree, play with the kids in the park or even have a game of basketball.
"This signature development is also an example of how to create a building that not only looks good, but also maximises its environmental credentials by cleverly using green space and internal engineering."
The design team also includes Sue Barnsley Design (landscape), Right Angle Studio (placemaking) and SGS Economics and Planning (planning).
The council hopes the commercial spaces will attract high quality businesses to the area.
Construction is set to begin in the second quarter of 2020 and competition is anticipated in the first quarter of 2022.