Review Scott Drake
Photography John Gollings, Michael Mcleod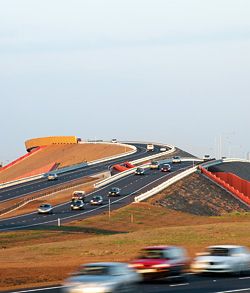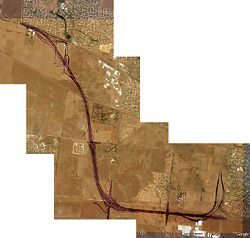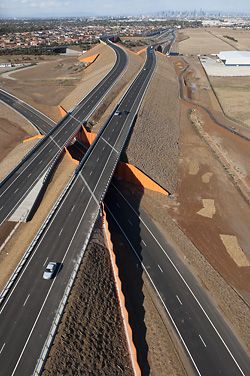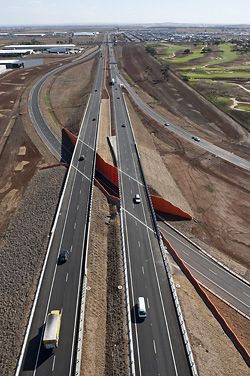 Driving in from the west on my first few visits to Melbourne, I could never work out where all the people were. The sequence was fairly abrupt: Freeway, Footscray, City. What I didn't realize is that the west is pretty desolate, while all the leafy, middle-class suburbs hide on the other side, clinging along the tramlines that fan out from Swanston Street and St Kilda Road. So to me, Melbourne is very industrial, with pockets of colour and design standing out against the grey-and-black background of the city. I think particularly of those fabulous red-and-black parking metres, showing that it wasn't just a few groovy bars and their patrons that gave Melbourne its character, but that the very people who built the infrastructure were in on the game.
The west, still heavily industrial, is now becoming more populated and housing estates battle with traffic for clean and quiet air. The suburbs now stretch far beyond Footscray and the traffic is more intense than ever. The new bypass helps to separate the two by enabling a more direct connection between the Western and West Gate Freeways via the Western Ring Road. The bypass will divert 50,000 vehicles a day from the section of Ballarat Road running through Deer Park, reducing travel time (and braking) by avoiding twenty intersections and half a dozen traffic lights. This will help local drivers to avoid the trucks moving back and forth between Melbourne's docks and the farmlands in the west of the state.
The area is mostly rural and industrial areas set among grasslands, but the bypass backs onto a couple of residential estates that need to be protected from traffic noise. The project continues a trend of using architects to decorate freeways – for example, Eastlink by Wood Marsh, Craigieburn Bypass by Taylor Cullity Lethlean, Tonkin Zulaikha Greer and Robert Owen (AA July/August 2005), Hallam Bypass sound walls by Kerstin Thompson Architects (AA November/December 2000), or the City Link Gateway by Denton Corker Marshall (AA May/June 1999). The Deer Park Bypass by Peter Elliott Architecture + Urban Design, working with Tract Consultants, is the latest in the series.
The topography around Deer Park is very flat, decorated by rock walls, railways, powerlines and freeways. Elliott has worked with the horizontality of the landscape, seeking contrasts in the colour and orientation of abutments and noise walls. Concrete retaining walls and bridge abutments appear as vertical folded planes in bright orange, with jagged edges stepping down towards the ground. Noise walls are predominantly bridge-deck cladding, left galvanized or painted bright yellow to mark road crossings on both sides of the wall.
The deep ribs of the metal deck have a clean, strong yet fine-grained appearance, especially when experienced at vehicle speed. The thin walls are given a sculptural quality and a sense of thickness via ends folded down to meet the ground or raised like the head of a giant metallic serpent. Unlike the machines that come alive in several current cinematic adventures, these ribbed walls appear as long, dormant reptiles sunning themselves in the flat grassland.
Elliott is known among his peers for thoughtful, detailed, small-scale work, often interwoven among other buildings, bringing life to urban space. His work on the bypass is similarly effective, making the freeway infrastructure more vibrant and less imposing. He cites as inspiration the paintings of Emily Kame Kngwarreye, but for me the colours are like being inside a Jeffrey Smart painting (I keep looking around hoping to spot Clive James in the distance). Instead I see a new view of the city, amused to think that the West Gate Bridge is no longer Melbourne's only hill. The splashes of yellow introduce visitors from the west to a now common theme around Melbourne, linking back to Ron Robertson-Swann's famous celebration of industry through sculpture. Perhaps Vault could one day make a special guest appearance at Deer Park – it would certainly look at home.

Dr Scott Drake is a senior lecturer in architecture at the University of Melbourne.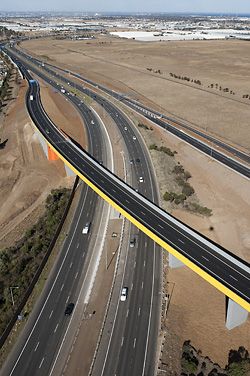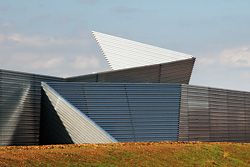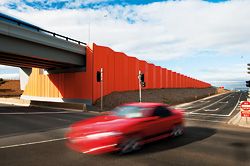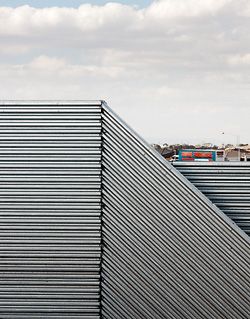 DEER PARK BYPASS, WESTERN HIGHWAY, CAROLINE SPRINGS TO THE WESTERN RING ROAD M80, SUNSHINE WEST

Client
VicRoads.

Architect and urban designer
Peter Elliott Architecture + Urban Design–design architect Peter Elliott project team Glenn Irwin, John Cherrey, Sean van der Velden.

Landscape architect
Steve Wallbrink and Associates.

Landscape architect(urban design documentation)
Tract Consultants.

Structural engineer
Arup.

Specialist lighting
Webb Australia.

Construction (head contractor)
Leighton Contractors.