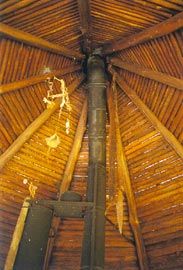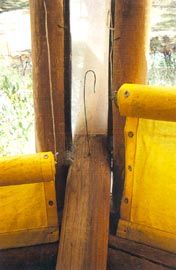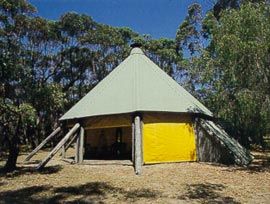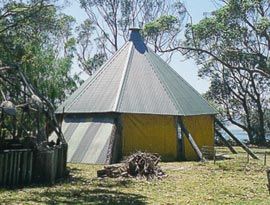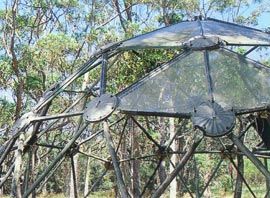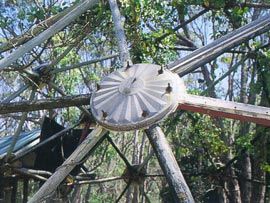 In November 1985, in the the pages of ›› Architecture Australia, Jennifer Taylor ›› admitted Roy and Betty Grounds's Barn at ›› Penders into the pantheon of Australia's ›› finest buildings. Today this unusual little ›› structure still has the power to enthrall.
Located at Bithry Inlet on the southern NSW ›› coast, the Barn was Grounds's "bolthole" for ›› 15 years, his holiday escape whilst ›› designing the National Gallery of Victoria and ›› the Victorian Arts Centre.
The site and its structures are now part ›› of Mimosa Rocks National Park, itself a ›› monument to the vision of Grounds and his ›› friend, Melbourne businessman Kenneth ›› Myer. In 1981, they gave their 220 hectare ›› property to the nation, conserving ›› a remarkable piece of coastline as a ›› national park.
As originally built in 1965, the Barn was ›› a large tepee of spotted gum poles, with a ›› tapering roof-vault lined horizontally with ›› Tanalith-treated saplings that had been ›› carefully graded in decreasing size from ›› bottom to top. On the roof were sods of ›› kykuyu grass complete with a sprinkler ›› system. In spring, the roof was completely ›› covered in yellow daisies. However, the ›› roof's weight soon threatened to crush the ›› supporting structure. Its rustic charm was ›› replaced by a roof of bright yellow semi-translucent ›› corrugated fibreglass. Grounds ›› loved the startling transformation – the ›› Barn now stood out like a bright yellow ›› beacon. The original roll-down nylon ›› sailcloth blinds, also yellow, hung vertically ›› from the roof's lower edge. Inside, the ›› effect was of permanent sunshine. Light, ›› the seasons, cross ventilation to deter ›› sandflies, and the effects of the sun could ›› all be controlled by simply raising and ›› lowering the blinds.
Soon after completing the Barn, Grounds ›› constructed a geodesic dome next to it. It ›› was a greenhouse for Betty's paw-paw and ›› a workshop where Grounds could tinker ›› with experimental gadgets and indulge his ›› interests in timber and rock sculptures.
Circular wood blocks were used as the ›› dome's connecting hubs and, to complete ›› each hub, Grounds added, in typically ›› idiosyncratic style, a galvanised steel ›› "Tomlin" garbage tin lid. The result was a ›› tour de force of resourcefulness and ›› making do – in absolute opposition to the ›› hyper-technological solutions being ›› developed internationally to waterproof, ›› seal and connect the much larger geodesic ›› domes designed by Buckminster Fuller.
At Penders, Grounds moved beyond ›› Fuller's technocratic future of a universal ›› architecture of everyplace for everyman. He ›› built a primitive hut and a geodesic dome ›› in celebration of the individual – his ›› equivalent to Thoreau's hut at Walden ›› Pond. As Marr Grounds described his ›› father's Barn, "It's a house, it's a tent, it's a ›› temple." Both structures can be read as ›› products of a laboratory, a form of private ›› model making out in the bush far from ›› prying eyes. They demonstrate an interest ›› in science, but within the limits of everyday ›› building and phenomenological ›› placemaking. The test of science was that ›› it be tested as architecture. Instead of ›› being dropped in by a helicopter, it was ›› made by hand. This was learning by doing.
Grounds attempted to build his postwar ›› critique of science. He did not reject ›› science; rather his work was directed at ›› grappling with science and locating it in ›› specific contexts, be they constraints of ›› material, place or function. Grounds's ›› structures at Penders epitomise Ignasi de ›› Sola-Morale's claim that such widely ›› diverging interests as science and myth ›› could become a clearing ground in the ›› 1950s, the basis for "the pursuit, in short, ›› of a degree zero for architecture".
Dr Philip Goad is an associate professor at ›› the University of Melbourne. A conservation ›› management plan of Penders, coordinated ›› by Oona Nicolson, with a team including ›› Philip Goad, Bryce Raworth and David ›› Beauchamp, has been completed for the ›› NSW National Parks and Wildlife Service