PHOTOGRAPHY PETER JOHNS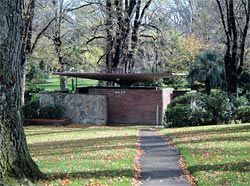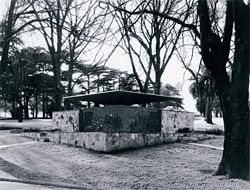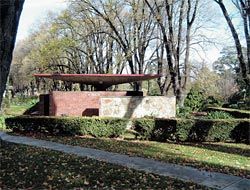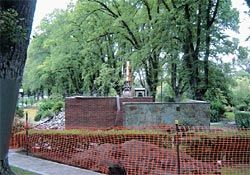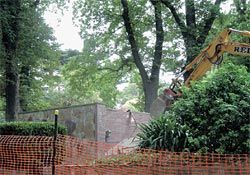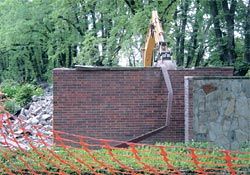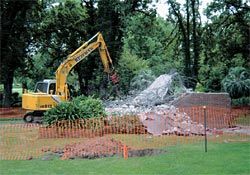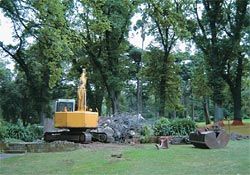 Small mid-century works of public architecture are under continual threat. Peter Johns charts the unexpected demolition of the strikingly elegant Fitzroy Gardens Toilets, a victim of council anxiety.
Melburnians strolling to
work through the Fitzroy Gardens on the morning of 20 February may have noticed orange barricading around a 1950s toilet pavilion notable for its dished concrete roof. The roof hovered daringly above part-height walls, and was supported only by a tapered central column. These loos were designed by the city architect's office and were built in 1957, a year after Melbourne's Olympics.
The current office advises that it was probably Alex Pederson at the end of the pencil. Contractors at the building said that it was to be bowled any minute, "for the Commonwealth Games".
A few emails later and a group gathered with their lunches to watch pipes being stopped and sealed, and to wonder how this important little building fell through the gaps – surely it was all a mistake. But the City of Melbourne issued a press release at 6.15 PM:
"For a number of years, the male toilets in the Fitzroy Gardens have been the subject of complaints about offensive and intimidating behaviour from individuals who chose to linger there … [We] made the decision to remove and replace the toilets to improve safety in the gardens for the many visitors and residents who use the gardens … Their removal is in line with the City of Melbourne's policy on the location of toilets. Under this policy, toilets should be located on an 'activity frontage', such as near roads and entrances." – Councillor Fraser Brindley.
At 7.30 AM the following morning, up to twenty people gathered to watch the demolition, which had started a while before. The contractors complained that it was taking longer than expected – one look at the amount of reinforcing in the roof explained why. The ceremony/funeral ended an hour later with speeches and photos in front of the rubble, and then we shuffled off to work.
The council has a policy of closing public toilets in shady parts of town and replacing them with faux Victorian self-cleaning loos.
It also has a policy of removing buildings from gardens whenever possible. Heritage Victoria had failed to see the building's worth, so it was deemed removable.
Community consultation was apparently "normal", but seems to have been limited to asking for thoughts from the East Melbourne Group (the local Save Our Suburbs), the National Trust, and Heritage Victoria.
No-one else seemed to know about it.
Within a few days of the demolition the site had been grassed – nothing remained other than a couple of crazy-paved planters and a flat area where the pavilion once stood. Nearby is a new sign saying that the toilets would be closing in a few days. Was this the public consultation?
Life won't become too sanitized in the gardens now that the loos are gone. The beat will move, hopefully prompting future demolitions of nearby Cook's Cottage (1933), and those other bastions of twee, The Faerie Tree and Model Village. But no, they're all registered. These listed twentieth-century structures appear to have ensured their longevity by looking a lot older than their years.
Mid-century modernist toilets, changing sheds, substations and bus shelters should be considered endangered. Love them or lose them – at least take a photo when you see a good example, as it may be the only record. New requirements for accessibility and worker safety have made many of these buildings obsolete. An anxious council's fear of "loiterers" has seen this loo off and others will follow. City bureaucrats with a preference for lacework over breezeblock don't help matters either.
"Whilst Council appreciates your views on the value of the actual toilet building it is considered that removal of the toilets and installation of new facilities will be of greater overall benefit to the Gardens and the community." – Ian Harris, Group Manager Parks and Recreation.
PETER JOHNS IS A DIRECTOR OF ANTARCTICA AND RUNS THE BUTTERPAPER WEBSITE.