A proposal by Yhonnie Scarce and Edition Office has been judged the winner of the 2019 National Gallery of Victoria's Architecture Commission.
The NGV revealed the winner at a one-night-only exhibition of entries and presentation of shortlisted schemes.
Titled In Absence, the winning work "is a celebration and acknowledgement of the builders of infrastructure of Aboriginal people who have been around for thousands of years," said artist Yhonnie Scarce, who belongs to the Kokatha and Nukunu peoples of South Australia.
Aaron Roberts, director of architecture practice Edition Office, added, "In many ways, the project is a denial of terra nulius. It's the idea of the colonization of Australia being based on a lie. We're interested in the various industries, settlements and civilizations that were present here prior to colonization. The project seeks to celebrate those industries that have been forgotten in a way."
The design of the installation is heavily influenced by the built structures and eel traps of Indigenous communities.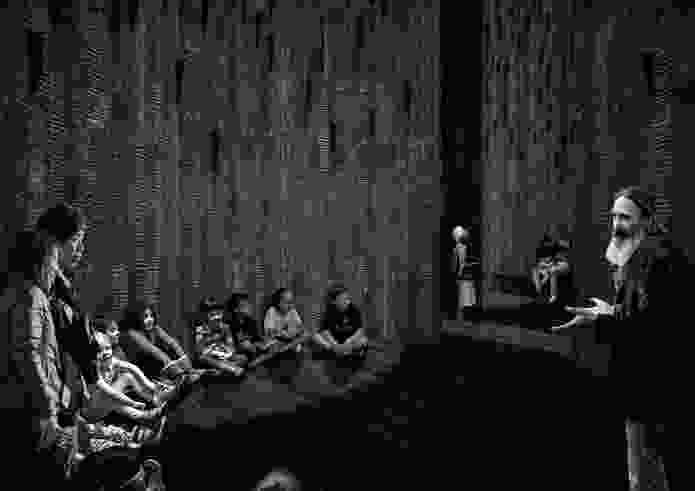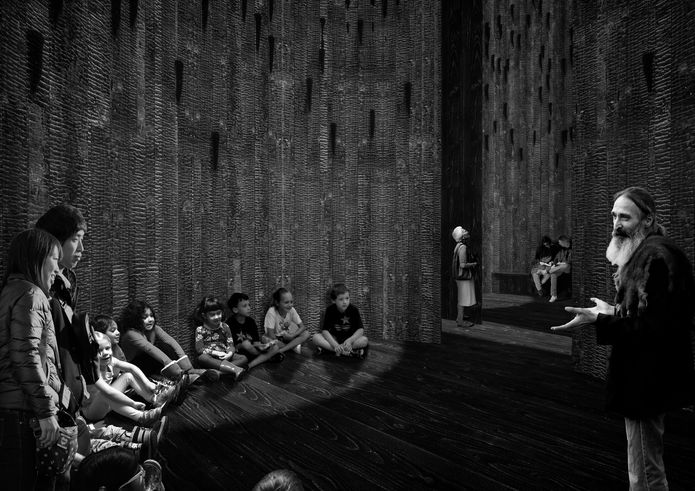 Its cylindrical form is a representation of the Indigenous permanent villages found throughout Australia, as well as the smoking trees used to preserve fish and eels. The installation will be bisected by a vertical chasm that represents the "deep and profound split in Australian politics," said Edition Office director Kim Bridgland.
"The void in the centre speaks to the myth of terra nulius – the legal framework which denied agriculture, denied engineering, denied architecture and denied a civilization," Bridgland said.
The void – "a moment of absence" – will be flanked by two vertical chambers made of black timber towers. Ash from a smoking ceremony will be mixed with a custom stain applied to the interior of the chambers. It will also feature thousands of black glass Yams made by Yhonnie Scarce, which will "appear to extrude and seep out from the cracks between the boards."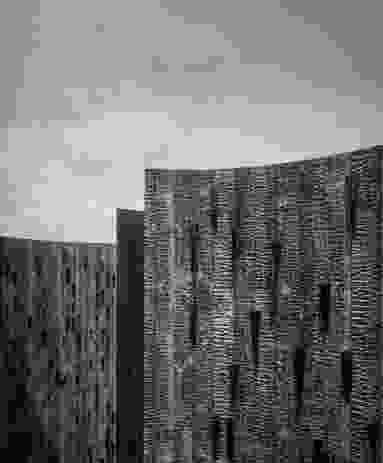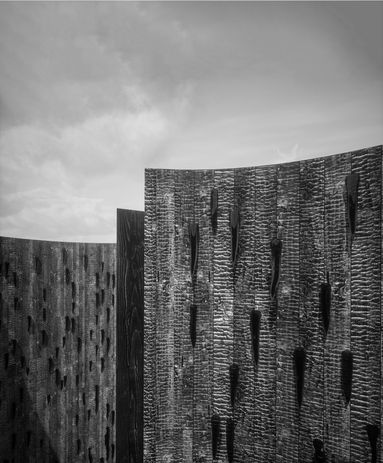 The installation will be axially aligned with the rear entrance to the Grollo Equiset Garden of the NGV.
"This thoughtfully crafted space displays a highly-developed narrative drawn from a successful collaboration between an Indigenous artist and non-Indigenous architects. The project acknowledges Indigenous cultural practice and shared culture. It is a place for cultural exchange, an uplifting place, drawing from a difficult past," said Tony Ellwood, director of the NGV.
The proposal was selected from 100 entries and five shortlisted schemes by a jury comprising Jill Garner (chair and Victorian Government Architect), Corbett Lyon (Lyons Architecture and NGV trustee), Andrew Clark (deputy director of the NGV), Clare Cousins (national president of the Australian Institute of Architects) and Timothy Moore (Sibling Architecture).
In Absence will be on display from November 2019.
Related topics