The Victorian government has appointed Denton Corker Marshall to design stage one of a masterplan to revitalize a 28-kilometre stretch of Victoria's world-famous Great Ocean Road.
The practice will collaborate with McGregor Coxall and Arup on three new facilities along the Shipwreck Coast: two lookouts – one located at the Twelve Apostles and another at Loch Ard Gorge – and a pedestrian bridge in Port Campbell Creek.
The proposed lookout at "the Saddle" – one of three designated viewing areas for the Twelve Apostles – will be an "unashamedly angular and artificial" building perched on the clifftop.
It will consist of two tilted, rectilinear blocks, one of which lies on the ground with the slope of the land while the other tilts in the other direction and cantilevers over the cliff edge.
The building will create a "bold counterpoint" to the natural environment, which the architects say will allow visitors to experience the scale and drama of the landscape.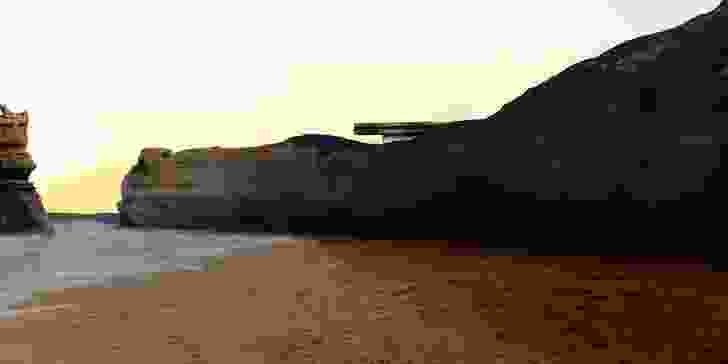 Visitors will descend down shallow ramps, experiencing varied viewpoints of the coastline. Inside the cantilevering structure, narrow slots in the building's walls will provide a panorama of the ocean, cliffs and sky. The space will be a partly enclosed, all-weather environment while still creating the feeling of being exposed at the edge of the cliff.
At the Lord Ard Gorge blowhole, the proposed lookout will be a sinuous form embedded into the coastal vegetation, hidden from paths. It will appear as if it was "subsumed within the natural environment" and provide a "surprising and thrilling experience," said Denton Corker Marshall in a statement.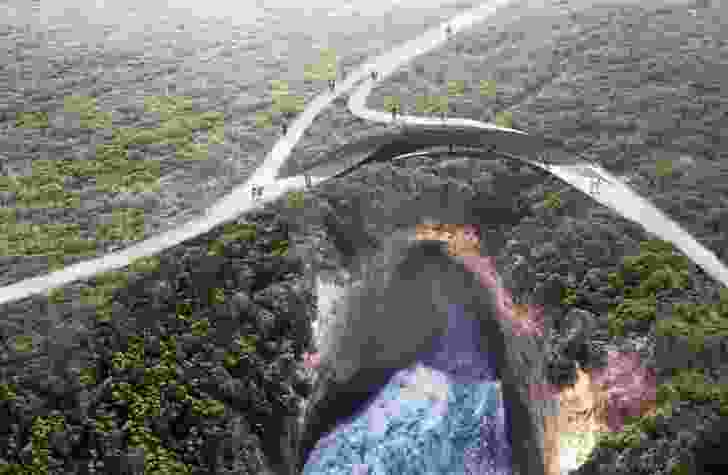 Lastly, the proposed pedestrian bridge at Port Campbell Creek will "tread lightly on the landscape" to minimize its physical and visual impact.
"[We] believe our designs respond to the unique character and physical attributes of each site." said Neil Bourne, a director of Denton Corker Marshall. "The new facilities will enhance the visitor journey with diverse experiences that are both dramatic and contemplative."
The Victorian government has allocated $9.8 million for the completion of the project, which is due to be completed by 2022.
Denton Corker Marshall's final designs are due in mid-2018 and tenders for construction will be open in early 2019. The government is also collaborating with the Eastern Maar Aboriginal Corporation on the project.
"These projects will showcase and protect this pristine coastline, and help local and international visitors learn more about the natural environment and rich cultural heritage of the region," said energy, environment and climate change minister Lily D'Ambrosio.
The projects are part of a 20-year masterplan for a 28-kilometre stretch of the Great Ocean Road coastline, prepared by McGregor Coxall in association with Denton Corker Marshall, which identified an estimated $178 million of to be invested in the area – privately and publicly – for a range of uses including tourism infrastructure and accommodation.
Related topics